10 Tunes to Listen to This Month
Here, April tunes to put on loop by Maroon 5, Justin Bieber, J. Lo, David Archuleta, General Luna, Ebe Dancel, and more!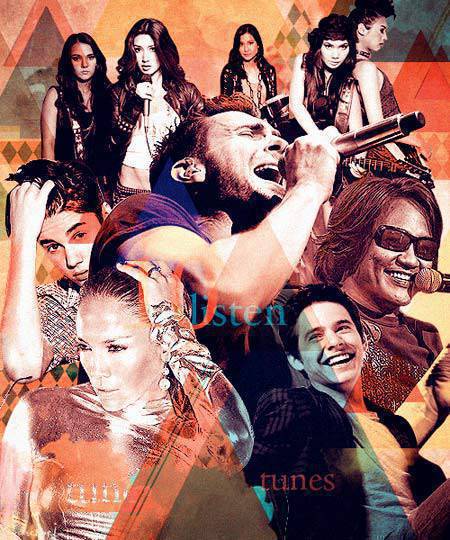 (SPOT.ph) Fill up your April playlist with our freshest set of musical suggestions: Maroon 5 and Rozzi Crane's haunting tune off The Hunger Games soundtrack, Justin Bieber's party-ready single, Miike Snow's latest hit, J. Lo's dance ditty featuring Pitbull, and Nabiha's soulful release. Plus, check out the latest from David Archuleta, General Luna, Ebe Dancel, Modulogeek, and Never the Strangers.
Song: "Come Away to the Water"

Artist: Maroon 5 featuring Rozzi Crane

The Hunger Games fever isn't over yet. Adam Levine and the rest of Maroon 5 step out of their pop comfort zone in this collaboration with newcomer, Rozzi Crane, for the much-anticipated film's soundtrack. The T-Bone Burnett-produced song is a dark yet inviting hunting call: "Come away little lamb come away to the water / To the arms that are waiting only for you / Come away little lamb come away to the slaughter/ To the one appointed to see it through."

Fun fact: Rozzi Crane is the first artist signed by Adam Levine's record label, 222Records.
ADVERTISEMENT - CONTINUE READING BELOW
Song: "Different Corners"

Artist: General Luna

The all-girl rock band, General Luna, is out with its first single from its forthcoming second album. Vocalist Nicole Asencio reiterates her singing prowess accompanied by heavy drums and guitars. The band features a more intimate and edgy sound to introduce their new project.

Fun fact: Asencio mentioned in the group's album teaser that people will "really listen to what we have to say."
Song: "Boyfriend"

Artist: Justin Bieber

Justin Bieber has a lot of growing up to do in terms of his lyrics, but his new club ditty shows just how much his musical taste has matured. The pop-R&B feel of "Boyfriend," with low-key raps and smooth falsettos, is a pleasant transformation from his "Baby" and "One Time" days.

Fun fact: The single is produced and co-written by Mike Posner.
Song: "I'll Never Go"

Artist: David Archuleta

David Archuleta's Pinoy fans have something to hold on to while he embarks on his Mormon mission, which will last for two years. The American Idol sensation and actor has released Forevermore, an OPM album for his loyal fans in the country. Here, Archuleta croons his way through a heartfelt rendition of Nexxus' "I'll Never Go."  

Fun fact: Other OPM hits included in the album are "Forevermore" (Side A), "Hold On" (Neocolours), "You Are My Song" (Martin Nievera), "Rainbow" (Southborder), "Tell Me" (Joey Albert), and "Reaching Out" (Gary Valenciano).
ADVERTISEMENT - CONTINUE READING BELOW
Song: "The Wave"

Artist: Miike Snow

The indie, electro-pop trio-composed of Andrew Wyatt, Christian Karlsson, Pontus Winnberg-dishes out a sonic-sounding second LP titled Happy to You. One LSS-inducing single, "The Wave," merges Wyatt's light vocals with army drum beats and trippy keyboards.

Fun fact: Karlsson and Winnberg were formerly known as Bloodshy & Avant. The two produced "Toxic" and "Piece of Me" with Britney Spears.
Song: "Paalam Kahapon"

Artist: Ebe Dancel

It's still technically summer, but here's a track for the rainy days. Ebe Dancel's signature crooning and the soothing guitar sound in this single off his Dalawang Mukha ng Pag-ibig album make a perfect tear-jerking soundtrack.

Fun fact: In the behind-the-scenes footage of the "Paalam Kahapon" music video, Dancel talked about his experience: "We didn't expect rain, but I'm glad it did [rain] because I think it added more drama to the song."
ADVERTISEMENT - CONTINUE READING BELOW
Song: "Dance Again"

Artist: Jennifer Lopez featuring Pitbull

Electro-pop is the way to go for Jennifer Lopez. Following the success of her club hit "On the Floor," J. Lo is back with another infectious collaboration with rapper, Pitbull. "Dance Again," which is bound to be a party staple in no time, features a more upbeat and bass-heavy sound.

Fun fact: The official music video for "Dance Again" premiered on American Idol on April 5.
Song: "Do Undo"

Artist: Modulogeek

Going on a road trip? Be sure to have this latest Modulogeek release in your playlist. Modulogeek, also known as monome artist Joon Guillen, brings you an entrancing electronic ditty off his EP, Pipes and Palindromes.

Fun fact: Joon Guillen has been with the bands Outerhope, Fish Trio, Musings of a Cigarette Smoking Man, and We Kick Ass for the Lord.
Song: "The Enemy"

Artist: Nabiha

First released in Denmark in 2010, Nabiha's soulful single is set to conquer a much wider audience with its US release this year. "The Enemy" represents Nabiha's soul and spunk, as well as highlights the slight rasp in her voice.

Fun fact: Nabiha embraces both her Danish and African roots. On her website, she says, "The way people care for each other in Africa is inspiring, happy, positive, they share what little they have with you, everyone should try to visit in their lifetime."
ADVERTISEMENT - CONTINUE READING BELOW
Song: "Moving Closer"

Artist: Never the Strangers

Following Never the Strangers' debut hit, "Alive," is this mellow, rock love song. Get all lovey dovey with lyrics like: "Who'd have thought that I'd breathe the air / Spinning 'round your atmosphere / I'll hold my breath, falling into you / Break my fall and don't let go."

Fun fact: "Moving Closer" is also the new Close-Up song.


CONTINUE READING BELOW
Recommended Videos
Share this story with your friends!
---
Help us make Spot.ph better!
Take the short survey
Load More Stories