Hot on Spot: Netizens start meme on Claudine & Raymart vs. Mon Tulfo NAIA 3 brawl
SPOT.ph picks user-generated creations for the meme of the moment.
(SPOT.ph) Who would have thought that a journalist known for being a tough guy would figure in a rumble with an actor who had previously dabbled in action films and an actress who used to be tagged as a soap opera queen? But that's exactly what happened last Sunday, May 6, when Philippine Daily Inquirer columnist and TV5 host Ramon Tulfo and actor Raymart Santiago reportedly exchanged blows at the Ninoy Aquino International Airport's Terminal 3 because Tulfo had been taking photos of Barretto (Santiago's wife, in case you didn't or still don't know by now) while she berated an airline's employee. A video of the incident posted by an eyewitness on YouTube shows that Barretto and Santiago's companions also joined the ruckus.
At this point, it is not really clear what happened, as both parties claim to have been the recipients of the first blow. As expected, nobody admits to starting the fight, which looked more like a WWE melee. But unlike the staged WWE smackdowns, this one was all too real.
Of course, netizens have weighed in on the subject. Some have blogged about it, commented on it, tweeted about it, and referred to it in their Facebook statuses. Then, there are those who have started a graphics meme out of it. Naturally, we've gathered some of the most provocative ones. Click on the illustration below to see more user-generated creations.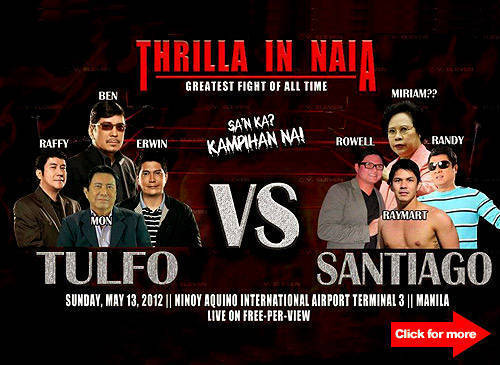 ADVERTISEMENT - CONTINUE READING BELOW
Netizens serve up their interpretation of the Claudine Barretto, Raymart Santiago, and friends vs. Ramon "Mon" Tulfo NAIA 3 rumble. (Image from the When in Manila Facebook page.) Click for more.
Disclaimer: These photos were selected based on variety and do not necessarily reflect SPOT.ph's opinion. The photos featured in this gallery were all uploaded online-via Facebook, Tumblr, Twitter, blogs, and other such sites-by various users. The altered images or photos were likewise sourced by the users themselves. SPOT.ph does not claim ownership of any of the said images. Please note that in cases where we could not determine who originally uploaded a photo, we refer to the website or social networking platform where we saw the photo uploaded. If you are or know the person reponsible for the photos whose original upload author is not identified, please contact us so we can cite you properly.
CONTINUE READING BELOW
Recommended Videos
Flashbox, featured, and thumbnail images from the When in Manila Facebook page. Note: The author or artist responsible for the image was not identified by name.

Share this story with your friends!
---
Help us make Spot.ph better!
Take the short survey
Load More Stories