Top 10 Things We Learned From the Claudine Barretto & Raymart Santiago vs. Mon Tulfo Debacle
The equally nutty things we learned from the hottest celebrity brawl of the moment.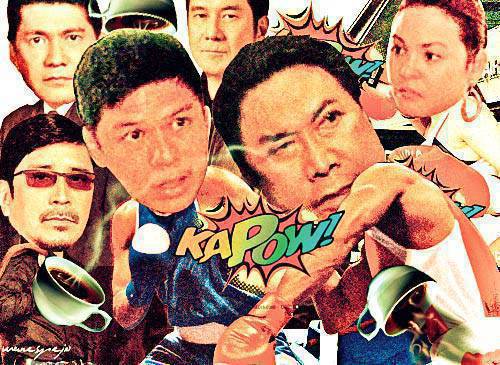 (SPOT.ph) On Sunday, May 6, Philippine Daily Inquirer columnist and TV5 host Ramon Tulfo and showbiz couple Raymart Santiago and Claudine Barretto, along with their friends, figured in a "rumble" at the at the Ninoy Aquino International Airport's Terminal 3. By now, everyone knows each party's version of what happened. It may be some time before we know what really went down at the airport that day. Still, we've written down the things we've learned (so far) from the tragicomic fracas.
You pretty much give up your privacy when you decide to get into showbiz.
10. It's better to be a silent control freak than a loud bitch, especially if you're a celebrity. The price of fame includes being fair game for anyone who wants to comment on or record what you do when you're out in public. Public places would include airports and other spots where anyone can take photos or videos of you having a fit. To avoid a luggage-related meltdown, hand-carry everything, says InterAksyon.com columnist Jessica Zafra in "How Not To Be in an Airport Altercation:" She writes, "Delayed or lost baggage is a frequent problem. If you can manage it, travel light and bring only cabin luggage. Yes, hand-carry everything." Zafra also points out two things: How much luggage do you need to go to the beach anyway?" and "Put your valuables and your medication in your cabin luggage." Our tip: Buy a plane ticket for your luggage. Treat it like another passenger. They won't offload it unless it's being unruly.
ADVERTISEMENT - CONTINUE READING BELOW
It's more fun...when there's no CCTV cam. (Not yet anyway.)
9. The Ninoy Aquino International Airport's Terminal 3 is not fully equipped with CCTV cameras. It's nice that NAIA 3 manager Octavio "Bing" Linafor was honest enough to admit that there's no CCTV camera in the baggage carousel area of the airport. On the other hand, the admission is probably making drug syndicates, terrorist groups, human trafficking perpetrators, and other criminals very happy.
Raymart Santiago in action for 1997's. Frame-Up.
8. Just because an action star is no longer doing action movies, it doesn't mean he's lost all his action star moves. Did he learn to fight like that for Frame-Up (1997) or Marahas: Walang Kilalang Batas (1998)? We're pretty sure he didn't learn it for Mumbaki (1996). (Now might be the perfect time to read our Top 10 Out-of-Action Pinoy Action Stars list here)
CONTINUE READING BELOW
Recommended Videos
Claudine Barretto's "mysterious" bank meltdown in October 2011.
7. The family that brawls together, stays together. In October 2011, there were rumors that Claudine Barretto and Raymart Santiago's marriage had gone kaput. The rumors were backed by the fact that Barretto's meltdown at a bank (with her lawyer in tow) was caught on camera. Back then, Barretto had alleged that the bank account she shared with Santiago had been "cleaned out." Since Santiago was named as her co-depositor, everyone assumed that they were having problems. But it was never really clear what happened. Even the TV crew that was there to film the entire thing was baffled. Well, we still don't know what the heck went on at the bank and we may never know what transpired at NAIA 3. But, hey, it seems Claudine and Raymart are indeed still together.
ADVERTISEMENT - CONTINUE READING BELOW
Never mind what this Itchyworms song is actually saying, it could be the brawl's official soundtrack.
6. Eyewitness accounts posted on Twitter don't necessarily count. InterAksyon.com reports that two members of the band Itchyworms initially posted tweets about what happened at NAIA 3. The report noted that, at first, drummer Jazz Nicolas and bassist Kelvin Yu "witnessed most of what happened." InterAksyon.com reported that on Sunday, May 6, Nicolas tweeted: "I saw the fight live this morning at NAIA 3. Walang sinabi yung Mayweather-cCtto fight." The report then revealed: "The succeeding tweets, mostly by Yu were more detailed and in direct contrast to the Raymart Santiago and Claudine Barretto's version of the incident." According to the report, the tweets were later deleted, but dwIZ broadcaster Marou Pahati Sarne posted a screenshot of Yu's tweets on Twitter. Will this be considered evidence? Maybe not. It's a good thing Mon Tulfo already presented his blackened eye as evidence.
The security guards prioritize drug couriers and terrorists and not peopel who are behaving badly.
5. Unless you're smuggling drugs or planting devices of destruction, you're not the priority of NAIA security guards. When asked to discuss what others called the security deficiencies of NAIA 3, Department of Transportation and Communications Secretary Mar Roxas said in a GMA News Online report: "Terminal 3 is secure against terrorism, against drugs. 'Yung bad behavior ay hindi kami nakatutuk diyan (We don't watch out for bad behavior)." But what if drug couriers and terrorists use the commotion as a decoy?
ADVERTISEMENT - CONTINUE READING BELOW
Sometimes, silence is your best friend.
4. There are times when you really should just keep your mouth shut. Shortly after the NAIA 3 fracas, Ramon Tulfo's brothers-Ben, Raffy, and Erwin-threatened Raymart Santiago and Claudine Barretto on their TV5 news show, T3. An InterAksyon.com report noted that Erwin had also invited Satiago, Barretto, and their companions to have coffee with him in his 92.3 NewsFM radio show. (But was he serious about the coffee?) The Movie and Television Review and Classification Board (MTRCB) called out the brothers for what they had said and the three were soon suspended. Meanwhile, the black-and-blue Ramon Tulfo also berated his siblings for threatening Santiago and Barretto.
Believe it or not, the Moro Islamic Liberation Front took time to comment on this.
3. Some people may have more time on their hands than we think. As it happens, the Moro Islamic Liberation Front (MILF) weighed in on the Tulfo vs. Santiago and Barretto NAIA 3 brawl. ABS-CBNNews.com reported that in a statement posted on the group's website Luwaran.com, Khaled Musa, deputy chairman of the MILF Committee on Information, called out Tulfo for being "an incorrigible critic of Moros in Mindanao." Musa said: "Hurting is not only when one is attacked but the more stinging it is when the offended party is the whole community like the Moros. I wish he will stop insulting people now that he has been given the dose of his own medicine." So, does this mean the MILF is on Santiago and Barretto's side? We're seriously scared.
ADVERTISEMENT - CONTINUE READING BELOW
It was a slow news day, so here we are now.
2. If you're going to cause trouble, you better hope it's not a slow news day. Unfortunately, the NAIA 3 brawl happened on a Sunday, typically a slow news day. No other calamities had happened and no other celebrities had figured in an altercation with a journalist or any other person that had similar means of fighting back.
Look at the guy in pink go!
1. Never underestimate a man wearing a pink shirt. We may not have seen his face, but one of the most energetic attackers of Ramon Tulfo was a man wearing a pink shirt. Whoever he is, he has made the color "macho"...though not necessarily in the way that would inspire awe.
Art by Warren Espejo.
Share this story with your friends!
---
Help us make Spot.ph better!
Take the short survey
Load More Stories