SPOT.ph's Top 10 Songs That May Be Satanic, Too
We single out tempting, titillating tunes.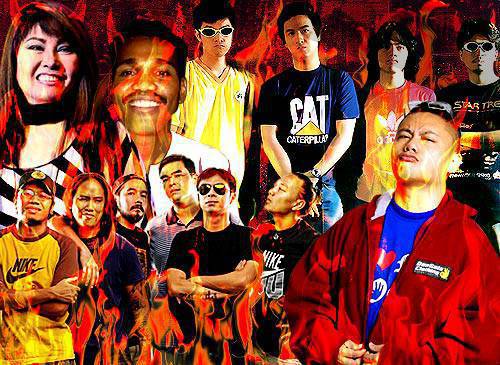 (SPOT.ph) In the wake of protests against Lady Gaga's Manila concert, Lady Gaga's song, "Judas," the alleged Satanic symbolism in Lady Gaga's videos, and Lady Gaga herself, we found ourselves reevaluating our taste in music. We were suddenly overcome by fear that we had somehow channeled some evil vibes from the Devil's playlist. Because if God works in mysterious ways, then surely the Devil is adept at injecting his nefarious intentions into pop songs. Our renewed vigilance had us singling out some recent and past tunes sung by Pinoys (and one Fil-Am) that may require prayer rallies, too.
All we can say at this point is this: "Forgive us for we know not what we listen to." These are the 10 songs that have led us into sweet temptation. Alas, we're afraid it's too late for us to be saved. But you can all go ahead and keep praying for our damaged souls.
10. "The Lazy Song" by Bruno Mars
Unholy content: As the saying goes, "Idle hands are the Devil's workshop." That makes sloth the gateway sin. By promoting laziness, this song becomes the Devil's soundtrack.
Evil lyrics: Tomorrow I'll wake up, do some P90X/ Meet a really nice girl/ Have some really nice sex/ And she's gonna scream out: 'This is Great' (Oh my God, this is great)/Yeah
Sins glorified: Sloth, pre-marital sex, blasphemy (The entire song is practically a litany of sins wrought from laziness.)
9. "Andrew Ford Medina" by Andrew E.

ADVERTISEMENT - CONTINUE READING BELOW
Unholy content: It's about a man who is an unrepentant hedonist who spends his night partying and defiling women.
Evil lyrics: But ako'y biglang nagulat/ Nang bumukas ang pinto/ It was Ana's elder sister/ Kaya't kami ay napahinto/ There was nothing we could do/ It was a pain in the @%$@%$/ Nang sabihin ng kanyang ate, "Ana, Ana can I join?" (I was surprised/ When the door opened/ It was Ana's elder sister/ So we had to stop/ There was nothing we could do/ It was a pain in the @%$@%$/ Then her sister said, "Ana, Ana can I join?")
CONTINUE READING BELOW
Recommended Videos
Sins glorified: Self-indulgence, lust, probable incest via a ménage à trois
8. "Alapaap" by Eraserheads

Unholy content: The hypnotic opening of the song is meant to render listeners mentally vulnerable so that it's easier for them to surrender to the agents of the Beast. Senator Tito Sotto got it right way back in 1995, when he called for the a ban on the airplay and sales of this song because it glorified substances or practices that make you think you're up in the clouds. Except Sotto didn't know that the song is actually more sinister than that.
Evil lyrics: Ang daming bawal sa mundo/ Sinasakal nila tayo/Buksan ang puso at isipan/Paliparin ang kamalayan (The world has so many restrictions/ They're choking us/ Open your heart and mind/ Let your consciousness fly)
Sins glorified: Doubting traditional teachings, forming non-conformist opinions, possible ingestion of a mind-altering substance that desecrates the body
ADVERTISEMENT - CONTINUE READING BELOW
7. "Good Boy" by Blakdyak
Unholy content: The song might as well be a hate crime anthem, as it taunts a boy who is trying his best not to be led into temptation. It even dares to call on God to take the good boy's life.
Evil lyrics: Pag gising sa umaga ay nag pe-pray s'ya/ Habang nag to-toothbrush ay nag pe-pray din/ Habang naliligo ay nag pe-pray pa/ Eight days a week masyadong magsimba/ Good boy, good boy/ Ang bait mo naman/ Sana kunin ka na ni Lord (He wakes up in the morning and prays/ He prays while he brushes his teeth/ He prays while bathing/ He goes to church eight days a week/ Good boy, good boy/ You are so kind/ May the Lord take you)
Sins glorified: Envy, murder, blasphemy, religious persecution
6. "Pyramid" by Charice Pempengco

Unholy content: It talks about a pyramid in such grand terms that it's alsmost as if the song wants to start a pyramid-based religion.
Evil lyrics: Pyramid, we built this on a solid rock/ It feels just like it's heaven's touch


Sins glorified: Vanity, blasphemy, slave labor (It disrespects the suffering of Moses and his people, who were enslaved and forced to build pyramids. Thousands of years may have already passed since then, but you don't move on from an "inherited psychological scar" just like that.)
5. "Jumbo Hotdog" by Masculados

Unholy content: If Adam and Eve had the Forbidden Fruit, then this song is all about a super-sized Forbidden Processed Meat. Just like the serpent who taunted Eve into taking a bite out of the off-limits fruit, this song dares you to consume the oversized hotdog.
ADVERTISEMENT - CONTINUE READING BELOW
Evil lyrics: Jumbo hotdog/ Kaya mo ba'to? (Jumbo hotdog/ Can you handle this?)


Sins glorified: Gluttony, vanity (showing off the oversized processed meat like a trophy)
4. "Sasakyan Kita" by Gladys & the Boxers with K

Unholy content: The song is like an open call to sinners. Anyone who sings or listens to this song is basically advertising the fact that he or she is ready to sin.
Evil lyrics: Sasakyan kita/ Sa lahat ng gusto mo/ Sasakyan kita/ Basta't sasakyan mo rin ako (I'll go for/ Everything you want/ I'll ride you/ As long as you ride me, too)



Sins glorified: Lack of remorse, hedonism, lust
3. "Simple Lang" by Mystica
Unholy content: Before there was Lady Gaga, we had Mystica, who allegedly used to work as a nightclub dancer when she was living in the States. Like Lady Gaga, Mystica was fond of wearing provocative outfits and titillating the public with her saucy moves. Mystica was once famous (or infamous) for doing splits while singing. In any case, this innuendo-heavy song is about a woman listing the qualities of her ideal man. It's clearly meant to make listeners think impure thoughts.
Evil lyrics: Ang gusto ko sa lalaki ay 'di masyadong malaki...[dramatic pause]...ang katawan/ Type ko'y payat na malaman/ Kahit na s'ya ay maliit...[dramatic pause]...basta mahaba lang...[dramatic pause]...ang kanyang pasensiya (I want a man who's is not too big...[dramatic pause]...physically/ My type is a man who's lean but meaty/ Even if he is small...[dramatic pause]...as long as his patience is boundless)
ADVERTISEMENT - CONTINUE READING BELOW
Sins glorified: Joyful lust, succubus tendencies
2. "Don't Touch My Birdie" by Parokya ni Edgar
Unholy content: The song is all about a young man who is much too fond of his little birdie.
Evil lyrics: Don't touch my birdie!/Resist temptation please!/You don't have to grab my birdie/ Just call it, and it will come!
Sins glorified: Onanism, desecration of life, implied bestiality
1. "Isang Linggong Pag-Ibig" by Imelda Papin
Unholy content: It's about a love affair that commences, is consumated, and gets dissolved within a week.
Evil lyrics: O kay bilis ng iyong pagdating/ Pagalis mo'y sadyang kay bilis din/ Ang pagsinta mo na sadyang kay sarap/ Sa isang iglap lang nawala ring lahat (You came so quickly/ You left just as suddenly/ Your affection was delightful/ But it all vanished in the blink of an eye)
Sins glorified: Pre-marital sex, lust, self-love, and not going to church on Sunday (The lyrics reveal that the person was so caught up in the quickie love affair that she forgot everything else, including her holy obligation.)
Art by Warren Espejo
Image credits: Photos from various publicity stills and screenshots from YouTube videos.
Share this story with your friends!
---
Help us make Spot.ph better!
Take the short survey
Load More Stories