Twitter war erupts between transgender model Xtina Superstar and PH Fashion Week executive producer Tina Herrera over alleged "banning" inci
(SPOT.ph) Philippine Fashion Week may be over for now, but a controversy is brewing from an incident that reportedly transpired on May 24.
(SPOT.ph) Philippine Fashion Week may be over for now, but a controversy is brewing from an incident that reportedly transpired on May 24.
On their Facebook page, the Society of Transsexual Women of the Philippines (STRAP) posted a note that discusses the incident: "[On] 24 May 2012, transgender models were barred from walking the runway at the scheduled show of fashion designer Kermit Tesoro at the SM Mall of Asia for Philippine Fashion Week (PFW). Tesoro, who has been showing for PFW for several seasons now, had transmodels in his line-up. He was informed, just before the show, that PFW did not want the transmodels seen on the runway. Ironically, some of the models Tesoro hired to walk his show last night have actually been walking at PFW for the last three seasons. We, the members of the, would like to express our deepest disappointment over this transphobic move by PFW and we say: WTF PFW? (emphasis theirs)"
In light of this, some fans of the STRAP Facebook page inferred that what happened was merely a case of miscommunication. Indeed, one of the comments on STRAP's Facebook page note claims that the issue was already resolved by the PFW producers. However, it seems that the controversy is still "in season."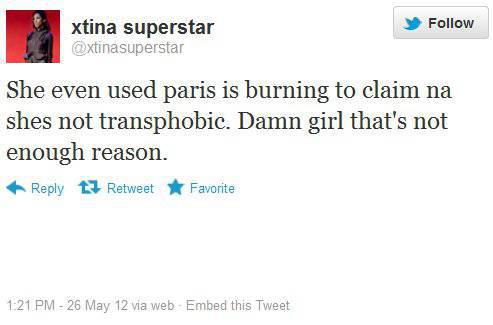 At the center of the controversy is transgender model Xtina Superstar and PFW executive producer Tina Herrera. The former claimed that Herrera had prevented her from her runway stint in Tesoro's show. Xtina also pointed out that Herrera has kept posting some tweets that were meant to taunt her even after the issue over the Tesoro show was resolved. Xtina cited Herrera's use of the pronoun "he" to purportedly address her.
ADVERTISEMENT - CONTINUE READING BELOW
For the record, Xtina was in Tesoro's 2011 PFW show. For her part, Herrera clarified on Twitter that Xtina did not have a contract: "Stick to facts.Not booked=not confirmed=no contract.Show proof HE even had a contract before claiming HE was cancelled."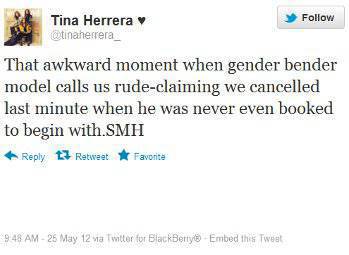 Xtina, on the other hand, appeared to be incensed by Herrera's tweets.In her tweets, she has accused Herrera of being "transphobic." She also maintains that she interprets Herrera's decision to prevent her from being in Tesosro's show as discriminatory. Xtina then expressed her gratitude to her celebrity supporters such as Divine Lee, Georgina Wilson, and Robbie Carmona.
As of this writing, we have no information regarding the tiff between Xtina and Herrera. It appears that the two have stopped posting tweets about the issue.
Load More Stories