P-Noy continues to slam Corona, Alma Moreno aims for the Senate + more lowlights
Plus, the Tulfo brothers are forced to go on hiatus and more crazy tales.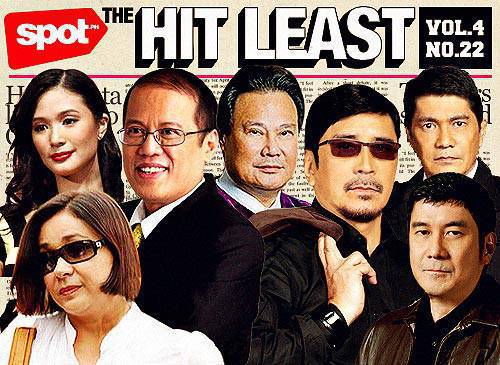 1. A CANISTER CONTAINING A LIVE GRENADE WAS LEFT RIGHT OUTSIDE OMBUDSMAN CONCHITA CARPIO-MORALES' HOME WITH A BADLY WRITTEN MESSAGE THAT WAS PRESUMABLY MEANT TO THREATEN HER. It's safe to say that getting death threats from people who can barely spell is not what the Ombudsman signed up for.
2. AMERICAN TYCOON DONALD TRUMP KEEPS INSISTING THAT PRESIDENT BARACK OBAMA WASN'T BORN IN THE USA. Should a man whose hair looks like roadkill ever be taken seriously?
ADVERTISEMENT - CONTINUE READING BELOW
3. THE MORNING AFTER CHIEF JUSTICE RENATO CORONA WAS IMPEACHED, P-NOY TALKS TO THE PRESS AND REFERS TO CORONA AS THE REPRESENTATIVE OF THE "DIRTY SIDE" OF THE JUDICIARY (AMONG OTHER THINGS). The impeached man is not our favorite person, either...but, Mr. President, just because you have the right to rub it in, it doesn't mean you have to.
4. MARRIED MAN PRETENDS TO BE SINGLE AND DUPES A YOUNG WOMAN WITH BIPOLAR DISORDER INTO MARRYING HIM AND LEAVES HER SOON AFTER SHE GIVES BIRTH TO THEIR BABY. If you want to know how low a man can go, this comes pretty close.
5. IN HER SHOWBIZ CENTRAL INTERVIEW, GRACE LEE IS ASKED IF SHE IS DATING P-NOY AND SHE REPLIES, "WE'RE FRIENDS." We're giving your so-called friendship the benefit of the doubt (10% benefit and 90% doubt).
Recommended Videos
Load More Stories