SPOT.ph's Top 10 Wackiest Manny Pacquiao Ads
The quirkiest adverts starring the nation's beloved pugilist.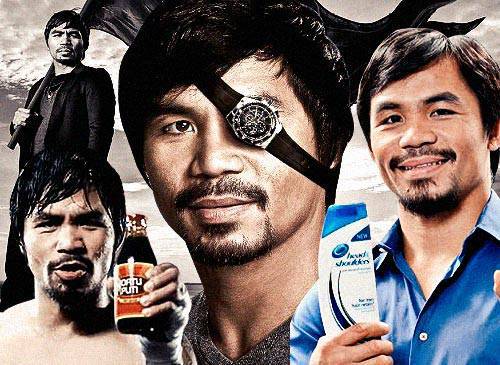 (SPOT.ph) Pinoy boxing icon Manny Pacquiao isn't just a champion in the ring, he's also a heavyweight endorser. Whatever the product is, you just stick his face on it or tap him to star in the ad and it will probably sell. We have to admit, though, that some of the products he hawks don't quite fit his image. Forget those slick ads that look like clips from Hollywood movies (Pacquiao's Hennessy is simply beautiful), we zeroed in on his 10 wackiest ads. Enjoy them as you count down to his smackdown with Tim Bradley this weekend.
The schtick: Pacquaio appears with Willie Revillame and Dolphy to endorse the senator.
The quirks: The lighting is superb and Pacquiao looks almost angelic while he delivers the passive-aggressive spiel that's meant to hurt Villar's opponent.
The verdict: Well, the candidate almost won. That's gotta count for something.
6. Magnolia products
The product: Magnolia mechandise
The schtick: Pacquaio appears with his family and his mother, Dionisia, in this ad. He's pegged as a loveable family man who likes to drink milk.
The quirks: Dionisia nearly steals the show with her "Drink your Magnolia milk first!" command.
The verdict: Between drinking Vitwater and Magnolia milk, Pacquiao sure is well-hydrated.