Born To Love You: Bored to Death, Except for Angeline
For SPOT.ph blogger Ria Limjap, singer Angeline Quinto is a rising star of "Noranian" potential.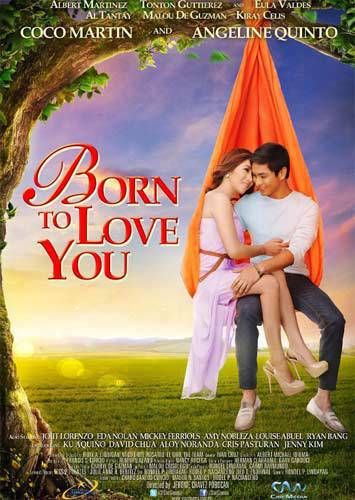 (SPOT.ph) I'll get right to it: Star Cinema and CineMedia's new romantic drama Born to Love You (formerly titled You Light Up My Life), predictably enough, is painful to watch mostly because of Coco Martin's ridiculous "edgy photographer" haircut which competes on screen with Angeline Quinto's bigote. In the moment they meet she turns to face him, he smiles at her and kablam!-all I can think about is the annoying strip of upper lip hair which could easily have been fixed by waxing, threading, or bleaching. And it wasn't just me who noticed, ate to my left (eating popcorn) and manang to my right (eating boiled corn) both gasped when Angeline turns around for the first time. I cannot make sense of it. They apparently had a large enough budget for some underwater shots and several out-of-town locations; certainly they had enough funds to get the leading lady into a salon chair to have her bigote bleached. Major fail. Angeline Quinto, especially in her debut performance, should have been scrubbed and styled within an inch of her life to make her as easy to watch as humanly possible. Instead she looks a bit like Kris Aquino on a bad day. Heads should roll, no?
Watch the trailer here.
I was thoroughly unimpressed with Born to Love You, which features an overly melodramatic plot, uneven cinematography, stilted dialogue, and too much musical scoring- but I was also not surprised at this reaction. I've seen too many movies that more or less resemble this one. In my mind they have all become one big messy mash-up of cheesy theme songs and weepy endings peppered with starlets, matinee idols, singers-turned-actors, models-turned-actors, athletes-turned-actors-you know what I mean.
ADVERTISEMENT - CONTINUE READING BELOW
But then strange things can happen.
Honestly, I hated the movie but I actually found myself rooting for Angeline Quinto because she has something there, perhaps the makings of a big star. There's something vaguely Noranian about her: the humble roots, the self deprecating humor, the tragic story, and that sheer instinct for performing for the crowd. She's accessible because she looks like the girl from Sampaloc who won the singing contest on TV but she also represents the aspirations of the audience because she's now living the dream. Plus, there's real soul in her singing because she's gone through hard times. Given up for adoption by her biological mother, Angeline was raised by her father's spinster aunt and through her childhood won contest after contest, sometimes only for the trophy if there was no cash prize.
CONTINUE READING BELOW
Recommended Videos
Learn more about Angeline Quinto here.
What a great classic underdog story, the stuff of movies. No doubt the powers-that-be at ABS-CBN, who have Angeline under contract with their Star Records division, are using it to the fullest to promote their newest talent. It was a clever move to pair her with Coco Martin because he's a reliable actor and also a star in his own right. It was unfortunate, however, that they were given such unremittingly bad material for their first film. If only they had put her in a musical or a comedy or a musical comedy or in a remake of something like Bituing Walang Ningning. If only they had given her real acting lessons. If only they had done screen tests. If only they had bleached her upper lip.
ADVERTISEMENT - CONTINUE READING BELOW
But Angeline is a survivor, a winner, a potential superstar. There's machinery in place to polish her up: she can get made-over in a flash and put on the cover of a glossy fashion magazine. But the talent, which is more important than having a pretty face, is inherent in her. Also, Angeline obviously works hard and doesn't stop despite obstacle and disadvantage. I wish for her better gigs that will allow her natural talent and real self to shine through. And I really hope she succeeds without getting her nose fixed.
Share this story with your friends!
---
Help us make Spot.ph better!
Take the short survey
Load More Stories