CHECK IT OUT: Focus Athletics at Pasong Tamo Extension
Ready for a killer workout?
Focus Athletics
2259 Pasong Tamo Extension
Makati City
0920-925-7893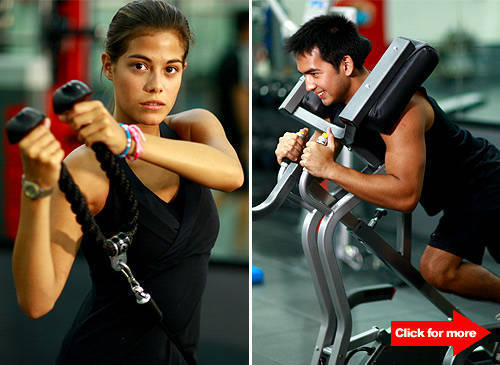 Power workouts for the power set. Click for more.

Step into the Focus Athletics gym, newly opened in Pasong Tamo Extension, and you're immediately struck by the no-nonsense feel of the place. There are no entry turnstiles, fruit shake vendors behind the counter, and definitely no treadmills with TVs tacked above them that play cable channel dreck. Instead, there's bare industrial walls, a spartan rack of equipment all across the walls, and the intense atmosphere of serious fitness business.

This suits part-owner Paolo Cabalfin just fine. "Our goal is to train you like a professional athlete from the time you walk in," he says. Focus Athletics utilize the Athlete's Performance system, imported from the States and used in the training camps of the NBA, MLB, NHL, and NFL. So whether you're a top of the line athlete or a balloon-bottomed weekend warrior, a customized pro training system is set up for you.
ADVERTISEMENT - CONTINUE READING BELOW

"It never gets boring, the progression is continuous, and it's based on sport science," says Cabalfin of the program. Aside from the pro-oriented format, Focus Athletics also offers dry needling, a sports nutritionist, and a dedicated team of physical therapists. They're also sponsored by GNC and Vibram-all the trainers we met, in fact, sported the specialized five-toed shoes. A weight-loss package costs P10,000 per month, with unlimited use of equipment, your own personal training program, and your own nutritionist. Individual sessions can also be arranged.

The word "pro" is continuously emphasized during our interview-in fact, the entire Kaya FC football team (where Aly Borromeo plays) trains in Focus Athletics. The "pro" aspect is punctuated even more by the presence of Focus Athletics head coach and Powerade Tigers conditioning trainer Julio Veloso just a couple of meters away from us, supervising an agility-based workout that finishes with hard cardio on a Schwinn Airdyne machine. We eye the other machines: power cages, TRX-like suspension systems, medicine balls, kettlebells, squat racks, a pair of Keiser cable machines. The yoga rooms are in the upper floor of the main gym, while a basketball court and boxing gym is opening next year. It all looks pretty formidable.
CONTINUE READING BELOW
Recommended Videos

We get a chance to test our impressions with a circuit workout from Coach Julio himself. He takes us through stretching exercises with resistance bands, before moving on to some plyometrics. We then take a medicine ball each for some wall throws, and work through kettlebell swings, suspension chest presses, ab rolls on the stability balls, and anti-rotation exercises on the Keisers. One hour and thirty minutes later (the average amount of time of a typical session), we finish up on the bike machine, tottering on the brink of exhaustion. The workout definitely didn't pull any punches and refused to hold your hand either. But, to our absolute surprise, there was absolutely no muscle pain or stiffness when we woke up the next day, despite having been completely killed almost the day before. With a workout that tough and a recovery that good, there's no excuse not to come back for more.
ADVERTISEMENT - CONTINUE READING BELOW
Photos by Dakila Angeles and Paolo Pineda
Share this story with your friends!
---
Help us make Spot.ph better!
Take the short survey
Load More Stories