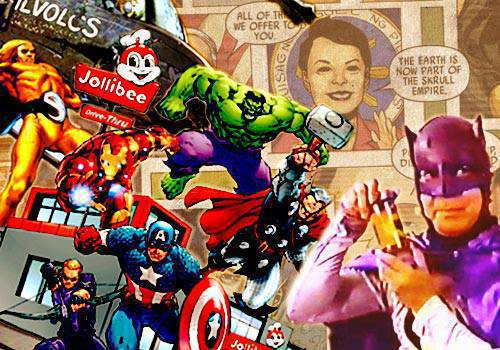 (SPOT.ph) On and off the printed page, Pinoys have made their mark on that uniquely American creation known as "superheroes". From talented artists creating world-famous characters to stupendously wacky on-panel cameos (and even wackier spoofs), we've listed down 10 connections, both famous and obscure, between capes and our countrymen.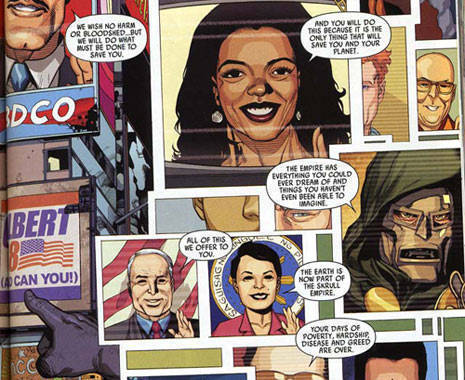 Former President Arroyo is an alien
Well, this would explain a lot.
Going by the 2008 miniseries by Brian Michael Bendis and artist Leinil Francis Yu, former Philippine President Gloria Macapagal-Arroyo was one of many individuals replaced by the alien invaders known as the Skrulls during Marvel's Secret Invasion event. She's in good company, though, as Oprah Winfrey, Sen. John McCain, Tiger Woods, Kim Jong-Il, and Steve Jobs were all supposedly replaced by Skrulls too.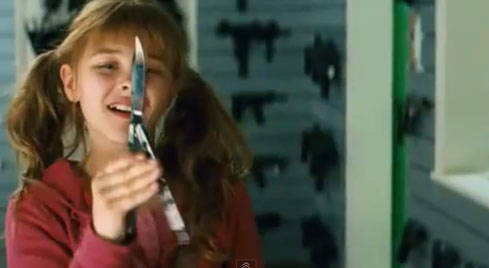 ADVERTISEMENT - CONTINUE READING BELOW

Hit-Girl made a balisong cool again
In director Matthew Vaughn's 2011 film adaptation of the comic Kick-Ass written by Mark Millar and penciled by John Romita, Jr., Hit-Girl (Chloe Grace Moretz) gets a pair of balisongs as birthday gifts from her father Big Daddy (Nicolas Cage). When Big Daddy quizzes her on what the proper term for the weapon is, she quickly responds with "Balisong. It's Filipino." Well done, Hit-Girl. We're proud of you. You can watch the video here.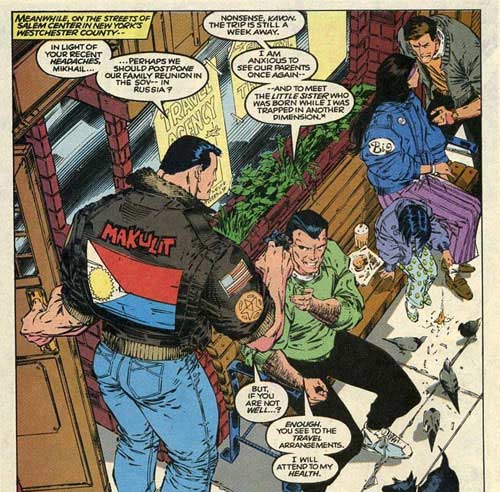 Marvel nearly created a Filipino X-Man
When Whilce Portacio co-created Bishop while artist for Uncanny X-Men, he wanted to make the character Pinoy, as mentioned in this interview at Comixverse. The character ended up being African-American instead.
Portacio eventually worked on his own comic called Wetworks and made his character Grail (Joel Salvador Alonday II) into a Pinoy. Also, in Uncanny X-Men #290, Whilce managed to put the Russian mutant Colossus in a leather jacket with the Philippine flag on him (see the top picture). Sneaky, sneaky.
CONTINUE READING BELOW
Recommended Videos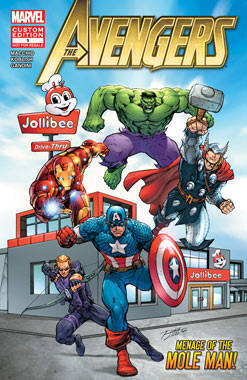 A manager of Jollibee became an honorary Avenger
Apparently, Jollibee trains its crew really well.
In an officially-licensed Avengers comic book written by Ralph Macchio (sorry, not that Ralph Macchio), villain Mole Man attacks Manila, but a brave Jollibee manager named Jose stands up to his villainy. The Avengers respond, soundly defeat the bad guy, and in the comic book's big twist, Jose asks for clemency for the beaten Mole Man. Moved by his sense of compassion, Captain America makes him an honorary Avenger.
The comic was given away for free with a Kids Meal as part of a promotion for the Avengers flick.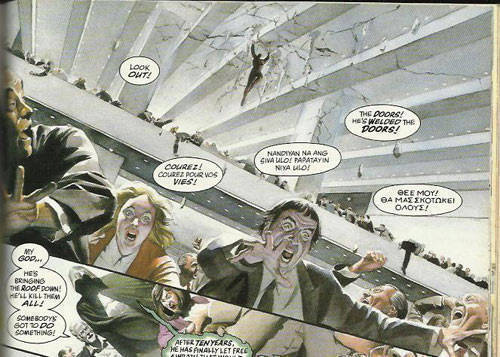 ADVERTISEMENT - CONTINUE READING BELOW
Superman scared a Pinoy in the United Nations
At the conclusion of the acclaimed graphic novel Kingdom Come by Mark Waid and Alex Ross, an older Superman goes nuts after the United Nations sent an atomic bomb to decimate the superhero population. Supes attacks the UN in a fit of rage, sending inhabitants running and screaming.
Check out that third word bubble in the first panel. "Nandiyan na ang siva ulo! Papatayin niya ulo!" It's so badly translated as to be hilarious, but any native speaker can get the gist. (The French one is no better-it's been literally translated straight from English.) Hey, if Superman were about to crash a roof down on us, we'd probably mess up our lingua franca too.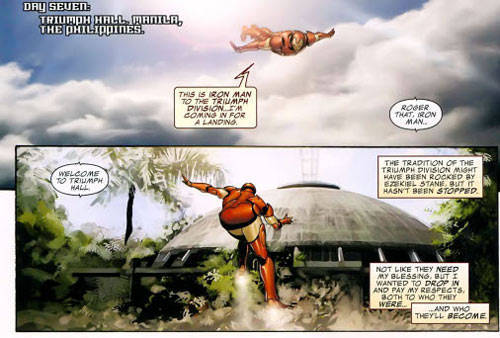 Iron Man is friends with Filipino heroes, who apparently live in UP Diliman
In Invincible Iron Man #2 by Matt Fraction and Salvador Larroca, a bomb decimates the Filipino superhero team known as "The Triumph Division." Iron Man visits their headquarters in issue #4 and notes that here, "the legacies of heroes are familial and run back centuries." He then says that the next generation of heroes means "The Philippines is in great hands."
ADVERTISEMENT - CONTINUE READING BELOW
It's impossible not to note the Photoshop-filtered similarity between the headquarters and The Church of the Holy Sacrifice in UP Diliman that was designed by Leandro Locsin, Napoleon Abueva, Victor Manansala, Ang Kiu Kok, and Arturo Luz.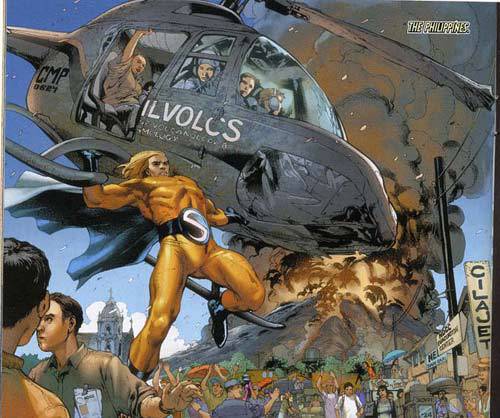 Mt. Pinatubo erupted again, but superheroes saved the day
In Marvel's Agents of Atlas, the infamous volcano near Zambales and Pampanga that last erupted in 1991 went off one more time. This time though, several Marvel heroes, including the powerful Sentry, arrive on the scene. The Sentry even lifts a clearly-labeled Philvolcs helicopter during the chaos. Of course, the artist on this series is our own Carlo Pagulayan.
Superheroics... definitely more fun in the Philippines!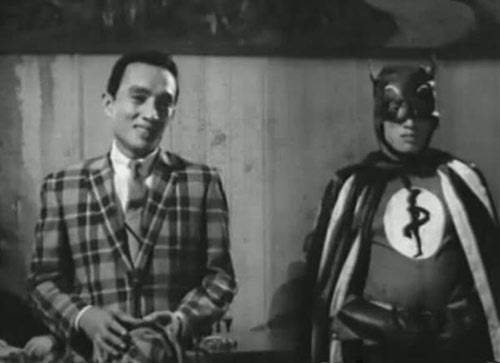 ADVERTISEMENT - CONTINUE READING BELOW
Dolphy merges Batman with James Bond
This isn't the first unauthorized Pinoy Batman film-nor would it be the last. But it does star Dolphy, which makes it a standout in our cottage industry of copyright-infringing superhero flicks.
Yes, the one and only "King of Comedy" managed to merge two fictional icons in this 1966 film entitled James Batman. In this bizarre mash-up, Dolphy plays both roles as the two vie to take down a villainous organization headed by a gang of assorted baddies, including a Penguin knock-off, a sniper with a mace for a hand, a metal-headed villain whose chair is in the shape of a hand...that fires death rays. Instead of stylized bat, the insignia sported by Dolphy's Batman is a sexy girl in a feather boa.
With Dolphy in the title role, he had Boy Alano play "Rubin" in a film that had Artemio Marquez credited for screenplay and direction. Marquez is, of course, the father of Joey Marquez and the one and only Melanie Marquez.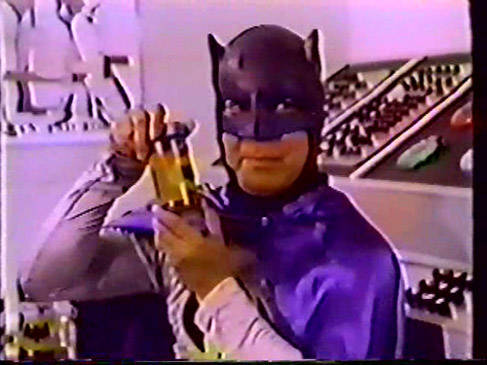 ADVERTISEMENT - CONTINUE READING BELOW
If Dolphy can do Batman, so can Joey de Leon
Almost 25 years after Dolphy had his time in the cape and cowl, it was Joey de Leon's turn at, ahem, bat. Starring with son Keempee in the 1991 flick Alyas Batman en Robin, it also featured Rene Requiestas in whiteface as The Joker and Panchito in his final film as Tiyo Paeng Guin. Musical numbers and hilariously nonsensical plot aside, this film is notable for quite possibly being the last unauthorized use of Batman in Philippine cinema, no thanks to the ever-tightening screw of intellectual property rights.
In case anyone forgot that this was produced by Regal Films, the "R" on Robin's chest was written in the Regal fashion. Product placement, Mother Lily style.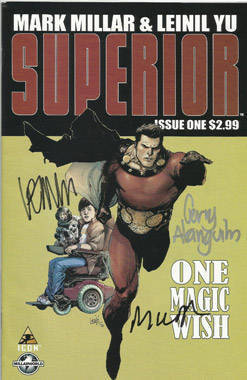 Some of comic-dom's most famous artists are Filpino
"Kung babalikan natin ang kasaysayan, si Tony De Zuñiga ang kauna-unahang Pilipino na nakagawa ng komiks sa Amerika, at siya rin ang dahilan kung bakit nakarating doon ang mga trabaho nina Nestor Redondo, Alfredo Alcala at Alex Niño," recalls Randy Valiente in an article in loqal.ph, name-checking the wave of Filipino artists who left an indelible mark in the American comics scene in the 70s.
ADVERTISEMENT - CONTINUE READING BELOW
To wit: Tony De Zuñiga co-created the DC anti-hero Jonah Hex, Nestor Redondo made his mark on Swamp Thing, Alfredo Alcala worked on Conan the Barbarian, and Alex Niño did some well-regarded work in DC's supernatural line. Other notables during that time were Gerry Talaoc, who worked on Alpha Flight and Romeo Tanghal, who had a run on The New Teen Titans.
After Whilce Portacio's success in the 90s, a whole generation of Filipino artists sprung up and, up to now, are still taking the comics world by storm. Probably the biggest among them is Leinil Francis Yu, who has done work on Superman: Birthright, Civil War, the aforementioned Secret Invasion, Superior, and Super Crooks. Carlo Pagulayan has been artist on Agents of Atlas, and is turning heads on The Incredible Hulk. Stephen Segovia is renowned for his work on Silver Surfer and Thor: The Deviant Saga. Philip Tan recently did art for Green Lantern, Batman & Robin, and The Savage Hawkman. Harvey Tolibao just took over penciling duties on Green Arrow. Jay Anacleto's art on Aria and Marvels: Eye of the Camera is also acclaimed. In short, there's no shortage of world-class Filipino comic book artists today.
Share this story with your friends!
---
Help us make Spot.ph better!
Take the short survey
Load More Stories