Dolphy bows out, The Amalia Fuentes Umbrella Saga + more lowlights
Plus, Lovi Poe's in another <em>aswang</em> movie, Trillanes makes his move, and more nutty tales.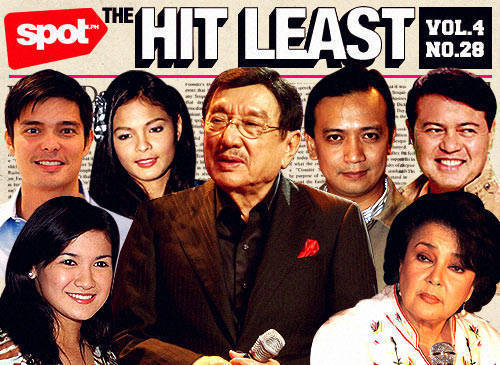 1. DAVAO CITY VICE MAYOR RODRIGO DUTERTE ORDERS SWINDLER MANOLITO GAVAS TO EAT FAKE DOCUMENTS, DUTERTE MAY NOW FACE CHARGES FOR SUPPOSEDLY VIOLATING GAVAS' HUMAN RIGHTS. How about the human rights of the swindler's victims?
2. CAUGHT ON CCTV CAMERA: A WOMAN IN ZAMBOANGA USES HER LITTLE SON AS AN ACCOMPLICE IN STEALING. Well, hello there, paragon of motherhood!
ADVERTISEMENT - CONTINUE READING BELOW
CONTINUE READING BELOW
Recommended Videos
3. THERE'S TALK THAT CESAR MONTANO WILL BE MANILA MAYOR ALFREDO LIM'S RUNNING MATE IN THE 2013 POLLS. Maybe you're better off reviving the Machete franchise or something.
4. A BUS BURSTS INTO FLAMES ON EDSA. We'd like to think that the collective anger of commuters sparked its spontaneous combustion.
5. SINGER NICKI MINAJ PERFORMS IN MANILA. What?! No accusations that her songs are Satanic?
Load More Stories