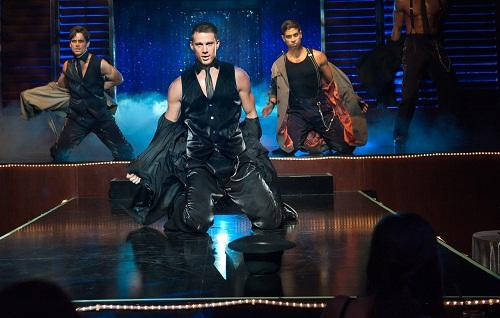 Channing Tatum takes the lead in this semi-autobiographical film.
(SPOT.ph) Based partly on Channing Tatum's experiences as a male stripper before he made his mark in the movies, Magic Mike is a contemporary drama set in Tampa, Florida.  It tells the story of Mike (Tatum)-a roof-tiler by day and male stripper by night-who schools a 19-year-old college dropout named Adam (Alex Pettyfer) in the art of making serious money as a dancer in an all-male revue. In the early weeks of their mentor-protégé relationship, Adam proves to be a fast learner. But since he's young, dumb, and full of cum, the cocky (pun intended) Alex gets mixed up in an a shady scheme involving drugs, a situation which not even Mike may be able to save him from.

Pluses:

This is Hollywood's first movie about male strippers! The world of the male stripper-or macho dancer as he's known to Pinoy cineastes-has been examined and explored numerous times by award-winning filmmakers Mel Chionglo (Sibak, Twilight Dancers) and the late great Lino Brocka (Macho Dancer), but never by Hollywood. Now comes Oscar-winning director Steven Soderbergh with this fun and illuminating look at the hunky Americans who begin their dances dressed as cops, boy scouts and sailors, and end  their shows with nothing on but thongs stuffed with dozens of $20 bills. There is, however, a major difference between local macho dancer movies and Soderbergh's opus: where Brocka and Chionglo's films had plots that were always propelled by gay characters, there's not one male homo in Magic Mike. (There is, however, a funny bisexual female). Like Brocka and Chionglo, however, Soderbergh doesn't shy away from showing the bulging crotches and bare bottoms of his actors- which is quite a feat considering how squeamish Hollywood actors are about showing their "stuff" compared to their Filipino counterparts.
ADVERTISEMENT - CONTINUE READING BELOW
Watch the trailer here.

Matthew McConaughey's riveting performance. It's probably difficult to steal a movie about male strippers aimed at twentysomething females when you're Matthew McConaughey's age, especially when those strippers are played by young head-turners like Channing Tatum and Alex Pettyfer. And yet, that's exactly what McConaughey does as Dallas, the aging emcee of the Xquisite club where Mike and Adam "work it all night." McConaughey's portrayal of Dallas as a caring but fearsome club owner is easily his best work since his breakthrough performance in A Time To Kill. And guess what else? McConaughey does his electrifying work in Magic Mike with his clothes on.

Steven Soderbergh's unconventional shots. Most TV shows and movies give viewers  close-ups of the characters who are speaking, especially when they're delivering  important dialogue. In Magic Mike, director Soderbergh (also acting as his own cinematographer) gives us several shots where the important lines are said by characters who are offscreen, the camera lingering on the face of a character who's reacting to what he or she is being told by the unseen speaker. It's an unusual, off-beat technique that adds to the movie's many charms. Similarly unconventional are the shots where the characters converse in cars, and Soderbergh finds places inside the car that no other director has ever planted the camera in. But my very favorite shot in the film is one that doesn't take place in an automobile. It's a simple shot of Mike and a female friend that's framed to look like they're walking on water, when they're just strolling along a sandbar. Later in the film, someone talks about "walking on water," instantly recalling this earlier shot and making it pay off with belated resonance.
CONTINUE READING BELOW
Recommended Videos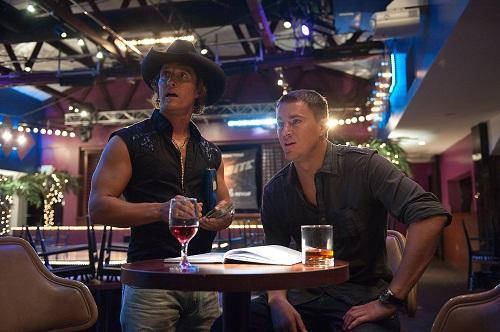 It's a beefcake show featuring Channing Tatum and Matthew McConaughey

The smart comedy. There's something absurdly funny about a job that forces a handsome man to shave his legs, wear a thong, and even put on Tarzan's loincloth. The script of Magic Mike knows just how to get laughs from these details, using not just sight gags but also very real situations, such as when Adam has to explain to his sister why he has these costumes.

Minuses:

The yellow-hued cinematography. In Traffic, the film that won Steven Soderbergh his Oscar for best director, Soderbergh color-coded the various subplots so that the film  would be easier for an audience to follow. The story set in Mexico featuring Benicio del Toro, for instance, was yellow-hued while the story set in Washington D.C. starring Michael Douglas was tinted blue. In Magic Mike, Soderbergh again uses yellow filters in the exterior daylight scenes, for no apparent reason other than to make these scenes look monochromatically dull compared to the more vibrantly colorful nighttime strip scenes. Not having seen many films set in Tampa, Florida, I would have preferred a more natural lighting approach to those scenes.
ADVERTISEMENT - CONTINUE READING BELOW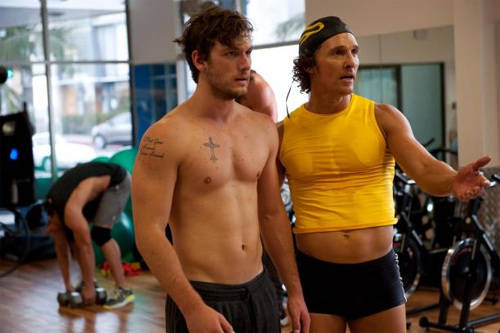 Alex Pettyfer plays a rookie stripper.

The cuts. Magic Mike is rated R in the USA, but rated R-13 by our MTRCB. To get the more audience-friendly R-13 rating, the local distributor allowed at least two cuts that were quite noticeable.

In brief (pun intended): Magic Mike is a smart, sexy and unconventionally entertaining drama from one of America's most reliable filmmakers, a film set in a world that Hollywood's never shone a spotlight on. This one's highly recommended for the more adult, fun-seeking females who weren't thrilled by the superheroic exploits of The Amazing Spider-Man and Abraham Lincoln: Vampire Hunter.

RATING:
4 out of 5 spots ••••
Share this story with your friends!
---
Help us make Spot.ph better!
Take the short survey
Load More Stories