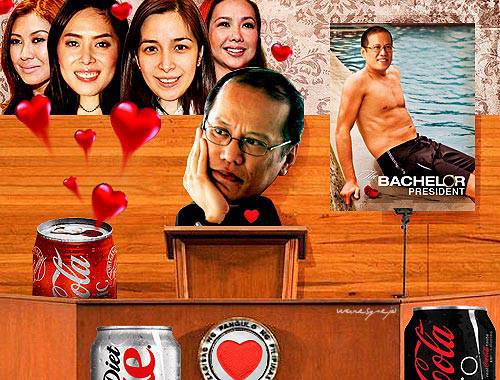 State of the Love Life Address (SOLOLA)
of
His Excellency Benigno S. Aquino III
Bachelor-President of the Philippines
to the Congress of the Philippines
[This is a draft of a speech that will never be delivered at the Session Hall of the House of Representatives, Batasan Pambansa Complex, Quezon City next week, on July 23, 2012. As we like to say: "By the way, this is satire."]
Senate President Juan Ponce Enrile; Speaker Feliciano Belmonte Jr.; Vice President Jejomar Binay; former Presidents Fidel Valdez Ramos and Joseph Ejercito Estrada;  Future Chief Justice who is not Renato Corona and the honorable Justices of the Supreme Court; honorable members of the diplomatic corps; members of the House of Representatives and the Senate; Local Government Officials; members of our Cabinet; members of the Armed Forces and the Philippine National Police; to my fellow servants of the Filipino people;
And to my beloved countrymen, my Bosses:
I stood before you during my inauguration and sort of promised myself not to get hitched while I am in office. In fact, I formed a study group to find out if it is beneficial for me to get married at all. At this point in time, I am inclined to make the supreme sacrifice of being a serial monogamist for life. You have to forgive me, Speaker Belmonte, if I am unable to follow your advice. Then again, who's to say that I won't change my mind when I find The One?
Still, in the interest of transparency and to reiterate my commitment to the principle of serial monogamy until such time that I find someone who is perfect for me, I must point out that since my inauguration, I have been linked to the following ladies: Shalani Soledad, Barbie Palagos, Liz Uy, Len Lopez, Trish Roque, Iza Calzado, Bais City Mayor Karen Villanueva, Thai Prime Minister Yingluck Shinawatra, and Grace Lee. Let me remind you that that's quite an accomplishment for a 52-year-old man who's also running the country. My dating track record as president is defintely above average. If this is what Coke Zero is like, I don't want it to be Coke Regular or Coke Light anymore.
ADVERTISEMENT - CONTINUE READING BELOW
In light of that, allow me to share more good news. Having forcefully gotten rid of the wang-wang, I have revived the confidence of my potential dates on the fact that we can go out for long drives without attracting attention. However, the Presidential Security Group will still be with us. It's for security.
Speaking of security, doesn't enhanced security also enhance our national pride? There was a time when I couldn't appropriately respond to questions about my love life for fear that the woman linked to me would be hounded by the media. Now, my message to the world is clear: From here on, my love life will be open to the public. This I promise you: Kahit i-Friend Zone lang ako ng girl or i-Friend Zone ko lang ang girl, malalaman n'yo pa rin. No more blind items and unconfirmed date sightings.
As such, I will test the following pick up lines on you:
Guy: Si Gloria Macapagal-Arroyo ka ba?
Girl: Ha? Hindi. Bakit?
Guy: Kasi hindi kita mapakawalan.
***
Guy: Si Edwin Lacierda ka ba?
Girl: WTF! Of course not. Bakit 'yan ang tanong mo?
Guy: Kasi kahit parang medyo pikon ka, love na love pa rin kita.
***
Guy: Si Ronald Llamas ka ba?
Girl: Ngek. No freaking way! Why?
Guy: Kasi kahit mahilig ka sa pirated, ikaw ang original love ko.
***
Guy: Panatag Shoal ka ba?
Girl: Er, are you nuts. Of course, I'm not!
Guy: Kasi kahit pilit ka pang angkinin ng China, alam kong akin ka lang.
CONTINUE READING BELOW
Recommended Videos
***
Guy:  SONA ka ba?
Girl: Naloloko ka na ba? Hindi, ah!
Guy: Kasi kahit once a year lang kita ma-date, sobrang bongga naman!
Thank you, everyone. Wish me luck in my love life. A wise-but-unnamed person once said, "They say true love is just around the corner, but sometimes it feels like I'm walking in circles." Tulungan n'yo akong makamit ang daang matuwid sa landas na ito. Hindi ito "Impossible Dream."
Art by Warren Espejo.
Share this story with your friends!
---
Help us make Spot.ph better!
Take the short survey
Load More Stories