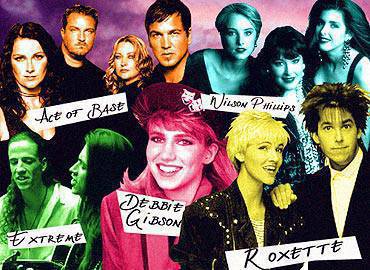 (SPOT.ph) Laugh all you want at TV spots announcing concerts by singers and bands (or singers of bands) long-forgotten, but if there's anything this steady influx of once-famous, now-uncool musicians makes us remember, it's that their songs were a vital-albeit embarrassing-part of our youth. These are songs we forged romances to, nursed heartaches to, and if we're honest about it, secretly danced to while alone in our bedrooms.
Here, we list 10 acts--from the 80s and 90s--we grew up with that we wish we could watch in Manila in all their live glory. The road paved by the likes of Air Supply, Swing Out Sister, Rick Astley, Mr. Big, and Boyz II Men is a long, wide memory lane on which we'd love to take a leisurely, guilty stroll.
"Total Eclipse of the Heart"
10. Bonnie Tyler
The Welsh singer actually had other international hits in the 80s, but as far as Filipinos are concerned, she has only one: the thunderous karaoke showstopper "Total Eclipse of the Heart." Here in the Philippines, the song is a source of both reverence and amusement: Tyler's vocals make it a shining example of 80s-era power singing, while the over-the-top theatrics make it a campy delight.

Blast-from-the-past concert moment: As Tyler's backup singers whisper "Turn around, bright eyes," you could half expect a choir of glowing-eyed boys to appear and a troupe of topless male dancers to cartwheel onstage-just a few of the many bizarre images you might remember from the song's music video.

Likelihood of a concert: Low. Tyler has been steadily performing around Europe and the US, but no Asian stopovers have been announced.
ADVERTISEMENT - CONTINUE READING BELOW
"More Than Words"
9. Extreme
American band Extreme sprang from the glam metal movement of the 80s-just look at the members' long hair, gaunt torsos, and requisite tattoos for proof. But in 1991, bandleaders Gary Cherone and Nuno Bettencourt appeared in a stripped-down, black-and-white music video with only an acoustic guitar between them, harmonizing about feelings and "I love yous" with their eyes closed. While sensitive types were swooning at this pleasant surprise, metalheads were gagging.

Blast-from-the-past concert moment: As Bettencourt gently plucks the strings to herald "More Than Words," you'd probably remember how you practiced day and night to cop his finger-picking prowess in an effort to impress chicks back in college.

Likelihood of a concert: High. Years after their amicable split in 1996, Cherone, Bettencourt, and company regrouped in 2004 and started recording and touring again. In April this year, they toured Japan; the following month, they were in China. Here's hoping the next few months will bring them here.
"Nothing's Gonna Stop Us Now"
8. Starship
We're talking about the 1984 incarnation of this American band, not its 1970s predecessor Jefferson Starship, nor its other associated act, Jefferson Airplane. With Mickey Thomas and Grace Slick at the helm, Starship released such undying 80s anthems as the raring rock romp "We Built This City," the mid-tempo number "Sara," and, perhaps the song that will endear them to listeners for years to come, "Nothing's Gonna Stop Us Now."

Blast-from-the-past concert moment: As Starship launches into "Nothing's Gonna Stop Us Now," expect a wave of nostalgia to wash over you, and with it, a vision of Sex and the City star Kim Cattrall in the title role of the 1987 film Mannequin.

Likelihood of a concert: Very low. Although Thomas still tours around the US with a backing band, Starship's turbulent history makes it unlikely that we'll ever see the members of that 80s lineup all on the same stage again.
CONTINUE READING BELOW
Recommended Videos
"The Sign"
7. Ace of Base
In the tradition of fellow Swedes ABBA, the original lineup of dance-pop foursome Ace of Base was composed of two men and two women, split equally into blond-haired and brown-haired. It seemed to be a successful formula: Ace of Base had a number of international hits in the 90s, such as "The Sign," "Don't Turn Around," "All That She Wants," and "Beautiful Life." You can thank them for blazing the trail for other Eurodance acts like Fun Factory, Whigfield, and Aqua to reach Filipino ears. You can also curse them, for the same reason.

Blast-from-the-past concert moment: When Ace of Base launch into "The Sign," all your memories of dancing along to it in front of your bedroom mirror as it blasts from the radio would come barreling back to haunt you.

Likelihood of a concert: Very low. Jenny and Linn Berggren have left the group, and although Ace of Base sprang back into action in 2010 with two new female vocalists, the later incarnation failed to court global attention of "The Sign" proportions. They have been dormant since.
"Alone"
6. Heart
Head to a KTV with a bunch of women, and chances are, at least one of them will insist on struggling through the peerless 1987 power ballad "Alone." Led by sisters Ann and Nancy Wilson, Heart has actually been around since the 70s, but their hits from 1985 onwards are what landed them on this list. Really, how could anyone resist the synth-backed softness in "These Dreams," or the slow-rock sway of "All I Wanna Do Is Make Love to You?"

Blast-from-the-past concert moment: When Ann hits the impossibly high note in "Alone," you'd shriek along, holding a mental picture of the last guy who left you hanging. Doesn't matter if the rejection happened in the 80s or last week-this song is a savage cry of despair that transcends the bounds of time.

Likelihood of a concert: Low. Although Heart has a series of shows lined up until October, all are set to take place in North America. But hey, you can always count on hearing "Alone" in the next season of American Idol, if not your next karaoke session.
ADVERTISEMENT - CONTINUE READING BELOW
"Can't Fight This Feeling"
5. REO Speedwagon
Soft rock stalwarts REO Speedwagon may have been crowned the kings of 80s sap, but no one can deny the lasting impact their songs have on fans. To this day, REO Speedwagon remains a favorite among our population of public utility vehicle-driving gentlemen, with hits like "Keep on Loving You" and "In My Dreams" serving as the de rigueur soundtrack to our daily commute.

Blast-from-the-past concert moment: You'd probably remember sharing a tender moment with your high school crush as you danced to "Can't Fight This Feeling" at your prom. (Allow yourself to feel warm and fuzzy at the thought.)

Likelihood of a concert: Low. Although REO Speedwagon has been hot on the tour circuit in the US since May, no Asia dates have been announced.
Tiffany's "All This Time"
Debbie Gibson's "Lost in Your Eyes"
4. A Tiffany-Debbie Gibson showdown
Taking a cue from the New Kids on the Block-Backstreet Boys and Color Me Badd-All-4-One collabs, here's another epic tandem that will have audiences shrieking with a mixture of glee and incredulity.
Both 80s teen pop stars with a string of hits to their name, Tiffany and Debbie Gibson were often pitted against each other, making them the Britney and Christina of their generation-but with more clothing. Even now, hearing Tiffany's "Could've Been" or Gibson's "Foolish Beat" lead us back to an era when teen icons could churn out chart-toppers without shoving their bare midriffs in everyone's faces.

Blast-from-the-past concert moment: A mash-up of "Lost in Your Eyes" and "Could've Been" would be a nostalgic treat-and would make you rethink your previously held Team Tiffany/Team Debbie allegiance.

Likelihood of a concert: High. In 2011, the two joined forces for the Journey Through the 80s Tour and have even shared the screen in a campy low-budget flick called Mega Python vs. Gatoroid. More proof that at least one of them has a soft spot for the Philippines: besides performing in concert here in 1991, Gibson was on a humanitarian visit to the country in 2010. Maybe she could convince her friend to come along next time.
ADVERTISEMENT - CONTINUE READING BELOW
"It Must Have Been Love"
3. Roxette
For a few years in the 90s, Marie Fredriksson's platinum blond crop, Per Gessle's The Cure-meets-Miami Vice 'do, and their shared penchant for skintight leather were a household image in the Philippines, thanks to catchy pop hits like "The Look," "Listen to Your Heart," and "Dangerous" that shot the Swedish duo to worldwide fame. They even scored a spot on the soundtrack to one of the most defining movies of the 90s: the Julia Roberts-Richard Gere starrer Pretty Woman.

Blast-from-the-past concert moment: As Roxette play "It Must Have Been Love," you'd recall listening to this over and over in your Walkman as you silently shed tears over a boy you once longed for. And then cringe in recollection.

Likelihood of a concert: High. Roxette's 2012 tour saw them in a number of Asian destinations earlier this year. Succeeding dates will see them in Europe, US, and Canada. Marie and Per, if you're reading this, you know where it's more fun.
"Always"
2. Erasure
The British new wave duo is actually no stranger to the Philippines, having performed at the Hard Rock Café in Makati in 1997. But that would mean their biggest Philippine hit, "Always," was only three years old at the time of the concert, making the sort of inexplicable nostalgia we feel for it now premature.
We think it's high time Vince Clarke and Andy Bell came back to Manila, because the image of a whole arena doing the Butterfly-the unmistakable dance step to "Always"-is just too awesome to ignore. Promoters, here's a suggestion to make the concert even more mind-blowing: get the Universal Motion Dancers to reunite for one night so they can lead the dancing onstage. You're welcome.

Blast-from-the-past concert moment: As the band launches into the unforgettable chorus in "Always," you might recall gyrating onstage to this song in some tacky school program in your teenaged past. And you might even think, as you sway with abandon now, how you've come full circle.

Likelihood of a concert: Low. Although Erasure toured US, Canada, Europe, and South America last year, the duo has yet to announce any forthcoming tour plans.
ADVERTISEMENT - CONTINUE READING BELOW
"Hold On"
1. Wilson Philips
From the lads of Harold and Kumar to the ladies of Bridesmaids, it seems everyone, even Hollywood hotshots, misses this 90s girl group. Songs like "Release Me," "You're In Love," and "Impulsive" made Chynna Philips and sisters Carnie and Wendy Wilson worldwide sensations, with male fans wanting to date them and female fans wanting to be them. But their most enduring legacy will forever be their 1990 debut "Hold On," a timeless pop treasure that can still inspire a desire to run out onto the street and seize the proverbial day-even after all these years.

Blast-from-the-past concert moment: When Chynna, Carnie, and Wendy chant rapid-fire, "Someday, somebody's gonna make you wanna turn around and say goodbye," expect both chicks and dudes to stammer along. You'll probably remember those carefree summer days when you used to belt this out with your gal pals while marching purposefully down the streets in your subdivision-just like the girls did in the music video.

Likelihood of a concert: Very high. On the event page in Wilson Philips's website, listed next to the date October 12 is "Manila, Philippines." Don't get your hopes up just yet; the gig is yet to be announced by any of our local promoters. But if it turns out to be true, then ladies and gents, that's your cue to round up your childhood buddies, dig out your dusty chaleco, and go absolutely insane.
Share this story with your friends!
---
Help us make Spot.ph better!
Take the short survey
Load More Stories