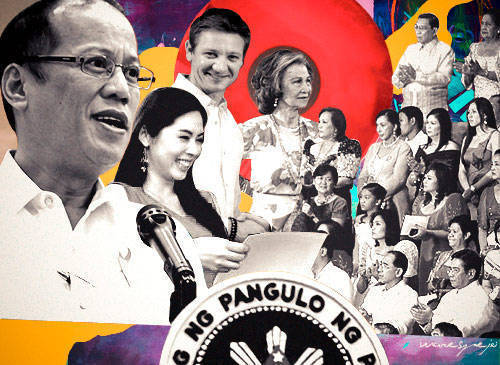 (SPOT.ph) There's no doubt that hardcore news agencies will dissect President Benigno "Simeon" Aquino's third State of the Nation Address (SONA) with high-IQ pronoucements and words that would have you screaming for your thesaurus or Googling like mad. For the record, we're not a hardcore news agency. So, we're dissecting the SONA-from the actual speech to the other arousing factors surrounding the red-letter day-using our middle class gut reactions. We've listed 10 things that aroused our inner revolutionaries. In case you missed it, we swing (ever so slightly) towards left of center.
Note: For purposes of brevity, we are using the English translation of P-Noy's 2012 SONA.
Understandably, on July 23, P-Noy kept his morning free to prepare for his third SONA, a 9,000-word creation that reportedly went through eight revisions. The length is equivalent to saying "I love you" with feelings 3,000 times.
1. Size Length does not matter. That's what we want to tell P-Noy's speechwriter or speechwriters. But, heck, this year's SONA was about 9,000 words long (delivered in Filipino, P-Noy spoke a total of 9,154 words, while the English translation is at 9,080 words). Using Times New Roman font size 12, the whole speech uses up 17 pages of 8.5" x 11" paper. That's single-spaced, mind you. In any case, it's not how long it is, but how long people (who aren't forced take note of it for a pop quiz) can stay awake when they listen to it.
ADVERTISEMENT - CONTINUE READING BELOW
We know at least one person who misses the wang-wang: SPO2 Ricardo Pascua got into hot water for allegedly refusing to give way to the (wang-wang deprived) convoy of President Benigno 'Noynoy' Aquino III.
2. Happy wang-wang ending. Truth be told, we started to get distracted when P-Noy said, "This is my third SONA. It wasn't too long ago when we began to dream again; when, united, we chose the straight and righteous path; when we began to cast aside the culture of wang-wang, not only in our streets, but in every sector of society." Wang-wang was also prominent in last year's SONA. It seems that P-Noy talks about this achievement so much that people may begin to think that this is the only thing that he's done well since he became president. Maybe it's time to find another symbolic pet project. How about botcha?
Should Martial Law be brought up in every SONA?
3. The P-Noy Knight Rises. Maybe we're just hung over from watching The Dark Knight Rises, but this part of P-Noy's speech sounded a little too Batman for comfort: "Like many of you, I have been a victim of the abuse of power. I was only 12 years old when Martial Law was declared. For seven years and seven months, my father was incarcerated; we lived in forced exile for three years. I saw for myself how many others also suffered. These experiences forged the principles I now live by: Where a citizen is oppressed, he will find me as an ally; where there is an oppressor, I will be there to fight; where I find something wrong in the system, I will consider it my duty to right it."
CONTINUE READING BELOW
Recommended Videos
In April 2011, P-Noy reportedly said that he wouldn't mind being excommunicated as long as the Responsible Parenthood Bill is passed.
4. "Oh my, God, I'm coming." We felt P-Noy laid it on too thick when he claimed, "In our first three months in office, I would look forward to Sundays when I could ask God for His help. We expected that it would take no less than two years before our reforms took hold. Would our countrymen be willing to wait that long?" What happened on the fourth month? Did God say, "I can't do all the work, pare"?
Uplifting interviews are great, but can somebody please explain to us why contractors would simply cover 661 manholes in Metro Manila with asphalt or concrete?
5. Some like it extra rough. "We have fixed more than roads; our DPWH has fixed its system. Just by following the right process of bidding and procurement, their agency saved a total of 10.6 billion pesos from 2011 to June of this year. Even our contractors are feeling the positive effects of our reforms in DPWH," said P-Noy. We wonder if he read The Philippine Star report where DPWH Secretary Rogelio Singson and MMDA Chairman Francis Tolentino "admitted that contractors have covered 661 manholes in Metro Manila with asphalt or concrete, thus contributing to the flooding of Metro Manila."
If you're wishing for more tourists, then be careful what you wish for.
6. Tourist fetish. P-Noy ecstatically reported that we're targeting 10 million tourists to arrive in the country by 2016. He said, "And if the Filipino people continue to embody the same solidarity that allowed the Puerto Princesa Underground River to become one of the New Seven Wonders of Nature, there is no doubt that we will be able to achieve this." Is he deliberately being kept in the dark about the fact that an InterAksyon.com report revealed that Puerto Princesa is now experiencing a power crisis due to the sudden surge in tourism? InterAksyon.com had pointed out: "Prior to the 'New Seven Wonders of Nature' win, Puerto Princesa's tourist arrivals hovered at around 160,000 a year; the number was at 514,000 for 2011, or right after the Palawan Underground River joined the shortlist for the 'New Seven Wonders of Nature.'"
ADVERTISEMENT - CONTINUE READING BELOW
Speaking of former President Corazon Aquino... The lady sure delivered some great speeches. (Hint, hint!)
7. Who's your mommy? P-Noy pointed out: "My mother initiated the Comprehensive Agrarian Reform Program. It is only just that this program sees its conclusion during my term." We actually felt bad for him at this point. Is there any way to say "Hacienda Luisita" and "agrarian reform" in the same sentence without feeling a wee bit awkward?
When do they get the justice they deserve?
8. Ditching the nasty ones. When it came to discussing crime, P-Noy said, "We do not claim that we have ended criminality, but I'm sure no one would complain that it has been reduced. In the span of just a little more than a year, haven't we finally put Raymond Dominguez in jail, after years of being in and out of prison? Charges have been filed against two of his brothers as well, and they are now serving time, too. Of the two suspects in the Makati bus bombing of the past year-one is dead, and the other is living in a jail cell. He shares the same fate as the more than ten thousand individuals arrested by PDEA in 2011 for charges relating to illegal drugs." So, how about the Maguindanao massacre perpetrators, sir? If you can kick out in record time a Chief Justice who screwed up his SALN, then surely you can hunt down those who killed 57 innocent people?
Shouldn't the Philippines be a retirement haven for Pinoys, too?
ADVERTISEMENT - CONTINUE READING BELOW
9. Old money. Disturbed by the plight of retirees, P-Noy promised: "Consider: some retirees receive less than 500 pesos a month. How does one pay for water, power, and food, daily? Our response: With the New Year comes our resolution that all old-age and disability pensioners will receive no less than five thousand pesos monthly." How about ₱5,000 plus state-sponsored housing and utilities? Rather than shell out cash to pay idiotic contractors, people would probably feel better if the money is used to take care of the elderly.
How can you not give out cash advance for certain projects and tasks when your employees barely have enough to make ends meet?
10. Premature ejaculation. P-Noy declared, "To avoid abuse, we have ended cash advances for agencies." In theory, that's cool. However, what happens when you send out, say, health workers or aviation security officers to survey far-flung barrios or out-of-the-way airports? Do they have to spend their own money first and ask for reimbursement later? What if they have no extra money to spare to pay for the things that they do in the line of duty? Is this declaration just plain grandstanding?
Graphics by Warren Espejo, with screenshots of photos from PEP.ph and Gov.ph.
Share this story with your friends!
---
Help us make Spot.ph better!
Take the short survey
Load More Stories