Tabloid Grab Bag: "SONA parang ihi," "Don't touch my Angry Bird" + more
For crazy adults only: The latest from our cache of disturbing content.
(SPOT.ph) Pinoy tabloids serve up all kinds of news in the nastiest ways possible. It's all about dirt to infinity and beyond. In the world of tabloids, being politically correct is passé, gender sensitivity flies out the window, and compassion is as undesirable as an excruciating wax job. Without further ado, here's our latest cache of disturbing content.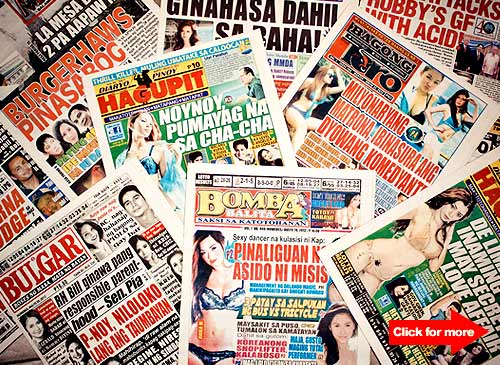 ADVERTISEMENT - CONTINUE READING BELOW
The content is definitely for crazy adults only. Click for more at your own risk.
Image credits: All images are shots from the pages of Hataw!, Bomba, Tiktik, Remate, Bomba Balita, Bagong Toro, Pinoy Parazzi, Ang Orig Toro, Hagupit, Pang-Masa, Bulgar, and Abante Tonite.
Recommended Videos
Load More Stories