SPOT.ph's Olympic Trivia Stash: A Pop Culture Junkie's Dream
It's a crazy Olympics-centric conversation crib sheet. (Don't say we didn't warn you.)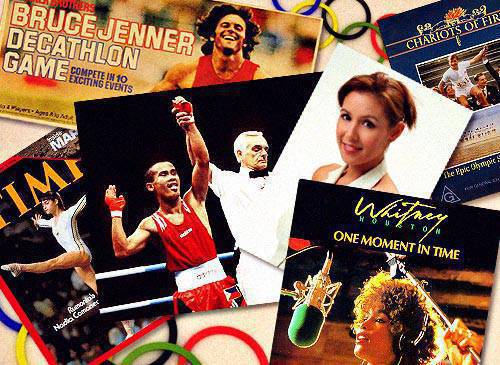 (SPOT.ph) With the 2012 London Olympics in full swing, we thought we'd highlight some interesting factoids about the Games and anything related to it. In other words, even if you aren't really into the Olympics, you can use this as a conversation crib sheet when everyone is talking about the biggest sports festival on Earth. You could even upgrade your Facebook status musings with these random "They won't do anything to change the world" gems. Hey, we're pop culture junkies and we live for these things.
Meet Wenlock and Mandeville and, no, they are not aliens.
Maddening mascots. According to the caption of the photo featured in a slideshow on Yahoo! Philippines SHE, the mascots for the 2012 London Olympics are named Wenlock (with the "W" on its head) and Mandeville (with the "M" on its head, of course). If you find yourself asking what the heck they are the first time you see them, you're not alone. Apparently, they're supposed to depict "two drops of steel from a steelworks in Bolton." Wenlock is "named after the Shropshire town of Much Wenlock, which held a forerunner of the current Olympic Games." Mandeville is named after "Stoke Mandeville Hospital, a facility in Buckinghamshire that initially organized the Stoke Mandeville Games, the precursor of the Paralympic Games." The mascots even have their own website. (Sorry, though, Wenlock and Mandeville, our hearts already belong to Susy and Geno even if we haven't chugged Sustagen in years.)
ADVERTISEMENT - CONTINUE READING BELOW
This is how Olympic medals are made.
Pinoy medal count. They say it's not if you win or lose, it's how you play the game. But most people are medal-oriented. For the record, we have nine medals (seven bronzes and two silvers) from the official Olympic sports line-up and four more medals (two golds and two bronzes) from demonstration sports such as bowling, taekwondo, and wushu. Let's face it-13 medals is already a stellar achievement considering our athletes don't exactly live like state-subsidized kings and queens. (To get to know the Pinoy Olympic medalists, read "The Pinoy Olympian Hall of Fame.")

CONTINUE READING BELOW
Recommended Videos
Onyok Velasco may have won a medal for using his fists, but he seems sweet enough.
Most recent official sport medalist + his kuya. When it comes to official Olympic sports, our last medal was from boxer Mansueto "Onyok" Velasco, Jr., who won a silver in the 1996 Atlanta Olympics. As it turns out, Onyok's elder brother and fellow boxer Roel had snagged a bronze in the 1992 Barcelona Olympics. Yeah, Olympic medals were probably as common as glass coasters in their household.
Willy Wang, wushu wizard.
Most recent demo sport medalist. Willy Wang won a gold for wushu in the 2008 Beijing Olympics. He had stayed in China for a year to train. He retired in 2009. Just as well. If he were around for the London Olympics, he would probably have been bombarded with questions like, "Whose side are you on when it comes to the China-Philippines territorial dispute?" Plus, there's the fact that if you say his last name twice, P-Noy would go into a tizzy.
ADVERTISEMENT - CONTINUE READING BELOW
It isn't just a videoke favorite after all.
Whitney Houston, FTW! The late pop diva's "One Moment in Time" was the theme song of the 1988 Seoul Olympics. It's probably the most popular Olympic theme song. At the peak of its popularity, every Juan, Maria, and Pedro belted it out on the karaoke.
Full Time Moms host Christine Jacob has Olympic memories.
Teenage dream. These days, Christine Jacob is more popular as a TV host. But when she was just 17, she was a swimmer hoping to win a medal in the 1984 Los Angeles Olympics. So, yes, that whole "After 6 Diet" thing that she popularized among Pinoys was probably no sweat for her.
This is the Olympic movie that brought home the golden statue.
Oscars win. This 1981 British film dramatizes the story of two male athletes in the 1924 Olympics. One is a devout Scottish Christian and the other is a British Jew. The movie won Best Picture in the Academy Awards that year. One of the cast members, Ian Holm, was a Best Supporting Actor nominee. These days, Holm is more popular for playing Frodo Baggins' uncle Bilbo in The Lord of the Rings series. Last but not least, the "Chariots of Fire" theme music used to be a favorite for Pinoy graduation ceremonies (and maybe it still is).
At one point, he was way more popular than all his children combined.
Keeping up with the decathlete. The kids of the reality TV generation know him as the sometimes-quirky stepfather of Kim, Kourtney, Khloe, and Rob Kardashian. In 1976, Bruce Jenner was an Olympic sensation in Montreal. He won the gold medal in the decathlon and, at the same time, set the world record for the sport with 8,618 points. At one point, there was even a Bruce Jenner Decathlon Board Game and a cereal brand who put his face on its box. Well, at least the guy didn't have a sex video. In any case, before Jenner married the Kardashians' mom, Kris, he was married to Linda Thompson. When they split, Thompson went on to marry composer David Foster, who eventually became Pinay singer Charice's godfather. (Whew, that took some time to explain.)
ADVERTISEMENT - CONTINUE READING BELOW
She was once dubbed the "fastest woman in Asia."
Fastest OFW in Asia? Sprint specialist Lydia de Vega tried her luck in the 1984 and 1988 Olympics but wasn't able to get a medal. Pinoys still thought she was a winner. She was elected as councilor of Meycauyan, Bulacan for some time. She then went on to coach Singapore's track and field team. However, in a 2010 article published on Philboxing.com, she lamented, ""I am a product of the country, I love the Philippines, I gave honor to my country but how come I am not working here and passing on whatever I learned from my father Tatang (her father Francisco who had also served as her coach) and what I learned [from] various coaches and seminars?" We're asking the same question.
Will Mad Men's anti-hero Don Draper love this move?
McDonald's goes mad. The Guardian reported that in time for the Olympics, the fastfood chain decided to commission designer Wayne Hemingway to come up with Mad Men-inspired uniforms for the employees of their four Olympic park restaurants. Reactions to the 1960s-themed uniforms have been very positive. Reports say McDonald's employees feel, as the British would say, bloody good about the whole deal. If Pinoy McDonald's crew members were made to wear TV show-inspired outfits, we would like to suggest Magkaribal as inspiration. (Because there's nothing like being served a Burger McDo by someone in red stilettos.)
People must have asked, "Is that kid human?"
ADVERTISEMENT - CONTINUE READING BELOW
There's something about Nadia Comaneci. This Romanian gymnast stunned the world in the 1976 Montreal Olympics when she won 3 gold medals and became first female gymnast to be awarded a perfect score of 10. She was barely 15 when she pulled off the amazing feat. She went on to win two gold medals at the 1980 Moscow Olympics. (But wait, there's more!) In 1994, Comaneci married American gymnast Bart Conner, whom she had first met at a gymnastics tilt in 1976. Conner, by the way, won an Olympic gold medal in the 1984 Los Angeles Olympics. (Never mind, we have Onyok and his kuya.)
Rio is it.
The world's next Olympic venue. In 2016, Rio de Janeiro, Brazil will play host to athletes from all over the world. Rio de Janeiro is famous for its huge Cristo Redentor (Christ the Redeemer) statue, which is considered the largest Art Deco statue in the world. The statue, which measures 130 feet tall (including its 31-foot pedestal), weighs 635 tons. However, we were shocked to learn that it's only the fifth largest Jesus statue in the world. According to the Daily Mail, the one in Poland is the largest. In any case, maybe Pinoy athletes will be in their element in a place with a supersized Savior. Because they're sure as hell not getting all the support that they're entitled to from mere mortals.
Graphics by Warren Espejo, with photos from PEP.ph and screenshots from various YouTube videos.
ADVERTISEMENT - CONTINUE READING BELOW
Share this story with your friends!
---
Help us make Spot.ph better!
Take the short survey
Load More Stories