Missing Manila: Pinay Gets Lugaw in Translation
The perils of not being able to speak Filipino in a foreign country.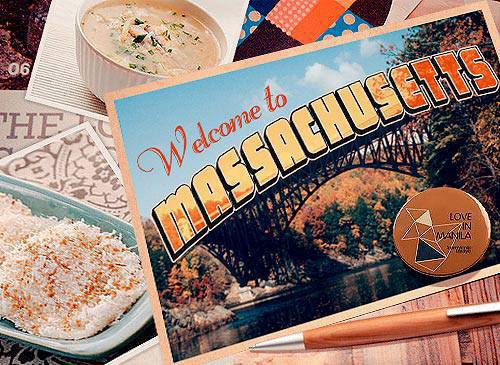 (SPOT.PH) It is 7pm in Chicopee, Massachusetts and we are advised to stay indoors. Just like in Manila, strange weather has struck here, too; we are on the watch for a tornado that's supposed to kick in at 9pm.

I can really use of a bowl of arroz caldo right now. Arroz caldo, lined with calamansi, na mainit-init pa, would be perfect. Or if I were still living in Manila, I'd call it panalo. But where to get that calamansi? All we have available here is a bottle of frozen concentrated calamansi juice and it's too risky to go out for that. Let me order pizza, instead.

Times like these, it's all too easy to miss Manila. I miss the calamansi in my arroz caldo. I can't believe I'm saying this but I miss Shakey's and Pizza Hut operators and their million peso spiel: "Thin crust or thick crust, ma'am/sir? Would you like to order drinks to go with that?"

Ma'am/sir. There are words and phrases that really only make sense in Tagalog; or like ma'am/sir, in the Pinoy context. Of course you can translate it, but it will probably take a top-notch linguist to get the same effect as when it is said in Filipino or Pilipino or Taglish or basta, Pinoy.

Take for instance, the wonderful snack made of grated cocounut and gluttonous maximus rice, flattened and submerged in boiling water also known as... palitaw. It's when the mixture rises from the boiling water, palitaw becomes itself.

Kung sasabihin sa Pilipino: Ilubog muna sa kumukulong tubig. Sa paglitaw, nagiging palitaw. Mas may dating diba?

Filipinos have a special relationship with airconditioning. I miss the Pinoy mentality of needing to close all doors and windows when the aircon is switched on. Once, I found myself stumped as my American husband exited our airconditioned room, leaving the door ajar. How do you say "isara mo ang pinto, baka lumabas yung aircon!" in English?
ADVERTISEMENT - CONTINUE READING BELOW


Or this one. This one I've seen going around the internet: the single syllable conversation often heard at elevator lobbies. "Baba ba?" "Bababa."
a popular meme taken from facebook


CONTINUE READING BELOW
Recommended Videos
Some words I really don't know the English to, like the concept of pambabakod. How do you say, binabakuran ni Robin si Myrna in English?

Or to extend that thought-ang tagal ng pizza-how do you say in polite English the curiously Pinoy sentiment of "naka-dale." When one half of the couple is believed to be better than the other, the lesser of the two is said to be "nakadale." Score? She scored? Is "Nakadale si Myrna kay Robin" the same with Myrna scored with Robin? Parang hindi.

Pinoys are terrific laiteros and laiteras because even our insults are fun and funny. We use jokes to deliver the most lighthearted of insults because we are polite that way. We never really mean to be mean. When we don't understand why Robin is courting Myrna when obviously Jonaleeza is prettier than her, we say "itsung taga-bitbit ng tsineles ni Jona si Myrna." How do you translate to English: "Ang haba tuloy ng hair ni Myrna."

What is taking the pizza guy so long? My son now wants me to cook spa-ketchup. Spaghetti with banana ketchup, for those of you not in the know. Opps, teka lang! Teka lang! Andiyan na! Andiyan na! He's here!

If I were in Manila right now, I'd describe the pizza guy to look like he, slept in a...sabihin ko nalang sa Tagalog ha? Mukha siyang nakitulog lang muna sa pancitan. Not that there's anything wrong with sleeping at a joint that serves noodles, mind. He's obviously not homeless, just nakitulog lang sa pancitan sandali.

I hope the tornado does not come because, baka mag-brown-out. Or "black out" as Americans seem more comfortable to call that situation when electricity fails. Back home, I'd probably be playing pusoy with my family. I miss playing pusoy with my family when there is a brown out, just as I miss praying for a parking spot in all four levels of Megamall.

I am missing a lot of things right now, but most of all, miss ko nang mag-Tagalog.


ADVERTISEMENT - CONTINUE READING BELOW
Share this story with your friends!
---
Help us make Spot.ph better!
Take the short survey
Load More Stories