Enrile vs. Trillanes, Sharon Cuneta's "manly" statement + more lowlights
Plus, Miriam changes her mind, Sotto's libel addendum, and more nutty tales.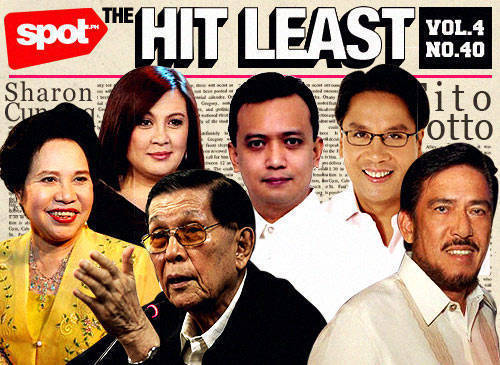 1. SENATOR JUAN PONCE ENRILE AND SENATOR ANTONIO TRILLANES IV TRADE BARBS AT THE SENATE AND THE LATTER ENDS UP WALKING OUT...BUT MOST PEOPLE REALLY DON'T KNOW WHAT THEY'RE FIGHTING ABOUT (SOMETHING TO DO WITH CHINA, RIGHT?). What the hell is this, a telenovela?
2. ANOTHER ROAD RAGE INCIDENT IS CAUGHT ON VIDEO, BUT THERE'S NO MMDA TRAFFIC ENFORCER INVOLVED THIS TIME. Shouldn't their driver's licenses also be revoked for life or do they have to slap an MMDA traffic enforcer to get that punishment?
3. THERE ARE PLANS TO PUT UP AN EDSA MEMORY MUSEUM TO HELP PEOPLE REMEMBER THAT MARTIAL LAW SHOULD NEVER HAPPEN AGAIN. Memory museum? We don't need that. We remember quite well. We remember so well that we elect the people who were from that era right back into office!
4. WE MARK THE 40TH YEAR SINCE THE DECLARATION OR MARTIAL LAW. Have we really learned anything from what happened?
5. AT FIRST, SENATOR MIRIAM DEFENSOR SANTIAGO SAYS SHE WAS GOING TO BLOCK MAR ROXAS' APPOINTMENT AS DILG SECRETARY, BUT THEN CHANGES HER MIND, SAYING, "MY HIGH INTELLIGENCE QUOTIENT DICTATED THAT HE MUST BE CONSIDERED." Now, how can you argue with that? (Actually, you can...but then would you dare to?)
6. THANKS TO THE ANTI-LIBEL SEGMENT INSERTED BY COMEDIAN-ELECTED-AS-SENATOR TITO SOTTO, THE CYBERCRIME PREVENTION ACT NOW CONTAINS PROVISIONS WHICH WOULD ALLOW WARRANTLESS TAKEDOWNS OF WEBSITES AND BLOGS, AS WELL AS THE POSSIBLE IMPRISONMENT OF THOSE WHO ARE PERCEIVED AS "HOSTILE" TOWARDS THE GOVERNMENT AND WHOEVER ELSE WHO THINKS THEY'RE BEING "CYBERBULLIED." So, who's the cyberbully now? (It sure feels like Martial Law is back and has gone digital.)
ADVERTISEMENT - CONTINUE READING BELOW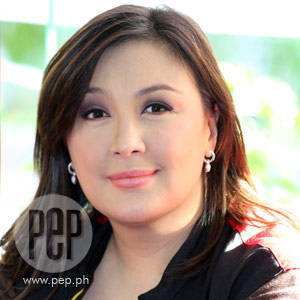 7. SHARON CUNETA SAYS SHE MEANT NOTHING BY HER QUIP THAT DAUGHTER KC CONCEPCION'S FRENCH SUITOR IS "LALAKING-LALAKI." What's eating you, Megastar?
8. TWO MEN ARE SHOT DEAD BY THE POLICE AFTER THEY ROBBED A JEEPNEY. So, if you're a small-time crook, you may get killed but if you're a big-time crook you may allegedly get elected? (It's a question and we used "allegedly" so you can't arrest us.)
9. BOXER AND SARANGANI REP. MANNY PACQUIAO DOES THE "GANGNAM STYLE" DANCE. We wanted to look away but we couldn't.
10. ACCORDING TO THE NATIONAL POLICE COMMISSION, POLICEMEN'S "LOW PAY" IS THE REASON WHY SOME OF THEM BECOME CORRUPT. Wow, this is right up there with, "My dog ate my homework."
Art by Warren Espejo, with photo from PEP.
Share this story with your friends!
---
Help us make Spot.ph better!
Take the short survey
Load More Stories