Enrile vs. Trillanes, Sharon Cuneta's "manly" statement + more lowlights
Plus, Miriam changes her mind, Sotto's libel addendum, and more nutty tales.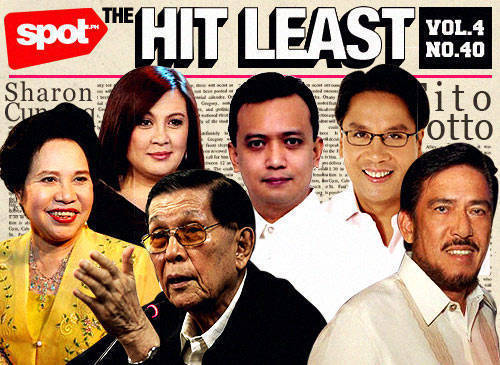 1. SENATOR JUAN PONCE ENRILE AND SENATOR ANTONIO TRILLANES IV TRADE BARBS AT THE SENATE AND THE LATTER ENDS UP WALKING OUT...BUT MOST PEOPLE REALLY DON'T KNOW WHAT THEY'RE FIGHTING ABOUT (SOMETHING TO DO WITH CHINA, RIGHT?). What the hell is this, a telenovela?
2. ANOTHER ROAD RAGE INCIDENT IS CAUGHT ON VIDEO, BUT THERE'S NO MMDA TRAFFIC ENFORCER INVOLVED THIS TIME. Shouldn't their driver's licenses also be revoked for life or do they have to slap an MMDA traffic enforcer to get that punishment?
ADVERTISEMENT - CONTINUE READING BELOW
CONTINUE READING BELOW
Recommended Videos
3. THERE ARE PLANS TO PUT UP AN EDSA MEMORY MUSEUM TO HELP PEOPLE REMEMBER THAT MARTIAL LAW SHOULD NEVER HAPPEN AGAIN. Memory museum? We don't need that. We remember quite well. We remember so well that we elect the people who were from that era right back into office!
4. WE MARK THE 40TH YEAR SINCE THE DECLARATION OR MARTIAL LAW. Have we really learned anything from what happened?
5. AT FIRST, SENATOR MIRIAM DEFENSOR SANTIAGO SAYS SHE WAS GOING TO BLOCK MAR ROXAS' APPOINTMENT AS DILG SECRETARY, BUT THEN CHANGES HER MIND, SAYING, "MY HIGH INTELLIGENCE QUOTIENT DICTATED THAT HE MUST BE CONSIDERED." Now, how can you argue with that? (Actually, you can...but then would you dare to?)
Load More Stories