P-Noy's hypothetical honeymoon, Koko Pimentel does "Gangnam Style" + more lowlights
Plus, yet another <em>kabit</em> movie, Heart and Marian are pals, and more nutty tales.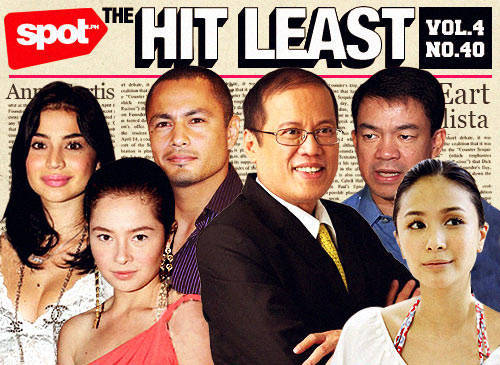 1. CEBU PRIEST CRISTOBAL GARCIA-WHO TALKED ABOUT BUYING RELIGIOUS STATUES CARVED FROM SMUGGLED IVORY IN A NATIONAL GEOGRAPHIC ARTICLE-TURNS OUT TO HAVE BEEN ALREADY SUSPENDED BY THE VATICAN DUE TO A CHILD ABUSE CASE FILED AGAINST HIM WHEN HE WAS SERVING IN THE UNITED STATES. And because we pointed this out, we're going to be tagged as anti-Catholic. (How many counts of "Our Father" and "Hail Mary" do we say for this?)
2. THE DEMAND FOR RELIGIOUS FIGURES CARVED FROM IVORY ARE IN DEMAND AS PINOYS WELCOME THE START OF THE CHRISTMAS SEASON. How about religious figures made from recycled or repurposed materials? (So, that will be 1,000 more repetitions of "Our Father," right?)
3. A DRUNK MOTORCYCLE RIDER NAMED ANTHONY SY CRASHES INTO AN SUV AND HE STARTS DISSING THE PASSENGERS OF THE SUV, ONE OF WHOM TURNS OUT TO BE POLICE SENIOR SUPERINTENDENT RODELIO JOCSON, THE POLICE OF TAWI-TAWI. Bingo!
ADVERTISEMENT - CONTINUE READING BELOW
4. IN THE UPCOMING A SECRET AFFAIR, DEREK RAMSAY PLAYS THE HUSBAND, ANNE CURTIS PLAYS HIS WIFE-TO-BE, AND ANDI EIGENMANN PLAYS THE OTHER WOMAN. We suggest an alternate title: No Other Plot: Here Comes Just Another Kabit Movie. (We're joking...and we're definitely watching.)
5. SENATOR KOKO PIMENTEL APPEARS ON GANDANG GABI VICE AND DOES THE "GANGNAM STYLE" DANCE. We know what this is about-but, to be fair, he does remind us of that kid in Pinoy Christmas reunions who is always forced to sing and dance by his relatives.
6. HAYDEN KHO JR. GEARS UP FOR HIS SECOND CHANCE IN PHILIPPINE SHOWBIZ. We seem to remember this guy declaring that he was quitting showbiz for good. (The next thing we know, he'll be running for Congress or something.)
CONTINUE READING BELOW
Recommended Videos
7. MMDA TRAFFIC ENFORCERS DO THE "GANGNAM STYLE" DANCE FOR AN INTERMISSION NUMBER DURING THE AGENCY'S AWARDING OF MERIT BADGES. How charming... but with the original YouTube video garnering only over 16,000 views as of this posting, it's not exactly a viral phenomenon. (But there's always hope!)
ADVERTISEMENT - CONTINUE READING BELOW
8. P-NOY TALKS ABOUT A HYPOTHETICAL HONEYMOON IN TAGAYTAY. Some people have imaginary friends, some people have imaginary honeymoons. (As they say, "Walang basagan ng trip!")
9. HEART EVANGELISTA AND MARIAN RIVERA ARE NOW REPORTEDLY GETTING ALONG. An imaginary reconciliation?
10. AMERICAN IDOL SEASON 11 FINALISTS GO SHOPPING IN GREENHILLS. Hopefully, they didn't see any of those pirated American Idol CDs.
Art by Warren Espejo, with screenshots from various video clips.
Share this story with your friends!
---
Help us make Spot.ph better!
Take the short survey
Load More Stories