Ralph Recto talks about sin, Tito Sotto is stressed out + more lowlights
Plus, Pido Jarencio's meltdown, Kris Bernal's crossdressing, and more nutty tales.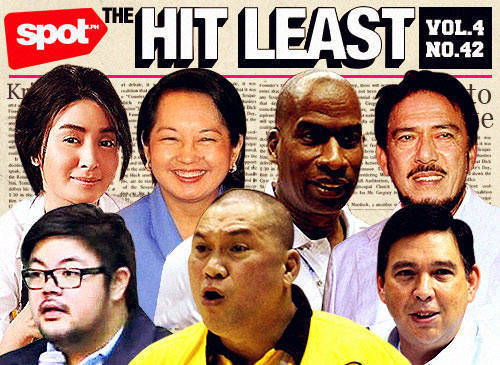 1. OUR SENATORS CONTINUE THEIR DEBATE OVER THE CYBERCRIME PREVENTION ACT OF 2012. They say hindsight is always 20/20-but stupidity is like 24/7 CCTV.
2. THERE'S A WARRANT OF ARREST WITH ROBERT BLAIR CARABUENA'S NAME ON IT. Gee, we're really good at catching small fish, aren't we?
3. A DRUNK DRIVER NAMED MARK JASON HANOPOL, 24, MESSES UP THE PRESIDENTIAL CONVOY AND GETS NABBED. All together now: "Laki sa layaw/ Laki sa layaw/ Jeproks"! (If you don't get the Pinoy pop culture reference, shame on you! Disclaimer: As far as we know, they are not related.)
4. SENATOR JUAN PONCE ENRILE NOW SAYS THAT HIS 1972 "REASON-FOR-MARTIAL-LAW AMBUSH" WAS REAL-BUT THERE'S A DOCUMENT ON THE OFFICIAL GAZETTE SAYING THAT HE HAD REVEALED IT WAS FAKE BACK IN 1986. As the late British statesman Winston Churchill said, "A lie gets halfway around the world before the truth has a chance to get its pants on." (If that's the case here, the lie has already set up shop on Mars and the truth can't even find its pants.)
ADVERTISEMENT - CONTINUE READING BELOW
5. FORMER PRESIDENT AND CURRENT PAMPANGA REP. GLORIA MACAPAGAL-ARROYO FACES PLUNDER CHARGES ANEW AND HOPES TO REMAIN UNDER "HOSPITAL ARREST." The "little girl" has become some sort of a white elephant.
6. A REPORT SAYS THAT FROM JANUARY TO AUGUST 2012, METRO MANILA'S CRIME RATE HAS GONE UP BY 57%, SO DILG SEC. MAR ROXAS WANTS POLICEMEN TO HAVE FASTER REPONSE TIME (AMONG OTHER THINGS). Secretary Roxas, here's an old (bad) joke: Some policemen are already at the crime scene before anything happens...because they're the ones who'll commit the crime! (For the record, we love good cops-but, let's face it, there are many who aren't.)
7. COMEDIAN-SENATOR TITO SOTTO SAYS HE'S GETTING STRESSED OUT AT THE SENATE. What a coincidence! We've been stressed out since you got elected there.
8. ACTRESS KRIS BERNAL TRIES CROSSDRESSING IN THE PHILIPPINE ADAPTATION OF KOREA'S COFFEE PRINCE. We've said it before: It takes more than wearing a wig and binding your boobs to pull off the manly look. (Remember My Binondo Girl?)
ADVERTISEMENT - CONTINUE READING BELOW
9. AFTER LOSING IN GAME 1, UST GROWLING TIGERS BASKETBALL TEAM COACH PIDO JARENCIO CLAIMS REFEREES MADE UNFAIR CALLS AND MAKES PASSIVE-AGGRESSIVE COMMENTS AGAINST ATENEO BLUE EAGLES COACH NORMAN BLACK (ATENEO EVENTUALLY ENDED UP WITH THE CHAMPIOSNHIP TITLE). Memo to Mr. Jarencio: Ball don't lie.
10. SEN. RALPH RECTO CHAMPIONS A "WATERED-DOWN" SIN TAX BILL, SAYS LIQUOR AND CIGARETTES HAVE TO BE KEPT CHEAP. Cancer for all seasons, anyone?
Art by Warren Espejo, with screenshots from various news clips and publicity stills.
CONTINUE READING BELOW
Recommended Videos
Share this story with your friends!
---
Help us make Spot.ph better!
Take the short survey
Load More Stories