Ralph Recto talks about sin, Tito Sotto is stressed out + more lowlights
Plus, Pido Jarencio's meltdown, Kris Bernal's crossdressing, and more nutty tales.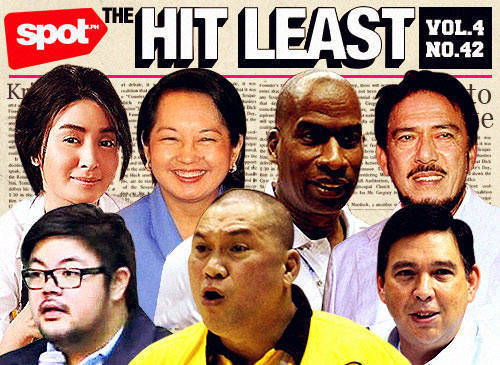 1. OUR SENATORS CONTINUE THEIR DEBATE OVER THE CYBERCRIME PREVENTION ACT OF 2012. They say hindsight is always 20/20-but stupidity is like 24/7 CCTV.
2. THERE'S A WARRANT OF ARREST WITH ROBERT BLAIR CARABUENA'S NAME ON IT. Gee, we're really good at catching small fish, aren't we?
3. A DRUNK DRIVER NAMED MARK JASON HANOPOL, 24, MESSES UP THE PRESIDENTIAL CONVOY AND GETS NABBED. All together now: "Laki sa layaw/ Laki sa layaw/ Jeproks"! (If you don't get the Pinoy pop culture reference, shame on you! Disclaimer: As far as we know, they are not related.)
ADVERTISEMENT - CONTINUE READING BELOW
CONTINUE READING BELOW
Recommended Videos
4. SENATOR JUAN PONCE ENRILE NOW SAYS THAT HIS 1972 "REASON-FOR-MARTIAL-LAW AMBUSH" WAS REAL-BUT THERE'S A DOCUMENT ON THE OFFICIAL GAZETTE SAYING THAT HE HAD REVEALED IT WAS FAKE BACK IN 1986. As the late British statesman Winston Churchill said, "A lie gets halfway around the world before the truth has a chance to get its pants on." (If that's the case here, the lie has already set up shop on Mars and the truth can't even find its pants.)
5. FORMER PRESIDENT AND CURRENT PAMPANGA REP. GLORIA MACAPAGAL-ARROYO FACES PLUNDER CHARGES ANEW AND HOPES TO REMAIN UNDER "HOSPITAL ARREST." The "little girl" has become some sort of a white elephant.
Load More Stories