The Manong Johnny Chronicles: 10 Fascinating Factoids From Senator Juan Ponce Enrile's Memoir
He's had one hell of an interesting life.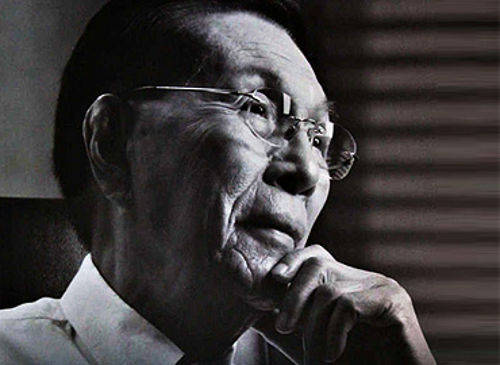 Front cover shot of Juan Ponce Enrile: A Memoir, shot in JPE's Senate office by Jovel Lorenzo, July 2012. (Photo credits provided by memoir editor Nelson A. Navarro)
(SPOT.ph) Senator Juan Ponce Enrile is one fascinating creature. Like a gray area that grew legs and got a law degree, Enrile is neither a stereotypical good guy nor is he a traditional bad guy. He simply is.
ADVERTISEMENT - CONTINUE READING BELOW
CONTINUE READING BELOW
Recommended Videos
At 88, Enrile has had a career that has seen him playing significant supporting roles in events that have shaped Philippine history. He's always sharp, and just a little bit scary. While Enrile's life is more comparable to a Martin Scorsese film than a Disney movie, his recently published memoir proves his reality trumps reel plot twists. Indeed, the 1,650-peso, 753-page tome, Juan Ponce Enrile: A Memoir, launched on September 27, is now being tagged a bestseller. It's also worth noting that the hardbound book is heavy enough to be used as a weapon.

That said, we've picked out 10 Enrile memoir factoids that, at times, had us either amazed or shaking our heads in disbelief.

1. He talks a good game. In the book's prologue, Enrile writes: "Since many of the events in this book are events that not only I but the whole nation witnessed and experienced, I lay no claim to a monopoly of the truth. This book is simply my own rendition of what I know to be true because I was there, and I lived through and survived these events." Isn't that priceless? I lay no claim to a monopoly of the truth. We can totally see that on a shirt.
ADVERTISEMENT - CONTINUE READING BELOW
2. He has three names. He was born on February 14, 1924 with the name Juanito Furagganan. He was the illegitimate son of Alfonso Ponce Enrile and a widow named Petra Furagganan. Enrile's father was 36 years old when he was born, while his mother was 24. Enrile then became Juanito Ponce in 1945, the year he finally met his biological father and moved in with him and his family. A few years after that, he legally became Juan Ponce Enrile. For the record, Enrile's father's family name was really Ponce. Enrile (which was actually Alfonso's mother's maiden name) had to be added because during his bid for Congress, his opponents tried to cause confusion by backing a candidate who was also named Alfonso Ponce.
3. He has a large and complex family. Enrile himself reveals: "My father had other children with different women. He had five with Rosario Martinez of Aparri, his first wife: Mario, Maria Luisa, Teresa, Mercedes, and Carmela, all surnamed Ponce Enrile. He had two with Maria Balisi: William and Nancy, who were both surnamed Balisi. He had three with Genoveva Barles: Lilia, Ester, and Remedios, all surnamed Barles. He had five with Purita Liwanang: Raquel, Armida, Irma, Alfonso Jr., Armando, all surnamed Ponce Enrile. My father divorced his wife, Rosario Martinez, during the Japanese regime and married Mama Purita, who treated me like her own son." Enrile also adds: "My father had another daughter with a woman named Avelina de Rivera also of Aparri. Her name was Rowena." Then, on his mother's side, Enrile had eight siblings: Eduardo and Eligio (from her first husband who died, Martin Paddayuman) and then Marciana, Melanio, Luisa, Juliana, Ireneo, and Esperidion who died when he was still a baby (from her second husband Macario Rapada).
ADVERTISEMENT - CONTINUE READING BELOW
4. He has telenovela origins. Enrile owns up to being a "love child" and doesn't try to conceal that fact. He writes: "My mother was a young attractive widow when she met my father. Her husband, Martin Paddayuman, passed away at a very early age and left her with two sons... When my father met my mother, he was already married to Rosario Martinez and had had children with her. He met my mother when he was running for his second term in the House of Representatives. I believe the intimate relation of my father with my mother was very brief. It may have lasted only during the political campaign."
5. He's a "late bloomer." Enrile was 16 years old when he graduated from grade school. He was 24 when he graduated from high school. He was 29 when he graduated from the UP College of Law. As Enrile had told his father when the latter exclaimed that he was "too old" to be in high school, "That is true, but is not my fault. I had no money to go to school." Indeed, in the years before he finally met his lawyer-father, Enrile constantly dropped out of school due to lack of funds. Back then, his father didn't know of his existence. When Enrile was finally under his father's care, he worked hard to make up for lost time. Enrile was hard on himself. In fact, he reveals that he was disappointed when he didn't make the Top 10 list in the 1953 bar exams. With his impressive general average of 90.95 rating, he was ranked No. 11.
ADVERTISEMENT - CONTINUE READING BELOW
6. He survived a knife attack in school. Enrile, despite being very poor, was a top high school student at the Cagayan Valley Intitute in Aparri. In 1941, he was just settling into his sophomore year. Unfortunately, one day-while he was walking on his way to class on the school building second floor-he was attacked by four teenage boys. Enrile notes that the boys' parents "were part-owners of the school." Perhaps out of envy for his achievements and one of the boys' mistaken notion that Enrile was also courting a girl he liked, they attacked him with knives. Enrile was, at that point, a sitting duck. He did his best to defend himself with his bare hands and ended up jumping out of a window. He writes: "I received several gaping wounds. My stomach was slashed right across the side. My left forearm had a long, deep cut. [The right side of] my neck below my jaw was punctuated near the main artery. My hands and fingers were deeply sliced." The crazy thing is that Enrile didn't get any justice for what happened to him. His attackers were deemed "innocent" by school officials. Instead, they blamed him for the incident and expelled him from school. Years later, when Enrile was already a high-ranking government official, the school invited him to be a speaker at a graduation ceremony. Naturally, Enrile found the invitation downright ridiculous and politely declined.

ADVERTISEMENT - CONTINUE READING BELOW
7. He was incarcerated and tortured in a Japanese prison. During the Japanese Occupation, Enrile joined guerilla forces, particularly a group called Hunters ROTC. He adopted the alias "Valentin Ponce" and was tasked to "gather information about the Japanese" in his area. Unfortunately, Enrile eventually got caught by the Japanese. They took him to Aparri's La Granja building, which had been converted into a prison by the Japanese. Enrile was there from October 10, 1944 to January 7, 1945. Aside from enduring brutal torture (beatings and water cure), Enrile relates: "I never had a bath since I entered my prison cell. The Japanese did not allow us prisoners to wash ourselves. We used the same clothes all the time. As a consequence, body lice grew on me, sucking my blood [everyday]."
Load More Stories