Angelica Panganiban vs. Derek Ramsay, Sharon Cuneta vs. an imaginary Kris Aquino + more lowlights
Plus, Miss "Amalayer" and other nutty tales.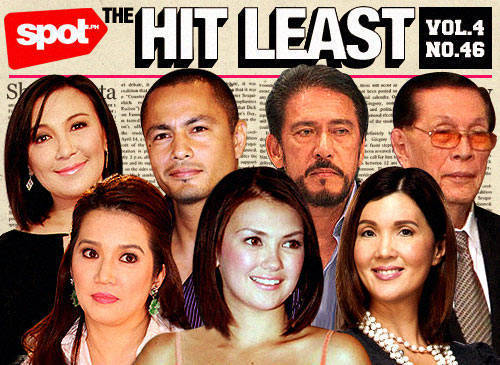 1. SHARON CUNETA MISUNDERSTANDS AN "IMAGINARY INTERVIEW" POSTED ON THE SATIRICAL BLOG, THE PROFESSIONAL HECKLER, AND ENDS UP DIRECTING BARBS AT KRIS AQUINO. Your reading comprehension skills...don't leave home without it.
2. SENATOR TITO SOTTO SAYS SORRY TO THE LATE U.S. SENATOR ROBERT KENNEDY'S FAMILY FOR PLAGIARIZING HIS SPEECH, BUT POINTS OUT, "COPYING IS THE HIGHEST FORM OF FLATTERY." He's so hopeless that he deserves his very own patron saint.
3. SEN. TITO SOTTO GETS SUPPORT FROM A GROUP CALLED CYBER RISE. Wow, this is a load of cyber-nonsense.
4. SENATOR JUAN PONCE ENRILE ASKS PEOPLE TO EASE UP ON THE "PLAGIARIST TAUNTS" AGAINST SEN. TITO SOTTO. Then again, who needs a patron saint when you have this Pinoy Henyo protecting you?
5. SENATOR PIA CAYETANO ATTEMPTS TO BRING BACK THE RH BILL TO THE FLOOR, BUT SEN. JUAN PONCE ENRILE STOPS HER FROM DOING SO BECAUSE HE'S "NOT READY" TO PROPOSE ANY AMENDMENTS TO THE BILL THAT HE'S VEHEMENTLY OPPOSING. To paraphrase a line uttered by Mad Men's Betty Draper (played by January Jones), "When you don't have any power, you have to delay things."
6. A WOMAN'S MELTDOWN AT THE LRT IS CAUGHT ON CAMERA AND BECOMES THE LATEST VIRAL BROUHAHA AMONG PINOYS. This is how far we've come as a civilization, when we get all excited by a random angry chick throwing a tantrum in public.
7. BARON GEISLER SPENDS A NIGHT IN JAIL AFTER AN ALTERCATION WITH HIS NEIGHBOR, THEN REVEALS THAT HE'S "BIPOLAR." While some people try to outrun their demons, this guy parties with them-and that strikes us as bad-ass and also monumentally stupid.
ADVERTISEMENT - CONTINUE READING BELOW
8. ANGELICA PANGANIBAN LETS IT RIP ON TWITTER ABOUT ALL THE BAD THINGS THAT SHE EXPERIENCED WHEN SHE AND DEREK RAMSAY WERE TOGETHER. How do you go from playfully putting your hand down his shorts to this? (Tragic!)
9. BASKETBALL PLAYER JAMES YAP ASKS HIS EX-WIFE, TV HOST-ACTRESS KRIS AQUINO, NOT TO TALK ABOUT HIM ON KRISTV ANYMORE AND, NATURALLY, SHE REPORTS THIS TO THE PUBLIC. Memo to Mr. Yap: Trying to implement a "gag order" on her is an impossible dream.
10. PRO-LIFE PHILIPPINES STAGES A RALLY IN FRONT OF THE PICC-WHERE THE FAMILY PLANNING SUMMIT WAS BEING HELD-TO REITERATE THEIR OBJECTION TO THE RH BILL AND ALL TYPES OF ARTIFICIAL CONTRACEPTION. They're also assuring all those families who don't have enough resources to feed, clothe, and send their children to school that they will foot the bill. (We're joking, of course.)
Art by Warren Espejo, with photos from PEP.ph
Load More Stories