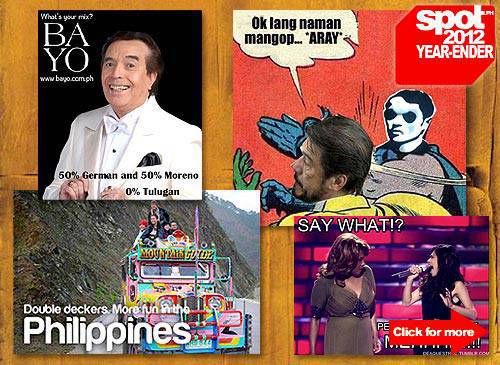 We kick off our SPOT.ph year-ender features with this meme-centric list. We're starting early...in case the world ends on December 21. (Note: Our cut-off date for this list is November 21, 2012.)

Disclaimer: These photos were selected based on variety and do not necessarily reflect SPOT.ph's opinion. The photos featured in this gallery were all uploaded online-via Facebook, Tumblr, Twitter, blogs, and other such sites-by various users. The altered images or photos were likewise sourced by the users themselves. SPOT.ph does not claim ownership of any of the said images. Please note that in cases where we could not determine who originally uploaded a photo, we refer to the website or social networking platform where we saw the photo uploaded. If you are or know the person reponsible for the photos whose original upload author is not identified, please contact us via our comments section or our Facebook page so we can cite you properly.
ADVERTISEMENT - CONTINUE READING BELOW
(SPOT.ph) The Philippines is not known for being a hotbed of trends, especially ones that spread online. It makes up for being late to the party, though, by riding that trend with sheer and unbridled enthusiasm. If, the rationale probably goes, the Philippines doesn't start trends, it can at least make sure it keeps trending.
Take, for example, memes and image macros. These were already staples on US-based Internet forums like General Mayhem and Reddit while Filipinos were still bashing each other's schools on Pinoy Exchange. People at Pinoy Exchange are probably still doing that, but the meme has undoubtedly already infected Pinoy netizens.
That said, we've picked this year's most memorable memes. (But, yes, we have to admit some are more memorable than others.)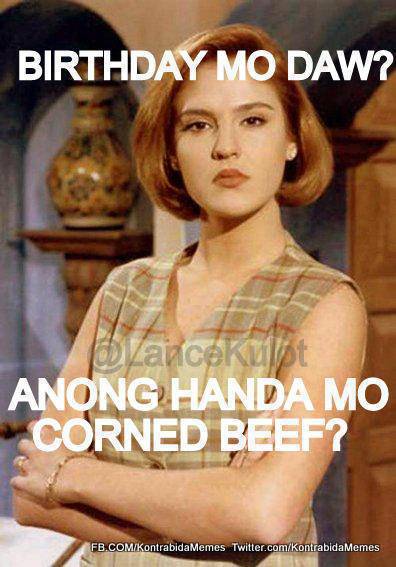 ADVERTISEMENT - CONTINUE READING BELOW
Recommended Videos
10. The Angelica Santibañez Kontrabida Meme
This meme proves that there are campy pop culture spawns who can be resurrected. The meme features an image of the villainess, a character named Angelica Santibañez (played by Chantal Andere) from the 1994 Mexican telenovela Marimar. It is used along with over-the-top rich bitch lines like "Facundo (her servant/henchman), giniginaw ako...magsunog ka ng alipin" and "Birthday mo raw... Anong handa mo, corned beef?" Donya Santibañez now has a Twitter account and a Facebook account where her hampas lupa followers can keep track of her mata pobre insults and impossible errands such as this one: "Facundo! Ipadampot si Juan Ponce Enrile, para sa antique collection ko!"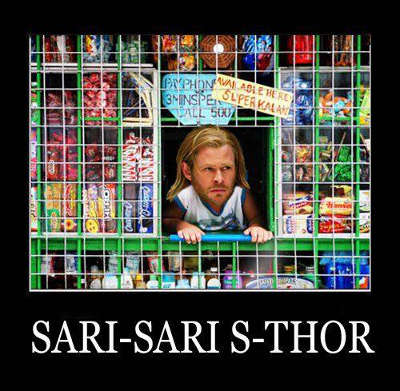 ADVERTISEMENT - CONTINUE READING BELOW
Screenshot of image posted onthe blog Everything in Budget
9. The Thor Meme
Thor is a watershed moment in Pinoy memes because it was homegrown and many of them would make no sense if translated. The image of Chris Hemsworth, the actor who played Thor, was Photoshopped into many Pinoy settings and accompanied by corny-yet-surprisingly-hilarious puns. In fact, the success of the meme led to a one-off spin-off: A picture of the Avengers' sharp-shooting archer (That's Hawkeye, in case you didn't know) digging a ditch.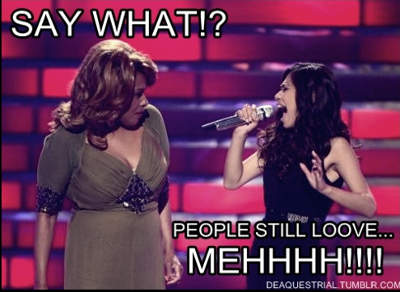 ADVERTISEMENT - CONTINUE READING BELOW
8. The Jessica Sanchez-Jennifer Holiday Duet Meme
In May, following the defeat of Filipino-American Sanchez in the American Idol season 11 finale, her Pinoy fans turned to humor to deal with the fact that 21-year-old Phillip Phillips (another guy with a guitar) had won over the singing darling. The most popular image was that of Sanchez in a duet with singer Jennifer Holiday. Patrick Villavicencio of InterAksyon.com explained: "Tony-Award winning Holliday originated the role of Effie in the hit Broadway musical Dreamgirls in the early '80s, and was responsible for making 'And I Am Telling You I'm Not Going,' the song she sang with Sanchez during the finale show."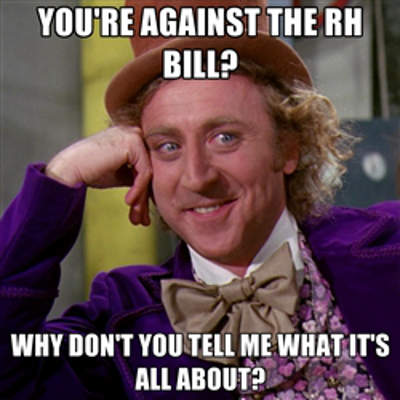 ADVERTISEMENT - CONTINUE READING BELOW
Willy Wonka, who in this pose is dubbed as "Sarcastic Wonka," weighs in on the controversial bill in an image uploaded on MemeGenerator.net
7. The Reproductive Health (RH) Bill Meme
In early August, this meme stirred up a hornet's nest as Congress voted on whether to give the bill that final birthing push or abort the law that was first proposed in 1998. The meme images posted were all understandably hardcore and serious. After all, it's hard to find anything funny about a bill that has moralists' mouths frothing at the mere mention of its name. It's worth noting that the images and words used in this meme varied even if they were all talking about one thing.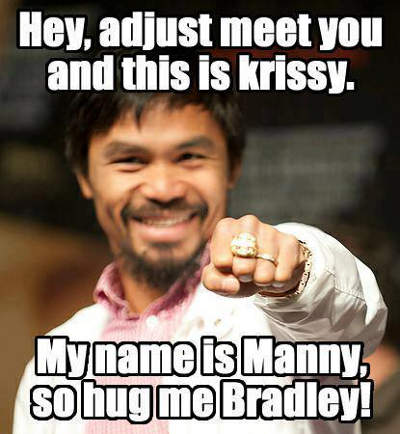 ADVERTISEMENT - CONTINUE READING BELOW
Screenshot of image uploaded and shared on Facebook and Twitter
6. The Manny Pacquiao vs. Tim Bradley Meme
To say that many Filipinos were disappointed by the outcome of boxing champ Pacquiao's fight would be a huge understatement. Pinoy boxing fanatics were enraged when Bradley was named the new World Boxing Organization welterweight champ. To vent and to poke fun at what they tagged as an injustice to Pacquiao, Pinoys started this meme. The images of Bradley and Pacquiao (sometimes just one or the other and sometimes together) were used, of course, but the takes varied from fanatics who dissed Bradley to those who managed to laugh the crazy result.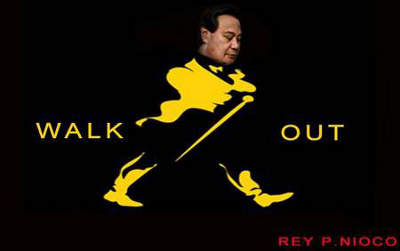 ADVERTISEMENT - CONTINUE READING BELOW
Screenshot of image uploaded on the Tangina This! Facebook page
5. Chief Justice Renato Corona's Impeachment Trial Meme
Despite the legal complications and the tedious testimonies, Corona's impeachment trial got more than its fair share of media attention in May. For starters, Corona's opening statement lasted nearly three hours and he even staged a "walk-out." He cited health reasons (hypoglycemia, diabetes) for his abrupt departure from the Senate session hall-but a number of meme-ready netizens weren't buying it.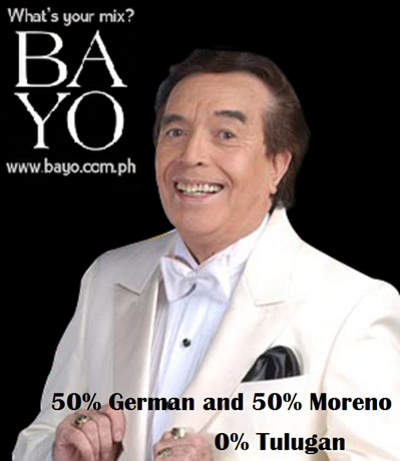 ADVERTISEMENT - CONTINUE READING BELOW
Screenshot of image uploaded and shared on Facebook and Twitter
4. The Bayo Ad Meme
An article written by the Yahoo! SHE staff explained that "the original ad series consisted of images featuring mixed heritage models." The ad was also accompanied by a manifesto, whose intro reads: "This is all about mixing and matching. Nationalities, moods, personalities, and, of course, your fashion pieces. Call it biased, but the mixing and matching of different nationalities with Filipino blood is almost a sure formula for someone beautiful and world class. We always have that fighting chance to make it to the world arena of almost all aspects. Be it Fashion. Music. Science and Sports. Having Filipino lineage is definitely something to be proud of." Many netizens thought that the ad series was either racist or ridiculous. As such, they came up with their own versions of the Bayo ads.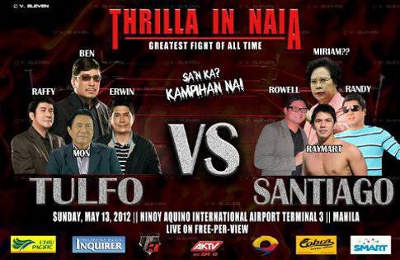 ADVERTISEMENT - CONTINUE READING BELOW
Screenshot of image uploaded on the When in Manila Facebook page
3. The Ramon Tulfo vs. Raymart Santiago and Claudine Barretto Meme
On May 6, Philippine Daily Inquirer columnist and TV5 host Tulfo and actor Santiago reportedly exchanged blows at the Ninoy Aquino International Airport's Terminal 3 because Tulfo had been taking photos of Barretto (Santiago's wife, in case you didn't know) while she berated an airline's employee. A video of the incident posted by an eyewitness on YouTube shows that Barretto and Santiago's companions also joined the ruckus. Netizens had a field day with this meme.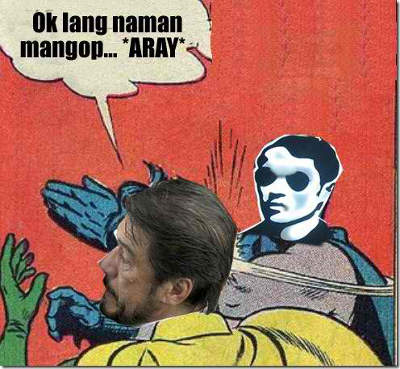 ADVERTISEMENT - CONTINUE READING BELOW
Screenshot of image uploaded on DiversityHuman.com
2. The Senator Tito Sotto Plagiarism Meme
It's really a bunch of memes poking fun at the Senate majority leader for allegedly copying parts of his speech from at least three U.S. bloggers and the late U.S. senator Robert Kennedy. It has featured Sotto's image accompanied by famous quotes translated and intentionally misattributed to him. Some memes also have an image of the senator near a photocopying machine. Nevertheless, the senator continues to insist that he did nothing wrong and that copying is "the best form of flattery." The senator has not yet been punished for his plagiarist deeds in real life, but he's sure taking punishment in these memes.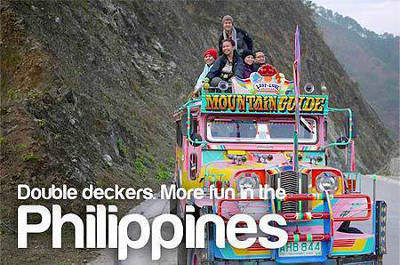 ADVERTISEMENT - CONTINUE READING BELOW
Graphics by Carlo Vergara, with photo originally posted on erikajumps.wordpress.com
1. "It's More Fun in the Philippines" Meme
The Department of Tourism's "More Fun in the Philippines" is probably the most successful meme of the year. Launched by the DOT in April to replace the Richard Gordon-era "Wow, Philippines!" and the short-lived "Pilipinas Kay Ganda," the campaign counted on the average Pinoy's sense of humor and his penchant for bragging about how beautiful the country is. True, "It's more in the Philippines" has also been used in self deprecation to refer to the country's politics and its justice system. But that's precisely the point. What makes the line so "sticky" and successful is that it can apply to almost anything. See SPOT.ph's Top 30 picks of the "It's More Fun in the Philippines" Meme.
Share this story with your friends!
---
Help us make Spot.ph better!
Take the short survey
Load More Stories