(SPOT.ph) We see his face all over our shiny ten peso coins, use the annual holiday in his memory to go on out-of-town trips, or simply regard him as the man who fought for our freedom with his bolo. But how much do we really know about one of our greatest heroes?
For instance: Did you know that Andres Bonifacio was a part-time actor in moro-moro plays, or that he had a wife prior to Gregoria de Jesus who unfortunately died of leprosy? Our grade school teachers may have skipped a few details when they taught us about this hero, but it's never too late to try and discover the little things that make a great man human.
Special thanks to Ambeth Ocampo, Liberato Ramos, and Denis Murphy, whose columns were the source of much of the info here.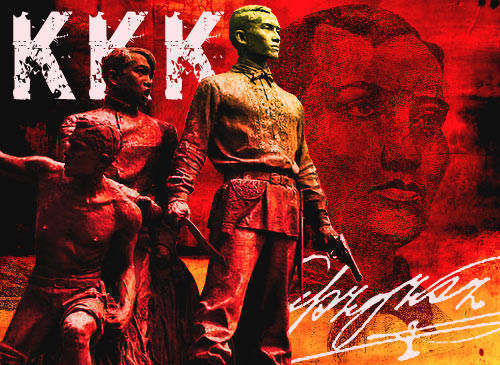 1. Bonifacio was named after a saint.
Catalina de Castro gave birth to a boy on November 30, 1863. Together with husband Santiago Bonifacio, they decided to name the child "Andres" after St. Andrew who was celebrating his feast day on the same date.
ADVERTISEMENT - CONTINUE READING BELOW
2. Bonifacio may not have been from Tondo.
Ambeth Ocampo reveals that, according to Dr. Dan Doeppers of the University of Wisconsin, Bonifacio's name could not be found in Tondo's list of residents and taxpayers. If this is true, Bonifacio either lived in a different city or is simply an unregistered resident of Tondo. Ocampo gives readers some food for thought and asks, what did Bonifacio tear up during the Cry of Pugadlawin if he did not possess a cedula required of city residents?
3. Bonifacio was an "educated" man.
Often depicted as the man in red pants who chose a bloodier path (unlike the stereotyical ilustrado who fought the revolution with a pen) it is quite unknown to many that Bonifacio was also well-read. His father earned enough from his day job as a tailor to hire a private tutor for him. Teodoro Agoncillo claims that he "barely finished the equivalent of today's grade four," but Bonifacio had developed a liking for reading, according to Ocampo. In fact, he even immersed himself in European literature and became a member of the Freemasons, which Bonifacio later used to inspire a number of rituals in the Katipunan.

4. Bonifacio was familiar with the life of Crisostomo Ibarra.
Among the books he read were Jose Rizal's Noli Me Tangere and El Filibusterismo. Bonifacio was also said to have written the first Tagalog translation of Rizal's "Mi Ultimo Adios." Ocampo notes that that the late Isagani R. Medina claims otherwise, and that the translation was made by a Caviteño named Mojica.


ADVERTISEMENT - CONTINUE READING BELOW
Recommended Videos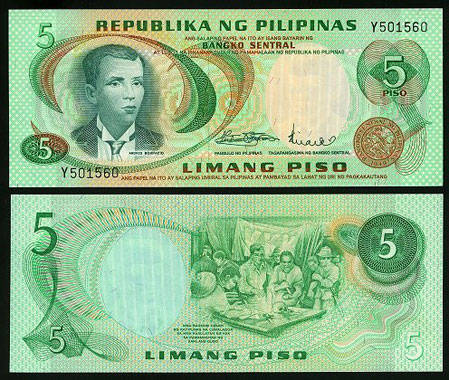 Bonifacio in a martial-law era 5-peso bill. Presently, Bonifacio can only be found paired with Mabini in the P10 coin. Image from coins-and-banknotes.com
5. Bonifacio could have missed out on a number of trips to the dentist.
A certain Doctor Cuanjunco discovered that the supremo had big and small teeth in an investigation of the alleged remains of Bonifacio in 1918, shares Ocampo. He adds that according to Espiridonia Bonifacio, Andres' sister, his upper teeth were wide, long and flaring. It [his teeth] even had holes because he often placed "creosote" on them.
6. Bonifacio had a very odd habit.
In one of his columns for the Inquirer, Murphy narrates his encounter with a school principal in Maragondon who shared that Bonifacio literally marked his spot by often taking a piss at the foot of one acacia tree on his way in and out of the nearby cell convento.
7. Bonifacio was BFFs with Emilio Jacinto.
ADVERTISEMENT - CONTINUE READING BELOW
If the Katipunan gave awards for best bromance, Bonifacio and Jacinto would be a likely candidates. Ramos writes that Bonifacio shared his knowledge and secrets with Jacinto, then a young man with long hair and a weakness for the Tagalog language. They joined the same fraternity, participated in the same discussions, and mulled over books on revolutions such as the "History of the French Revolution." Bonifacio even used Jacinto's version of the "Cartilla" because he found it better than his own. Throughout the revolution, Bonifacio looked after Jacinto like a big brother, and cooked up plans with him like an equal.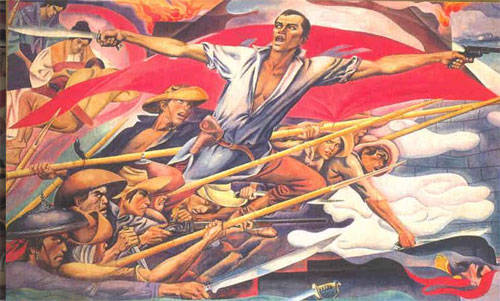 This famous painting by Carlos "Botong" Francisco informed all of our preconceptions of how Bonifacio dressed.


8. Bonifacio's not all red pants and kamisa de tsino.
The Supremo was once seen wearing a coat and tie in a unique studio portrait. Ocampo discloses that the said photograph "became the basis of an engraving published by a Spanish periodical in 1987, where the Titular President of the Tagalog Republic was given a better coat and tie."
ADVERTISEMENT - CONTINUE READING BELOW
9. Bonifacio believed in "magic."
Let's allow Ambeth Ocampo's column to tell the tale: "During the Philippine Revolution, Andres Bonifacio was said to have distributed pieces of black cloth that had allegedly been cut from the cassocks worn by the martyred priests we remember as Gomburza today: Gomez, Burgos and Zamora, who were executed by garrote in Bagumbayan in 1872. These pieces of cloth were believed to protect the bearer from harm and made ill-equipped and hastily trained Katipuneros fight a superior enemy with bravery and faith."
10. Bonifacio had an enduring sense of compassion in spite of his personal struggles.
The mighty Katipunero had a soft spot too. Bonifacio had to work hard to raise his younger siblings. Like most of us, he struggled to "find a place for himself in society" on top of his familial duties, writes Murphy. Despite being a revolutionary, Bonifacio strongly believed in the values of comradeship, brotherhood (and sisterhood), kindness and charity to one another as well as the need to fight for one's rights.
Share this story with your friends!
---
Help us make Spot.ph better!
Take the short survey
Load More Stories