Miriam and Manong Johnny are "ice cold," RH Bill stuck in limbo + more lowlights
Plus, a bishop makes allegedly divine anti-RH Bill pronouncements and more nutty tales.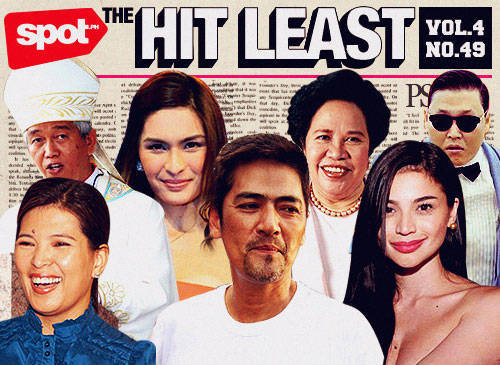 1. THE VIC SOTTO-PAULEEN LUNA HOOK-UP BUZZ STARTS ANEW. Hurray! Just in time for the Metro Manila Film Festival!

 

 

2. DUE TO THE RH BILL DEBACLE, SENATOR MIRIAM SANTIAGO JOKES THAT HER RELATIONSHIP WITH SENATOR JUAN PONCE ENRILE HAS GONE "ICE COLD." Let's wait for it to drop down to sub-zero temperature because that's when the real fun begins.

ADVERTISEMENT - CONTINUE READING BELOW

 

 

3. SENATOR JUAN PONCE ENRILE SAYS HE'S AGAINST THE RH BILL BECAUSE "OUR BIGGEST EXPORT IS OFWS." We're still laughing over his "Masturbation is abortion" comment.

 

 

4. MANY PACQUIAO AND JUAN MANUEL MARQUEZ ARE GETTING READY FOR THEIR FOURTH SMACKDOWN. If we win, it's all great...but if we lose, we got robbed. (Go, Pacman!)

 

 

5. BISHOP BRODERICK PABILLO IMPLIES THAT CALAMITIES ARE TRIGGERED BY THE RH BILL DEBATES. Because using kids as laborers or violating them couldn't possibly be the cause of these acts of God.

<>6. CAVITE REP. LANI MERCADO GETS EMOTIONAL OVER THE BELOW-THE-BELT COMMENTS OF HER FELLOW LAWMAKERS DURING THE RH BILL DEBATES. And we thought showbiz would give you a tougher hide. <>  <>  <> <>7. PSY THE "GANGNAM STYLE" GUY IS STILL DOING THE ROUNDS. For God's sake, aren't people over it yet? <>  <>  <> <>8. ANNE CURTIS WARNS TWITTER TROLLS AGAINST BASHING HER FAMILY MEMBERS, TELLS ONE OF THEM TO QUIT IT OR "PAPATULAN TALAGA KITA." Behold, the latest graduate from the Sharon Cuneta School of Twitter Defense.

ADVERTISEMENT - CONTINUE READING BELOW

<>  <>  <> <>9. METRO MANILA STREET KIDS HAVE STARTED DOING STREET CAROLING, WHICH IS REALLY JUST BEGGING WHILE MINDLESSLY SINGING WHATEVER COULD PASS OFF AS A CHRISTMAS SONG. Why doesn't the CBCP just adopt these kids and teach them to be professional choir singers? (Think of it as Glee...Catholic Church style.) <>  <>  <> <>10. THE EASTWOOD CITY WALK OF FAME GETS 27 MORE NAMES, INCLUDING JESSA ZARAGOSA AND ARNOLD CLAVIO. Er...good for them? <>  <>  <>Art by warren Espejo, with photos from PEP and screenshots from various news clips.
Load More Stories