SPOT.ph's RH Bill Votes Awards: The Good, the Bad, and the WTF!
We highlight the arguments that amused us and shocked us.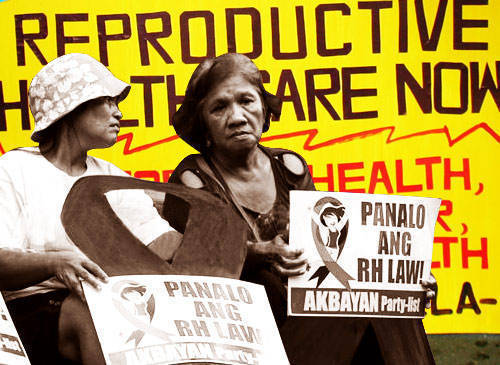 (SPOT.ph) On the particularly auspicious date of December 12, 2012, the over 200 members of the House of Representatives voted on whether the Reproductive Health (RH) Bill would finally be passed. Some of them gave sound reasons for their votes, while some shocked us with their surreal logic. In fact, there were so many off-the-wall justifications that it took us a few days to digest them. That said, here are some of the most interesting reasons that were given by the denizens of Congress. We've decided to give them awards for it. Read on and figure out for yourself which ones delighted, amused, or made us want to flee the country.
You gotta hand it to Rep. Edcel Lagman for sticking to his guns in the lengthy RH Bill smackdown.
The People's Choice Award. "It's not enough that people are given choices. It's important that their choices are informed." -Albay 1st District Representative Edcel Lagman (We hear you.)
The Sustainable Reason Award. "No country can survive [and] prosper if it has rapid, unsustainable population growth." -Bukidnon 3rd District Representative Jose F. Zubiri III (That makes a lot of sense.)
The Levelheaded Award. "We favor development at all levels, across [all] sectors. The bill is not the panacea in solving underdevelopment but it will help." -COOP NATCCO Party-List Representative Cresente C. Paez (You have a point, Congressman.)
The Red Alert Award. "Communists are behind the RH bill." -ANAD Party-List Representative Pastor M. Alcover Jr. (Wow, you're really sure about that, huh?)
ADVERTISEMENT - CONTINUE READING BELOW
We prefer to remember Imelda Marcos this way.
The Divine Confusion Award. "Any law against the natural law, the fundamental law of God, is against God." -Ilocos Norte 2nd District Representative Imelda Marcos (There may come a time when God will demand royalty fees for the use of his name, whether in vain or not.)
The "I Couldn't Find Cliffs Notes to Help Me Understand the Damn Thing" Award. "Napakaswerte ko dahil nung kinasal ang magulang ko, walang RH law (I am so lucky because when my parents got married there was no RH law)." -Camarines Norte 1st District Representative Renato J. Unico Jr. (Where did you he get the idea that the RH Bill enforces Nazi-style birth control on everyone?)
CONTINUE READING BELOW
Recommended Videos
The Epic Fail Analogy Award. "A hungry stomach cannot swallow pills." -Camiguin Lone District Representative Pedro Romualdo (On the contrary, a hungry person will probably eat anything.)
The Cute Acronym Award. "Ang RH, kapag binaligtad, HR-human rights (When you reverse the order of the letters in RH, it's HR-human rights)." -Kabataan Party-List Representative Raymond V. Palatino (To be honest, it never occurred to us until you pointed it out.)
Rep. Lani Mercado says her "No" vote is baded on personal experience.
The "Take It From Me" Award. "I took pills after our first child. But despite them, I had seven more pregnancies, and one of our children died. The pills didn't work. Ayaw ko itong mangyari sa ibang kababaihan (I don't want this to happen to other women)." -Cavite 2nd District Representative Lani Mercado-Revilla (So, you kept taking them even after they failed you the first time?)
ADVERTISEMENT - CONTINUE READING BELOW
The "Bitter Ka, Teh?" Award. "The bill does not care much about family [and] marriage but is [only] concerned with giving couples safe, satisfying sex life." -Cebu 2nd District Representative Pablo P. Garcia (As they say, Congressman, "Walang basagan ng trip!")
The "Nobody Asked Me" Award. "I want my last vote to be a vote for my church. I've served for many years and no one asked for [a] condom or [an] IUD." -Palawan 1st District Representative Antonio Alvarez (Dear Sir, the world does not revolve around you.)
The "Somebody Please Give This Man Some Valium" Award. "If we can respect Islam and give them special laws, can we not respect Catholicism and give it special laws?" -Quezon City 1st District Representative Vincent "Bingbong" P. Crisologo (The statement is just plain wrong on so many levels that we don't even know whether to make fun of it or just cry.)
Pacman uses his defeat as yet another reason for his "No" vote.
The Knock-Out Award. "In the dying seconds of Round 6, for more than two minutes, I was lying unconscious, motionless. Some thought I was already dead. What happened in Vegas strengthened my belief in the sanctity of life. Manny Pacquiao is pro-life and votes 'No' to the bill." -Sarangani Lone District Representative (and Pinoy boxing champ) Manny Pacquiao (Referring to yourself in the third person is really disturbing, you know.)
The Nostalgia Award. "If [the] RH bill was passed in the 50s, I probably would not be here today." -Bukidnon 1st District Representative Jesus Emmanuel M. Paras (Would that really have been such a tragedy?)
ADVERTISEMENT - CONTINUE READING BELOW
The Gambling Lord Award. "We don't play dice with God." -Antique Lone District Representative Paolo S. Javier (Sayang, cute ka pa naman.)
The Prayer Abuse Award. "The Apostles' Creed" recitation. -Iloilo 2nd District Representative Augusto "Boboy" Syjuco (Talk about the ultimate cop-out.)
Maybe Rep. Mikey Arroyo is still smarting from this incident.
The Self-Righteous Award. "Who stands to benefit most if this bill is passed? Hindi ko pwede isuko ang aking pagka-Katoliko (I can't give up being Catholic)." -Ang Galing Pinoy Party-List Representative Mikey Arroyo (The holier-than-thou stance is too much to take.)
The Believe It or Not Award. "I am my father's son but not his keeper." -Cagayan 1st District Representative Juan "Jack" Ponce Enrile (Going against daddy? We kinda didn't see this coming.)
The Parental Guidance Award. "My parents told me to say no before they passed on." -Pampanga 3rd District Representative Aurelio "Dong" Gonzales Jr. (Using your deceased parents to justify your vote? That's real classy.)
The "What Have You Been Smoking?" Award. "I wish that in my lifetime we will have enough Filipinos so we can 'Filipinize' the whole world." -Davao Oriental 2nd District Thelma Z. Almario (Ma'am, are you OK?)
Rep. Lucy Torres-Gomez was done in by a little quip.
The Biology Award. "We were all embryos before." -Leyte 4th District Representative Lucy Torres Gomez (To be fair, she only ruined her otherwise respectable argument for her "No" vote with this little quip.)
The Heavenly Citation Award. "I offer my vote to the Lady of Immaculate Conception and the Lady of Guadalupe." -Batangas 1st District Representative Tomas V. Apacible (Er...were you casting your vote in church?)
ADVERTISEMENT - CONTINUE READING BELOW
The Separation of Sanity Award. "The State must not meddle with the Church. This bill is population control." -Nueva Ecija 4th District Representative Rodolfo W. Antonino (Maybe he was hungry when he said this. It did take an awfully long time for the voting to be done.)
The Calamity Jane Award. "The recent natural calamities are a sign that the RH bill is bad." -ALE Party-List Representative Catalina C. Bagasina (How very scientific of you!)
Art by War Espejo, with photos from PEP, publicity photos, and screenshots from various news video clips.
Share this story with your friends!
---
Help us make Spot.ph better!
Take the short survey
Load More Stories