Christmas for Crammers: Survival Tips for the Scrooge in Everyone
From holiday mall hours to how much you should slip inside <em>manong kartero</em>'s <em>pamasko</em> envelope, we've got all you need to survive Christmas.
(SPOT.ph) A recent CNN story mentioned that Christmastime in Manila is the best anywhere in the world. Not to begrudge delighted readers and Facebook sharers their little piece of national pride, but the writer has obviously not yet experienced Manila's holiday traffic. Or hammered deaf by Christmas carols playing on a loop in every establishment since September. Or-with all due respect to the ranks of urban poor-being hijacked at every street corner by jeep-boarding professional buskers, carolers, and pastors.
We love Christmas, yeah, but sometimes, it's enough to turn you into a crank.
To fend off the Christmas blues, we've compiled a list of survival pointers for the Scrooges and sourgrapes among us, who're so sick of the holiday spirit that they've decided to cram all the necessary Christmas-ness into the very last minute. From shopping to godchildren, we've got some seriously tongue-in-cheek tips...because, as they say, nothing beats the Christmas humbug better than a nice ol' sense of humor.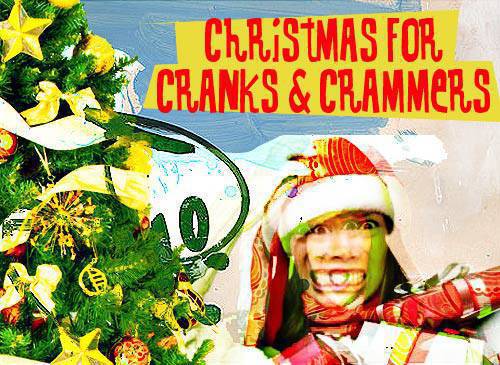 For when you see that pamasko envelope tucked inside your mailbox or house gate.
On the one hand, your security guards, basureros, and postmen have been assiduously guarding your premises, accepting your refuse, and keeping your bills coming all year long. On the other, those envelopes do add up to quite a dent in your already-stretched finances. There's general agreement that one bill slipped inside the envelope is enough to satisfy the community spirit...the exact color of the bill is entirely up to you, though.
ADVERTISEMENT - CONTINUE READING BELOW
Pia Rojas, fashion and beauty editor of Good Housekeeping Philippines, shared this tip with us: instead of giving money, her family whips up some baked goods for them. If you have time, you should definitely go for this option. You will feel generous and "sweet". Get it..."sweet"?
"Pamasko ng mga Bituin", featuring Apo Hiking Society, Celeste Legaspi, Leo Valdez, Janet Basco, Ivy Violan, Marco Sison, and more. It's like the Avengers of Pinoy Christmas ditties.
For when a pastor climbs onto your jeep and solicits your financial assistance.
Not just pastors either, but members of indigenous tribes, or enterprising carolers. They will drop an envelope on your lap, squat in the middle of the jeep, and regale you with some Christmas cheer. Some of them will actually sing well, and we will always tip our hats to the ingenuity of percussion kits fashioned out of tin cans. Others will be carrying babies. If your daily trip is starting to turn into a guilt trip, consider donating to the victims of Typhoon Pablo instead of giving these commuting companions a coin or two.
Click here and here for links on how to help.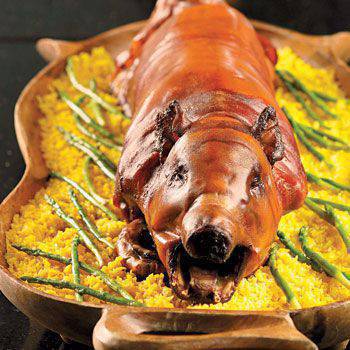 Can you say no to a face like that? Photo by David Hanson Ong and courtesy of Yummy.ph
For when you see the Christmas spread.
Eat up, piggos, it's Christmas time. From office buffets to gift baskets to noche buena itself, all that food fuels the countless reunions, parties, and thickening holiday flab. Say farewell to all your weight-loss intentions, because, like the RH Bill, good food is just something you can't say "no" to. You can always start watching your weight come 2013. What, there's also another party on New Year's? Oh well. Shrug.
ADVERTISEMENT - CONTINUE READING BELOW
But if you really need to whip those cravings into submission while still partaking of the Christmas feast, then learn to portion your plate. Try to get everything you want into one plateful through careful sectioning and small portions. If a second serving of lechon is tempting you at the buffet table, then just leave the room and go catch up with your drunken uncle.
GMA News takes a look at the Christmas shopping scene
For when you need to go Christmas shopping.
We've already come out with a pretty comprehensive guide for Christmas shopping, but we've also gotten a tip from an insider in the retail business who used to work in megalithic Megamall. "The first couple of hours of the mall opening on a weekday is best for me," she says. "The tip for special sales like the SM Advantage sale in the Department Store and affiliates is that you can reserve the items you want the day before. The sales attendants will help you there."
Here's a list of mall hours for several major malls across the Metro.
Robinsons Galleria, Manila, Magnolia, Metro East, and Forum
December 1-22 - Closing time extended by 1 hour
December 23 & 24 - Regular mall hours
December 25 & January 1 - Opens at 12nn
December 26 - 31 - Regular mall hours
December 30 - Robinsons Supermarket open until midnight
Greenbelt
December 1-22 - 10 a.m. to 11 p.m.
December 23 - 10 a.m. to 12 m.n.
December 24 - 10 a.m. to 8 p.m.
December 25 and January 1 - 12 n.n. to 8 p.m.
December 26 to 30 - 10 a.m. to 6 p.m.
December 31 - 10 a.m. to 6 p.m.
ADVERTISEMENT - CONTINUE READING BELOW
SM Megamall & SM North Edsa
December 14-23 - 10 a.m. to 12 m.n.
December 24 & 31 - 9 a.m to 7 p.m.
December 25 - 10 a.m. to 11 p.m.
December 26-30 - 10 a.m. to 11 p.m.
January 1 - 12 n.n. to 10 p.m.
SM Mall of Asia
December 20 to 23 - 10 a.m. to 12 m.n.
December 24 and 31 - 9 a.m. to 8 p.m.
December 25 to 30 - 10 a.m. to 11 p.m.
December 31 - 9 a.m. to 8 p.m.
January 1 - 12 p.m. to 10 p.m.
Other SM Malls
December 21, 22 - 9 a.m. to 12 m.n.
December 24, 31 - 9 a.m. to 7 p.m.
January 1 - 12 n.n. to 9 p.m.
Shangri-La Plaza
December 17-23 - 10 a.m. to 11 p.m.
December 24 - 10 a.m. to 8 p.m.
December 25 - Shang Cineplex and F & B establishments located in The Ledge will be open from 12 n.n. to 10:30 p.m. Rest of mall will be closed.
December 26-27 - 11 a.m. to 9 p.m.
December 28 - 11 a.m. to 10 p.m.
December 29 - 10 a.m. to 10 p.m.
December 30 - 10 a.m. to 9 p.m.
December 31 - 10 a.m. to 7 p.m.
January 1 - Mall closed
Trinoma
December 15 to 23 - 10 a.m. to 12 midnight
December 24 to 25 - 10 a.m. to 9 p.m.
December 26 to 30 - 10 a.m. to 10 p.m.
Powerplant Mall
December 15 to 23 - 10 a.m. to 11 p.m.
December 24 - 10 a.m. to 8 p.m.
December 25 - 12 nn to 8 p.m.
December 26 to 30 - 10 a.m. to 10 p.m.
December 31 - 10 a.m. to 8 p.m.
January 1, 2013 - 12 nn to 8 p.m.
ADVERTISEMENT - CONTINUE READING BELOW
Glorietta
December 17-23 - 10 a.m. to 12 m.n.
December 24 -10 a.m. to 9 p.m.
December 25 - 12 n.n. until 9 p.m.
December 26-30 - 10 a.m. to 10 p.m.
December 31 - 10 a.m. to 6 p.m.
January 1, 2012 - 12 n.n. to 10 p.m.
For OPM fans, here is Hidden Nikki's jazzy rendition of "Have Yourself a Merry Little Christmas"
For when the Christmas carols are driving you nuts.
We don't blame you-you've been hearing them since September. Who are the worst offenders? Is it the maddeningly chirpy synth line of Wham's "Last Christmas"? Is it the candied-up lewdness of "I Saw Mommy Kissing Santa Claus"? (We nominate that song as the title for a new Anne Curtis adultery vehicle.) Or is it EVERY bossa nova Christmas carol version ever?
But you can still get into the Christmas spirit without sacrificing your musical taste. Check out our list of 10 alternative Christmas songs here. Might we also shoutout a few stragglers? R.E.M. has a baroque, lyric-less cover of "Deck the Halls", while Chuck Berry rocks it all up with "Run Rudolph Run".
For when you need to slice through the traffic like a hot knife through butter.
Reality check: It can't be done. As Dinzo Tabamo, associate features editor of Top Gear Philippines, says: "Christmas traffic is like death, taxes and Tito Sotto's stupidity...there's no way to beat them." Just like you, everyone else in Manila has some sort of party to go to or some Christmas shopping to do. Yes, even at 11 in the evening, so stop pretending it's any sort of surprise that C5 or Edsa or whatever is still jampacked just before midnight.
ADVERTISEMENT - CONTINUE READING BELOW
The simple solution? Hermitage. Or exile to Dapitan. Or buying yourself a wang-wang, a diplomatic plate, and a police escort. If the aforementioned are not legal options for you, then it's time for a bit of smarts. "To minimize the mental damage traffic causes, try to go to the bazaar/mall as early as you can and count on holiday lethargy from the rest of the populace," says Tabamo. "Also, use apps like MMDA and Waze to get a better idea of the current traffic flow. Don't have a smartphone to use those apps? It's time to give yourself a gift."
ABS-CBN News looks at Christmas-time traffic and what steps the MMDA is taking to alleviate it
For when there are carolers at your door.
The doorbell rings, and-oh geez-it's your friendly neighborhood unsolicited singing group, all gloriously off-key. Do you show off your community spirit and donate a crisp hundred-peso bill? Or do you cower inside your house like a coward, pretending that no one's there?
We choose the latter. And if we get a "tenkyu, tenkyu, ang babarat ninyo, tenkyu!"...well, dignity is a small price to pay for peace of mind. Busy yourself with holiday preparations while you ignore them, but don't rub it in by blasting out "Pasko Na Naman" at full blast on the stereo.
For when you have so many inaanak.
You haven't even started shopping for your own anak yet, and already your budget is being eaten up by these little gremlins. Regret saying yes to that ninong offer from your officemate now, do you? Of course, your kumpare would curse you behind your back if you live up to the true essence of being a godfather/godmother and just give good mentorship instead of gifts, so there's no going around it: you'll have to get something.
ADVERTISEMENT - CONTINUE READING BELOW
Section your inaanaks, prioritizing them in order of social relevance. Near the top of your list are your sibling's kids, your mistress's, your best pal, and the child of the boss you're sucking up to. Those should receive oversized plushies, fun-yet-educational books, Nerf blasters, impossible-to-build LEGO sets. Bottom of the list should be office seatmates, naturally. Bags of candies, coming right up!
For when Christmas is so unseasonably warm.
Which is, it goes without saying, exactly how you would describe Christmas in 2012. Blame it on the upcoming end of the world. Or perhaps just the general trend of rising temperatures. In this ABS-CBN report, National Statistical Coordination Board Secretary General Jose Ramon Albert cites data from PAGASA that temperatures are going up in the country by 0.164 degrees each year. One look at our middle-of-December armpit stains, and we totally believe him.
But getting mad at the weather is pointless. (Grumbling, though, we can excuse.) So instead, it's just another reason to break out a bikini, or use a tiny bit of your Christmas bonus for the air conditioning/utility payments.
For when you remember that for all the Christmas preparations and expenses...New Year's is just one week after.
Oh, crap.
Load More Stories