Urban Buzz: 18 Metro Manila spots featured in French edition ELLE Decoration
Now, it's really more fun in the Philippines.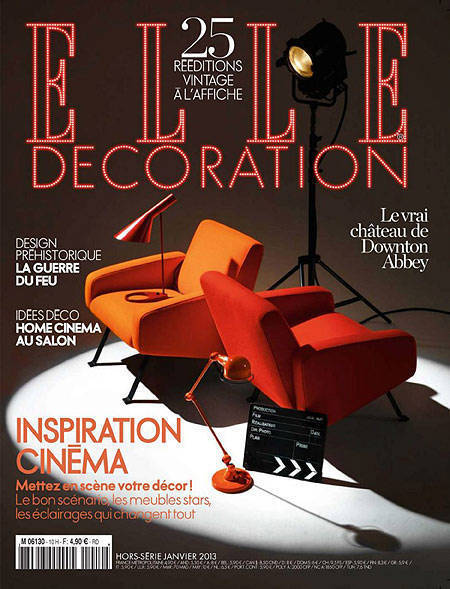 (SPOT.ph) The Philippines seems to be starting the year with a bang. The country was cited in The New York Times' list of "The 46 Places to Go in 2013." TIME magazine's "Person of the Year" issue (covering December 31, 2012 to January 7, 2013) also has an article on the Philippines entitled, "A New Asian Tiger is Born."
Metro Manila, though, has gotten special mention in the January 2013 issue of ELLE Decoration's French edition. In "Manille déco," an article written by Clémence Leboulanger-accompanied by photos taken by Nicolas Tosi-18 Metro Manila spots are cited for being design hubs.
On their Facebook page, ELLE Decoration Philippines revealed: "The ELLE Decoration France team visited the Philippines late last year and produced these two beautiful features for their January 2013 issue. 'Manille Deco' is about Manila's notable design addresses and 'La Plage' is all about the sublime Dedon Island [of] Siargao."
Below is the list of locations that up the artistic index of the metropolis: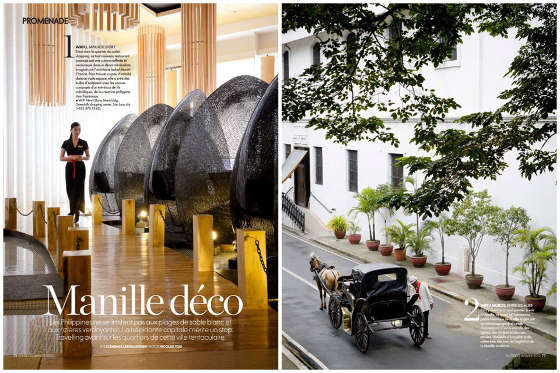 ADVERTISEMENT - CONTINUE READING BELOW
1. Wafu
W-1F New Gloria Maris Building
Greenhills Shopping Center, San Juan City
Tel. no. 570-3242



This posh restaurant's interiors channel a modern Japanese vibe. But, of course, it's not just the physical structure that's commendable. One of the restaurant's most striking elements are their mezzanine area chairs, which are inspired by lotus pods.
2. Intramuros



The world-famous Walled City always draws crowds because of its Spanish-era buildings and churches. The cobbled streets definitely take you back in time.
3. Rocket Room
Ground Floor Level
Bonifacio High Street Central, BGC, Taguig
Tel. no. 621-3222



This haute hub boasts of retro-patterned floor tiles, lava lamps, and Space Odyssey-style chandeliers. It makes you feel like you're in the '50s, '60s, or the '70s.
CONTINUE READING BELOW
Recommended Videos
4. A-11
2680 FB Harrision St., Pasay City
832-9972



Originally a two-storey wood house located at the end of the acacia-lined street, it was converted into a space to showcase furniture and art in "everyday use" settings.
5. Kish
233 Nicanor Garcia St., Bel Air, Makati City
Tel. no. 896-8366


The huge 452-square meter store houses merchandise from home accessories to furniture. Cleverly divided into different sections, the space's various areas show modern, classic European, and Asian collections all carefully curated and displayed in Kish's signature style-a fresh and edgy aesthetic that defies traditional design sensibilities.
6. Silverlens
2nd Floor, YMC Building 2
2320 Don Chino Roces Ave. Ext., Makati City
Tel. no. 816-0044



It's essentially three galleries that allow for simultaneous exhibits. Each one offers just the right amount of floor area for artists to thresh out their concepts and put together suitably impressive shows. In a February 2011 SPOT.ph article, it was described thus: "The gallery emits a stylish, urban feel-a cross between New York's Chelsea gallery district and Beijing's 798 art oasis."
ADVERTISEMENT - CONTINUE READING BELOW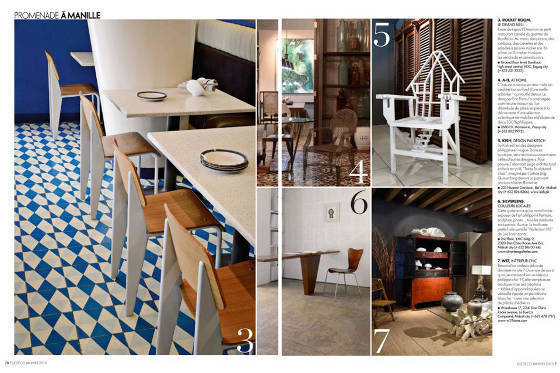 7. W17
Warehouse 17, 2241 Don Chino Roces Avenue
La Fuerza Compound, Makati City
Tel. no. 478-1717



The luxe home store makes a design statement with bold, larger-than-life pieces. "Posh" is one of the first words that come to mind when you step inside it and encounter the dramatic lighting and interiors.
8. Museum Cafe
G/F Greenbelt 4, Makati Ave. corner Dela Rosa Street
Ayala Center, Makati City
Tel. no. 757-3000



If you think modern-and-flirting-with-the-industrial interiors can be cold-then it's best that you pay this dining spot a visit. The natural lighting enhances its seemingly limitless sophisticated space and warms it up with a brand of cozy that's cosmopolitan at the same time.
9. Heima
LRI Design Plaza, Suite 229
210 Nicanor Garcia St., Bel Air 2, Makati City
Tel. no. 798-0027



If Shabby Chic married Vintage Pop Art, they would live inside this funky home store. The store features a lot of familiar-yet-unexpected design elements (suitcase parts turned into chairs and such) that words just aren't enough to explain the scheme. That is, of course, part of its charm.
ADVERTISEMENT - CONTINUE READING BELOW
10. Now Gallery
Unit M05 Mezzanine Floor, Ecoplaza Bldg.
2305 Pasong Tamo Extension, Makati
Tel. no. 555-0683


Contemporary and elegantly minimalist, this space comes alive with paintings, sculptures, photographs, videos, installations, digital art, and even performances. It's where creativity spawns art.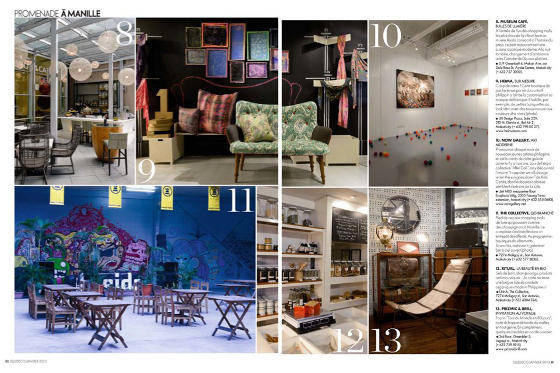 11. The Collective
7274 Malugay Street, Makati City
Tel. no. 577-3836


This enclave is an avant garde commercial space that houses the shops of artists, quirky merchants or hard-to-find knick-knacks, and food artisans. The individual shops contribute to the complex's appeal.
12. Ritual
Unit A, The Collective
7274 Malugay Street, Makati City
Tel. no. 400-4326


If you've ever imagined what whimsical apothecaries of old would look like, this store would be a contender. With its no-frills interiors and shelves filled with products packaged in repurposed materials, it radiates such a green and healing energy. Its design principle might very well be, "Less is more."
13. Prizmic and Brill
3rd floor, Greenbelt 5, Makati city
Tel. no. 729-8915
ADVERTISEMENT - CONTINUE READING BELOW
With the predominance of wood, leather, and metals, this store has an undoubtedly masculine vibe. It tempers the testosterone-friendly interiors with intermittent soft touches of fabric, detailed prints, and spots of color.

14. The Silahis Center
744 Calle Real del Palacio (Gen. Luna), Intramuros, Manila
Tel. no. 527-3841 to 42


It's vintage Filipiniana all the way for this must-not-miss stop. Designers gravitate towards repurposed accent pieces, vinyl music plates, and intricately carved curio pieces.
15. Aranaz
2nd Floor, Greenbelt 5, Makati City
Tel. no. 757-0301


This store has perfected its own design scheme-understated opulence. With the delicately luxurious bags showcased in the most playful ways, it also has a tinge of a royal bohemian vibe. It's a carefree yet definitely classy space.
16. O.M.O
LRI Design Plaza, Suite 129
210 Nicanor Garcia St., Bel Air 2, Makati City
Tel. no. 403-1208



With its clean lines and lighting, as well as cool neutrals, the store's interiors are cozy without being cloying. Its design scheme respects the concept of personal space, as it manages to infuse a sense of Zen without having to use the all-too-obvious elements.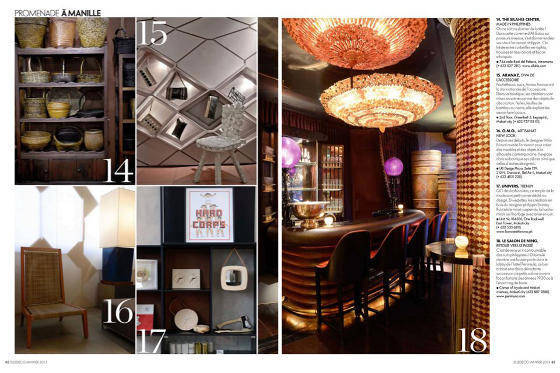 ADVERTISEMENT - CONTINUE READING BELOW
17. Univers
Unit No. 104-106 One Rockwell East Tower, Makati city
Tel. no. 553-6811



It sure feels like preppie-and-yuppie heaven in this upscale store, which carries luxury brands. But rather than being intimidating, the store, with its open spaces (not to mention the straighforward price tags that do away with tense asking-the-price moments), allows everyone to interact with its wares. It's aspirational (for those who aren't there yet, anyway) chic done very, very well.
18. Salon de Ning
The Peninsula Manila, Makati Avenue, Makati City
Tel. no. 887-2888
The Peninsula Manila describes it as a "glamorous and sophisticated night club reminiscent of 1930s Shanghai" that features "Art Deco objets d'art." It has four themed rooms: Boxing, Shoes, Zeppelin, and Shanghai. (Yes, this is where the infamous Star Magic Brawl involving Coco Martin and Matteo Guidicelli occurred.)
So, why do you think Metro Manila (and the Philippines in general) is getting this attention now? According to TIME, the Philippines is "a beautiful and industrious country" that is "dazzling markets with its open business climate, impressive economic performance, and huge opportunities across a range of sectors." Do you think this is true?  (Go ahead, give us "a piece of your mind" through our comments section.)
Screenshots of January 2013 ELLE Decoration French edition cover and pages from ELLE Decoration Philippines (via their Facebook page).
Share this story with your friends!
---
Help us make Spot.ph better!
Take the short survey
Load More Stories