Hot on Spot: The Tale of Two Kristas
One has moved on, while one is right smack in the middle of a (sun)storm.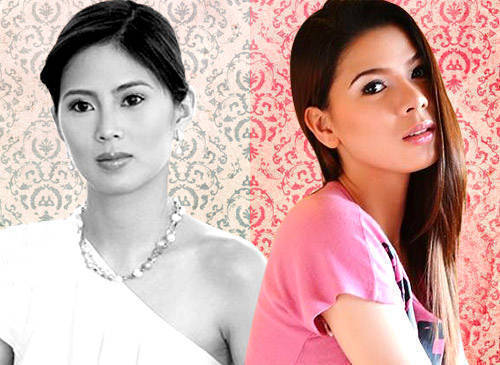 Photos from PEP (Krista Ranillo) and Twitter (via Krista Miller's Twitter page)

(SPOT.ph) Fledgling starlet Krista Miller achieved instant notoriety when Sunshine Cruz let the shit hit the fan via social media last week. Cruz accused Miller of being disrespectful, as the latter had allegedly bragged about the gifts that she received from actor Cesar Montano. In case you didn't know it-Montano is Cruz's husband of 12 years.
For obvious reasons, this latest celebrity-allegedly-with-other-woman debacle brings to mind a similar past issue that once consumed showbiz scribes. Just a couple of years ago, a woman with the same name-Krista Ranillo-was the recipient of the kind of flak that Krista Miller is getting right now. As it turns out, the two may share some other similarities as well:
What's in a name?
KRISTA R. supposedly got her name because her dad, Matt Ranillo III, named her in honor of his most blessed role-that is, Kristo (Jesus Christ)-which he had been asked to flesh out in theater plays, made-for-TV movies, and such.

KRISTA M. is said to be Kristalyn Engle (or is it Kristalyn Hernandez?) in real life. This means that she chose the shortened, "Krista" as her screen name. What a coincidence!
Alleged on-the-set hook-ups
KRISTA R. was cast in Wapakman (2009), an MMFF entry about a superhero starring boxing champ Manny Pacquiao.
KRISTA M. was cast in The Turning Cradle: The Untold Story of Alfredo Lim, a biopic starring actor Cesar Montano which may be released this year.
ADVERTISEMENT - CONTINUE READING BELOW
The men in question
KRISTA R. was rumored to be with Pacquiao, who made his fortune as a boxer and then later dabbled (and is still dabbling) in politics and singing.
KRISTA M. is rumored to be with Montano, who made his fortune as an actor and later dabbled in politics and singing.
The enraged wives
KRISTA R. got on the bad side of Jinkee Pacquiao, the mother of Pacquiao's four children who had devoted her life to taking care of her husband.
KRISTA M. got on the bad side of Sunshine Cruz, the mother of Montano's three children (he has other children-two with his late wife Marilyn and one with his ex-girlfriend, actress Teresa Loyzaga) who had devoted her life to taking care of her husband.
CONTINUE READING BELOW
Recommended Videos
Confrontation technique
KRISTA R. was directly hit by Jinkee Pacquiao's words. In her exclusive interview with StarStudio Magazine in 2010, Pacman's wife was asked how she felt about Ranillo. She said: "I hate her."
KRISTA M. was hit via social media with the now-deleted Instagram posts of Cruz, who practically conducted a show-and-tell featuring Miller.
Gift-related gossip
KRISTA R. allegedly got a lot of lavish presents from her paramour-but none of the speculative buzz on the presents she may or may not have gotten was ever confirmed as true. (When she opened a boutique in California, malicious pundits said she must have gotten the money from Manny Pacquiao.)
KRISTA M. was the recipient of an Abercrombie and Fitch shirt for men, a pack of chocolates, and an iPhone 5-but none of them were actually bought for her. Sunshine Cruz revealed that the presents actually came from her and that Montano had only "regifted" them.

ADVERTISEMENT - CONTINUE READING BELOW
Public verdict

KRISTA R. got accused of being a homewrecker, as a number of people believed she was really having an affair with a married man-never mind the movie that flopped. (Ranillo went on to marry a businessman in the U.S.)

KRISTA M. is getting accused of being cheap, as a number of people believe she's just doing this to generate some buzz for her upcoming movie-so she better pray that the movie isn't a flop.
Graphics by Warren Espejo, with photos from PEP (Ranillo) and Miller's Twitter page.
Share this story with your friends!
---
Help us make Spot.ph better!
Take the short survey
Load More Stories