Royal Rumble: A Sabah Claimant Speaks
One of the heirs of the hotly-contested territory gives his lighthearted two cents.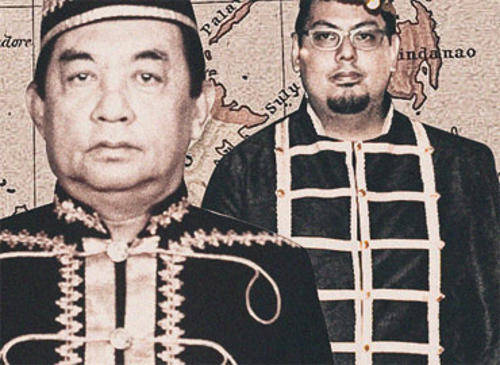 [Ed's note: Ibba Rasul-Bernardo is descended from the viziers of the Sultanate of Sulu, and his family holds a small claim over Sabah. At present, Ibba is a Manila-based writer, a social entrepreneur, techie, motorcycle rider, and a long-time colleague of Spot.ph editors. We asked him for his two-cents' worth on the Sabah-Philippines-Malaysia debacle, and this is what he had to say.]
(SPOT.ph) I was brought up in a family that valued brains and achievement over money and titles. I was also brought up to not brag, especially about things unearned. Which is why being a "royal" was never a big part of my upbringing.
As a snot-nosed kid, I was even a bit embarrassed to ask about our royal lineage for fear of getting a very stern lecture from my mother, Amina Rasul (who is royalty; dad is, like Princess Diana, a commoner). Besides, royal pedigree doesn't change the fact that I am a dork.
So my heritage passed into history until this Sabah situation arose. We recently had a family meeting with some of the heirs. Here we discussed the history of Sabah and our legal rights to it. I always knew that we had some claim and now I know how legitimate it really is.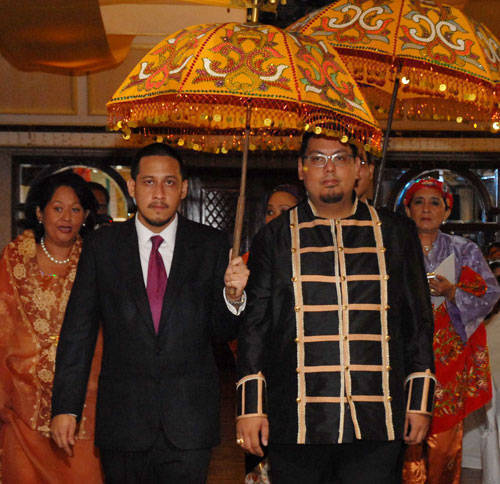 The author (right) during his wedding, dressed in royal wear patterned
after the Grand Vizier of the Sulu Sultanate
ADVERTISEMENT - CONTINUE READING BELOW
The Lineage
To say my great-grandfather Hadji Butu was great is an understatement. There are poems about him in the Tausug oral tradition. He was the vizier or wazir (Prime Minister) to three Sultans, he freed his slaves, he was the first Muslim Senator of the Republic of the Philippines, and most of all he was a man of peace and learning. He was married to Princess Hadja Salma who in turn was first cousin to Queen Dayang Dayang Hadja Piandao.  You can clearly trace Sabah's claim through these powerful women, and through them I claim a tiny percentage of Sabah.
CONTINUE READING BELOW
Recommended Videos
My Grandfather Ambassador Abraham Rasul, after whom I'm named, succeeded Hadji Butu as Prime Minister to the Sultanate. He was given the power by the Sultan of Sulu to discuss the pursuit of Sabah with President Macapagal, and afterwards, President Marcos.
My family was where the Sultans got their viziers. In Game of Thrones terms, we were the Hand of the King and the title was passed down from first son to first son.
Sadly, I'm the first son of the first child who was a daughter. So I'm not in line to be a Vizier or Prime Minister to the Sultan. In another life, I would have been a Datu with my own retainers and warriors. I might have even started a revolution against my cousin Tariq, to whom the title would officially fall to. Lucky for Tariq, times have changed...plus, he's also a cool young man for whom I have a lot of affection.
ADVERTISEMENT - CONTINUE READING BELOW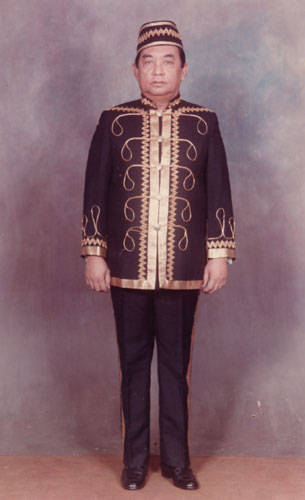 The author's grandfather, Ambassador Abraham Rasul
What I Know of the Sabah Claim
In the 1600's Eastern Sabah was given to the Sultan of Sulu by Sultan Muaddin of Brunei for sending some of his bad-ass Tausug warriors to quell a revolt.
In 1878, Baron Von Overbeck of the British East India Trading Co. leased Sabah from Sultan Jamalul Alam. So it's pretty simple and clear-cut: they rented Sabah from my ancestors.
The Philippine Constitution of 1935 states that the national territory of the Philippines included, among other things, "all other areas which belong to the Philippines on the basis of historical rights or legal claims." Again, even in the constitution, it's pretty simple and clear-cut: Sabah is ours. (To Mr. President: check your Constitution. I don't know about you Mr. P, but I was taught to back your peeps first.)
In 1946, Baron Von Overbeck of the British East India Trading Co. illegally transferred sovereign rights over Sabah to Britain. This is kind of like renting an apartment to someone, then the renter illegally sublets the apartment, after which the sub lessor says they own it.
ADVERTISEMENT - CONTINUE READING BELOW
In 1962, President Diosdado Macapagal was given the right to pursue the Sabah claim by Sultan of Sulu, HM Sultan Muhammad Esmail E. Kiram I. The Philippines even broke diplomatic relations with Malaysia after the federation had included Sabah in 1963. Now that's a President Macapagal I can be proud of!
In 1963, Sabah was one of the territories turned over by the renters, the Brits, to the newly-established Malaysia (truly Asia). Basically, the British stole our land and gave it to Malaysia as a gift.
In 1968 President Ferdinand Marcos  gave the greenlight for Operation Merdeka, where a trained group of elite Tausug warriors were supposed to invade Sabah, but this turned bloody when the Tausug special forces were murdered by the Philippine Military, an event that became known as the Jabidah massacre.
Only in 1989 did diplomatic ties officially resume with Malaysia. Over two decades of the silent treatment. I hope my wife doesn't get any ideas.
At present, Malaysia is still paying a measly RM5300...less than Php 75,000 a year. You can't even rent a decent condo in Manila with that amount.
[Ed's note: You can also read SPOT.ph's version of the Sabah recap here.]
The Problem
Historically, the Philippine government has tried everything from training special forces to not returning Malaysia's diplomatic phone calls for decades to assert its claim on Sabah. So why haven't any of our Presidents since Marcos done anything? The answer is pretty simple: money and peace.
These days, times are pretty good for both countries. They're both really happy, making money, and becoming prosperous. But when it comes to the Philippines, Malaysia is like a girlfriend with a shady, sneaky past. At this time, though, it's just too complicated to bring up painful memories. But in this case, not everyone is happy.
ADVERTISEMENT - CONTINUE READING BELOW
And the unhappy ones are from the poorest parts of the country, rife with unrest, and overflowing with guns. The unhappy ones are from my part of the country, Sulu. Sadly, diplomacy isn't what the Tausugs are known for. We are better known for armed conflict. After generations of fighting each other, Spaniards, Americans, Japanese, each other again, the Philippine government, we've gotten pretty good at it.
The only real upside to this is that the Republic of the Philippine Facebook Nation and the Twitterverse is more informed about our claim over Sabah. And I've gleaned a bit of knowledge about my rich cultural heritage. Another upside: I can now legitimately claim my title as the Paramount Geek Datu Ibrahim "Ibba" Rasul Bernardo, of the Royal Army of Dorkness.
Share this story with your friends!
---
Help us make Spot.ph better!
Take the short survey
Load More Stories