MOVIE REVIEW: Oz the Great and Powerful
It's like an awesome imagery treat that lasts more than two hours. Wow.
(SPOT.ph) Kansas, 1905. When magician Oscar Diggs (James Franco) is caught romancing a fellow circus performer's lover, he flees the dusty town in a hot air balloon. Caught in a twisty tornado, Oscar (nicknamed Oz) gets whisked off to the magical but war-torn land of Oz. There, he meets two witches: Theodora (Mila Kunis) and Glinda (Michelle Williams). They both believe he's the great man who's been prophesied to defeat Oz's wicked witch. But which witch is the wicked one? Is it Evanora (Rachel Weisz), as Glinda says, or Evanora's sister, Theodora? And can a selfish, small town illusionist like Oscar rise above himself and defeat wickedness incarnate?
PLUSES

The vibrant, meta-colorful sets and 3D imagery. So enchantingly visualized and flawlessly rendered in 3D is Oz the Great and Powerful that its entire 130 minute running time feels like a great day at Disneyland. From the charming use of assorted 19th century devices in the opening credits to the magical trek through the various realms of Oz itself, this is fantasy cinema at its breathtaking, transporting best. It's a see-it-all world where vast sunflower fields, rainbow-hued horses and emerald palaces co-exist with twisted tornadoes, spooky forests and frightening, flying baboons. Also delightful  are the artful nods to the classic 1939 film The Wizard of Oz starring Judy Garland, which include the intimate, sepia-toned theatricality of the Kansas scenes and the art nouveau décor of the castle in Emerald City.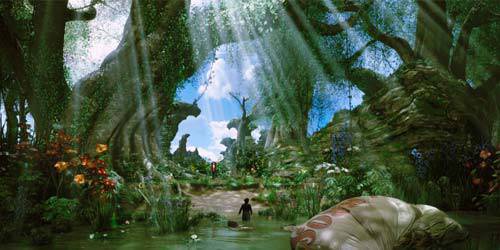 ADVERTISEMENT - CONTINUE READING BELOW
The porcelain China Girl. Although it doesn't have the Cowardly Lion, the Tin Man, or the Scarecrow, Oz the Great and Powerful does have an amazing ace up its magician's sleeve: the broken, knee-high figurine that Oscar befriends in China Town. Voiced sympathetically by Joey King (who appears as the crippled girl in the Kansas circus sequence), China Girl is the movie's most affecting computer-generated character, a fragile female whose fate viewers both young and old will be invested in from her first appearance up to her last.


The clever climax. How illusionist Oscar becomes the "great and powerful" Oz promised by the movie's title is an ode to old-fashioned movie magic, a plot point that cineastes will love.


CONTINUE READING BELOW
Recommended Videos
MINUSES

James Franco in the title role. As Oscar Diggs in this prequel, James Franco's portrayal is supposed to anticipate the Wizard whom Dorothy and her friends will meet years after this adventure in The Wizard of Oz. But there's none of the ebullience in Franco's heavy-handed, internal approach that foreshadows the lovable wizard played by Frank Morgan in the 1939 MGM production. How much more delightful and buoyant this new Oz would have turned out had either Robert Downey Jr. or Johnny Depp accepted the role of Oscar, as director Sam Raimi had reportedly hoped.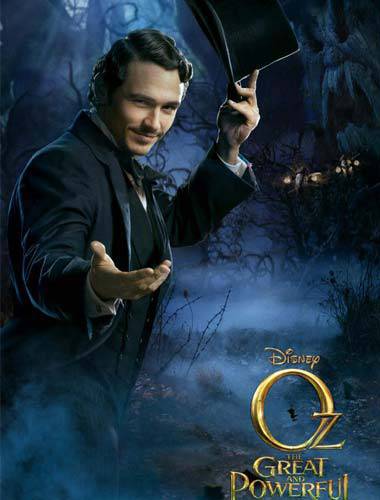 ADVERTISEMENT - CONTINUE READING BELOW
The inconsistent tone. Just who is this movie for? The $200 million spent by Disney on this fantasy adventure, coupled with the Oz brand, betrays the filmmakers' hope that Oz the Great and Powerful will be a major family blockbuster. It even has the same playdate and the same producers as Tim Burton's Alice in Wonderland, which eventually grossed more than a billion dollars worldwide following its March 2010 release. But a movie aimed at children must have a captivating hero that boys and girls can relate to or identify with, and no way does James Franco's womanizing charlatan Oscar Diggs fit that bill. The many allusions to the 1939 Wizard of Oz are also surely aimed at older moviegoers, since director Sam Raimi and his scriptwriters can't assume that today's kids have seen the Judy Garland film. Yes, the presence of witches, China Girl, and the other fantastic creatures will get their attention, but the absence of an appealing hero deals the movie a major blow.     

The 130 minute running time. Though Oz the Great and Powerful is a stunning visual delight, not enough happens in its very simple plot to warrant a running time of more than two hours. Expect to yawn a few times before the end credits roll.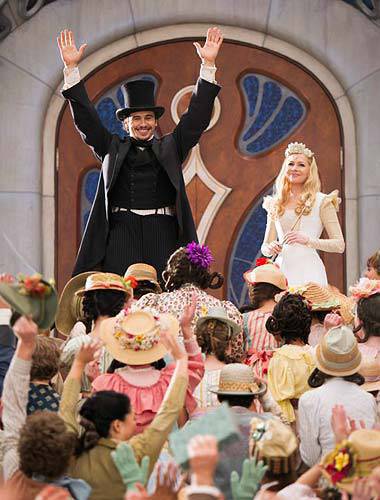 ADVERTISEMENT - CONTINUE READING BELOW
IN BRIEF: Though Oz the Great and Powerful is sumptuously and exquisitely visualized, it's bogged down by James Franco's inappropriately serious approach to the title role. Removing some of the hot air from Franco's work and adding more child-friendly ingredients would have allowed this magical balloon of a movie to soar even higher.

Rating: 3½ out of 5 spots for the 3D version, 3 out of 5 spots for the 2D version •••



---
Help us make Spot.ph better!
Take the short survey
Load More Stories