Hot on Spot: An Idiot's Guide to Campaign Rules
We list 10 itty bitty facts that you may want to know.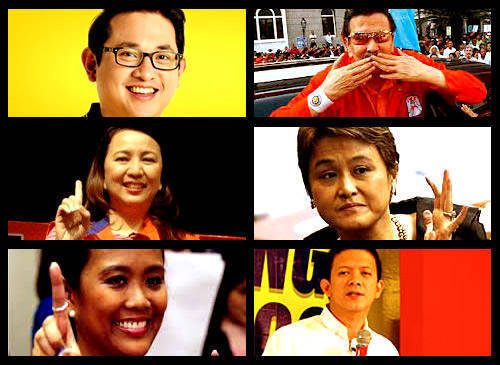 Credits: The images used in this collage are screenshots of from various news clips and publicity photos.
(SPOT.ph) Next to basketball games and beauty pageants, elections are our favorite pastime. But, truth be told, there are many Pinoys who are still clueless about the basic facts about the rules of the game. That's why we came up with this quick guide to campaign-related factoids. We're not claiming encyclopedic expertise, but it will do if, just like any other regular person, you don't have the time to read the Omnibus Election Code.
ADVERTISEMENT - CONTINUE READING BELOW
CONTINUE READING BELOW
Recommended Videos
1. The COMELEC is your daddy. You'd think that every Pinoy knows that the Commission on Elections is the go-to government agency when it comes to the polls. Well, we met some clueless college students and a 26-year-old man (true story) who thought the National Citizens' Movement  for Free Elections (NAMFREL) was in charge. Universal truth: Idiocy is far more powerful than Google.
2. There's a 90-45-15 rule. The designated campaign period appears to be hierarchical. If you're running for president, vice president, or senator, you get 90 days. If you want to be a Congress representative or any other local official, you get 45 days. If you're up for a barangay position, you get 15 days. The number of days does not include the day before and the day of the election. Of course, we all know there are creative ways to begin campaigning months (or even years!) before the campaign season officially begins.
ADVERTISEMENT - CONTINUE READING BELOW
3. The buck must stop somewhere. As mandated by COMELEC Resolution No. 9476, those running for president and vice president can only spend a maximum of ₱10 for every registered voter. Those running for other positions who are affiliated with political parties can only spend a maximum of ₱3 for every registered voter in their constituency. Meanwhile, independent candidates can only spend a maximum of ₱5 for every registered voter. Political parties and party-list groups, on the other hand, can give their members a boost, as they can spend a maximum of ₱5 for every registered voter in the constituencies where they have candidates. Do the math. That's a whole lot of money. It would be nice if they just pooled their funds together and did something more useful with it like build more schools or something.
4. "Dramatic donations" are not allowed. From the start of the campaign period to election day, candidates are not allowed to make donations to any public entity (churches, schools, and the like) or civic and religious organizations. This rule also applies to his or her spouse or any relative within the second civil degree of consanguinity (up to grandparents, grandchildren, brothers and sisters) or affinity (up to grandparents-in-law, or grandchildren-in-law, brothers-in-law and sisters-in-law). The same goes for his campaign manager, agent, and representative. The treasurers, agents or representatives of any party also cannot make the said donation. Hmmm...illicit lovers can't be classified as spouses or representatives, can they?
ADVERTISEMENT - CONTINUE READING BELOW
5. Candidates running for national positions get "freebies." Under the "affirmative action" mechanism discussed in Sections 90 and 92 of the Omnibus Election Code, the COMELEC shall procure print space from at least three national newspapers of general circulation. The said space shall be allocated free of charge equally and impartially among all the candidates for national office on three different calendar days: the first day within the first week of the campaign period; the second day within the fifth week of the campaign period; and the third day within the tenth week of the campaign period. A similar scheme happens for TV and radio. In case you missed it: The candidates get this free from the COMELEC, which runs on people's taxes. In other words, whether we like it or not, we're technically footing the bill for these freebies. Sure, it may be a good thing-but it sure sucks to know that you're also giving freebies to the candidates you hate.

ADVERTISEMENT - CONTINUE READING BELOW
Boy Bawal does the talking for COMELEC in this infomercial.
6. There's supposed to be a designated area for campaign posters. Section 91 of the Omnibus Election Code says, "Whenever practicable, the (COMELEC) shall also designate and provide for a common poster area in strategic places in each town wherein candidates can announce and further their candidacy through posters, said space to be likewise allocated free of charge, equally and impartially by the (COMELEC) among all the candidates concerned." However, we seem to see posters everywhere. Perhaps those concerned think the phrase, "whenever practicable" also means "wherever you like." (In any case, the Fair Election Act authorizes candidates to "erect common poster areas." Click this link and read Section 9.)
7. There's supposed to be a designated area for campaign posters. Speaking of posters, the COMELEC is quite strict about their dimensions. The poster size limit is two feet by three feet. You can post something bigger than that-a maximum of three feet by eight feet-"on the occasion of a public meeting or rally, or in announcing the holding of said meeting or rally." But you can only display the said bigger poster or streamer five days before the date of the meeting or rally and you have to take it down 24 hours after the event. Our advice: Just keep it small. It's not the size of the poster that determines your political fate. At least that's what we like to think. (For more information, read COMELEC Resolution No. 9615 for the updated rules on various election materials.)
ADVERTISEMENT - CONTINUE READING BELOW
8. You can't hold fund-raising extravaganzas. Section 7 of COMELEC Resolution No. 9476 specifies: "It is unlawful for any person to hold dances, lotteries, cockfights, games, boxing bouts, bingo, beauty contests, entertainments or cinematographic, theatrical or other performances for the purpose of raising funds for an election campaign or for the support of any candidate from the commencement of the election period up to and including election day." So, what if you're the one giving away, say, an iPad? You're not fund-raising when you do that, so would that be OK? But, wait, they also didn't say anything against holding an ukay-ukay sale.
Load More Stories