Mission for the People: Save Charice Pempengco
The little <em>birit</em> queen has shocked the public with her latest look.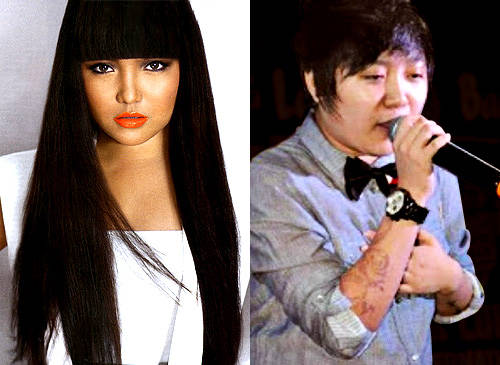 Before and after. Charice for Preview's January 2102 cover (left) and Charice today (right).
(SPOT.ph) Ideally, Pinoys should have a soft spot for Charice Pempengco. Surely, they find her round face with its typical Pinay features and diminutive stature adorable. Pinoys are famous for loving their own no matter what. Curiously enough, this isn't the case with Charice. She has gotten flak for not looking beautiful enough since she burst into the maddening mainstream. But it's not as if she's an aspiring model. She's a damn good singer. Nobody should care what she looks like.
Why does it seem like the U.S. audience loves this Pinay more?
Little Miss Pempengco has wowed the likes of Oprah, Ellen DeGeneres, the Glee folks, Celine Dion, David Foster, and probably the rest of the world. Yet, back here in her homeland, a number of Pinoys have never gotten tired of pointing out that she was pangit. That she was not sexy. That she didn't look like a star. Yet, when Charice got Botox injections to supposedly make her face look smaller, they also slammed her for not being true to herself. For trying too damn hard. What the hell do these people want the her to do?
ADVERTISEMENT - CONTINUE READING BELOW
Maybe it's all Charice's fault for hitting it big in an era where being shallow is practically a religion. (Hello, Paris Hilton and the rest of the famous-for-nothing crowd!) Not all of us can look like Marian Rivera or James Younghusband-but that doesn't mean we're not gonna die trying. Imagine beauty product addicts saying, "Hell, yeah, gimme that nondescript beauty product of unknown chemical origins and let me apply it on my face! I don't care if I get cancer from it! I wanna fit in with my alta sociedad friends when we go clubbing!"
CONTINUE READING BELOW
Recommended Videos
Her apperance on Glee is definitely one of her finest moments.
Despite the fact that Charice-just like Nora Aunor-has a telenovela-worthy masa background, many of those from the same circumstances belittle her for her plain looks. It's truly disturbing how so many Pinoys have such impossibly high standards of beauty even if they themselves aren't eye candy material. Does it mean that they don't want to look at Charice because she reminds them too much of themselves? If so, doesn't hating the way Charice looks betray their own self-loathing and destructive vanity?

ADVERTISEMENT - CONTINUE READING BELOW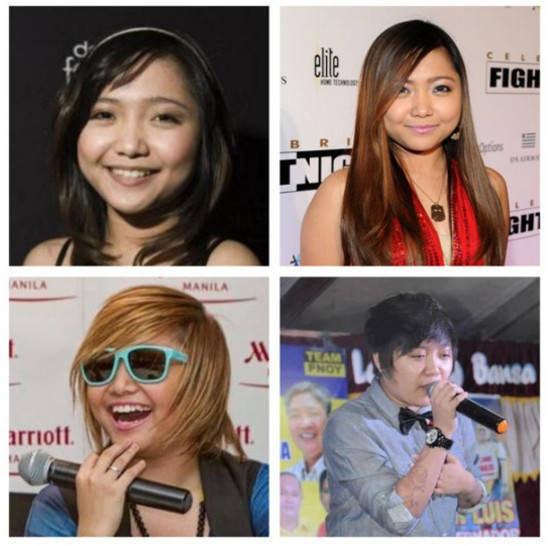 Instagram user @jjongc shared this collage via Instagram. It shows Charice's most significant looks. The photo on the bottom right side shows her latest incarnation. The said photo was originally posted on FashionPulis.com. The rest of the photos are screenshots from video clips and publicity images.
But this doesn't mean that Charice's fans are supporting her decision (if she was indeed the one who decided on it) to look like "Gangnam Style" guy Psy. Fans give their idols room to "reinvent" themselves. Just ask Aiza Seguerra's loyal followers. They loved her when she was a charming little tyke and they continued to love her when she grew up to be an out and proud lesbian who sang like an angel.
ADVERTISEMENT - CONTINUE READING BELOW
Fans love makeovers-but not when you look like you worked so hard to look unspeakably ugly. In fact, it's better to think that Charice's current look is the work of a group of people who don't have her best interests in mind. It takes a village of haters to make anyone look that bad.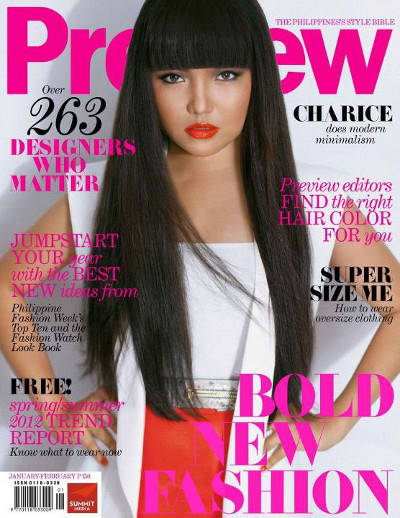 ADVERTISEMENT - CONTINUE READING BELOW
Charice has never looked this good.
Charice may not be conventionally pretty, but she can be cute. The Preview team showed us that all she needed was superb styling. The birit baby looks like the best version of herself in their January 2012 issue. It would've made sense if Charice maintained the sleek look. Alas, she went blonde. People were aghast but, hey, they got used to her looking like a spunky Pineapple Head Princess. Her haters compared her to comedian Maverick Relova. Back then, Charice had said, "I've read tons of negative comments (about my new look) and I don't care. Whatever they think or [even if] maybe [they say] I look like somebody else or whoever, I don't mind. I mean this is the look that I want. So, the only thing you can do is to move on. For me, just love me, I'm a person and if you think I'm a boy or a girl or if I look like a boy, then fine."
ADVERTISEMENT - CONTINUE READING BELOW
Behind the scenes in Charice's Preview cover shoot.
But, no, someone has to tell Charice it's no longer fine. Just like other rebellious and confused young girls, she has agreed to wear clothes that are guaranteed to get a rise out of people. She even has a tattoo (or two?) to complete the cliché. Sure, she has every right to act out or look edgy. But must she look like Humpty Dumpty? That's just criminal.
Charice is a star. Like it or not, it's her responsibility to embody (even a little) the glamorous life that her fans want but will never have. People trapped in dead-end situations and boring routines live vicariously through her. They can't keep doing that if she looks like she's having a psychological meltdown. Truth be told, it's likely that seeing the photo of her latest look reminded them of Britney Spears shaving her head. People can't help but think it's a cry for help. Or at least a cry for a better stylist.
ADVERTISEMENT - CONTINUE READING BELOW
Charice should get professional help. She literally looks like she needs it. Her friend Oprah would probably agree.
Art by Warren Espejo, with screenshots of photos from Preview and FashionPulis.com.
Share this story with your friends!
---
Help us make Spot.ph better!
Take the short survey
Load More Stories