Winners & Losers of the Week: Jamby Madrigal, P-Noy + others
We keep tabs on who soared and who fell flat on their faces.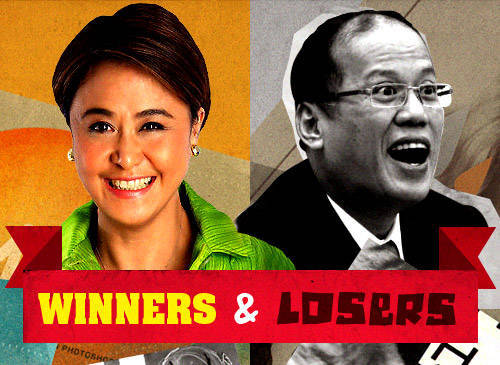 (SPOT.ph) We list the personalities who experienced highs and lows this week. Admittedly, not all the winners may be ecstatic and not all the losers may be devastated. Life is complicated, folks. Remember: Don't take everything literally and make sure to read between the lines...if you can find them. It's up to you to guess when we mean what we say or when we're putting on the snark. It keeps things interesting.
ADVERTISEMENT - CONTINUE READING BELOW
WINNER: Former police officer Cesar Mancao, who's involved in the Bubby Dacer-Emmanuel Corbito double murder case, for managing to escape from his NBI detention cell. (We thought we were watching a gag show when we saw this news clip.)
WINNER: Vice President Jejomar Binay, for reminding the people of Butuan City about his daughter Nancy's Senate bid while he was handing out land titles. (Screw subtlety! It's crunch time!)
WINNER: Sean Bean, 52, for defending his companion, 22-year-old Playboy bunny April Summers, from a man's lewd remarks and just shrugging off getting stabbed in the fight that ensued. (How much more "tunay na lalaki" can you get than this?)
WINNER: Marian Rivera, for finally getting into social media. (Her Instagram account is @therealmarian. *stalker mode*)
WINNER: Senate hopeful Jamby Madrigal, for not giving in to peer pressure and simply accepting the fact that she doesn't like eating pancit without the proper utensils. (It's better to be sosyal than fake...but be prepared to lose.)
ADVERTISEMENT - CONTINUE READING BELOW
Recommended Videos
Load More Stories