(SPOT.ph) Art auctioneer Simon (James McAvoy) successfully hides a $25 million Goya painting from would-be thieves during a heist at a London auction house. But when co-worker Franck (Vincent Cassel) gives Simon a nasty head injury during the incident, Simon forgets where he hid the painting. His life on the line, Simon sees hypnotherapist Elizabeth (Rosario Dawson), a woman he has a deeper, more complicated connection with than he remembers. Rated R-16 for violence, language and full frontal female nudity.


PLUSES

The Inception-like twists. Though not as intellectually complicated and labyrinthine as Christopher Nolan's head-hacking stunner, Trance offers familiar, Inception-lite pleasures, not the least of which is an opportunity for viewers to exercise their brain muscles. Like Inception (and even Life of Pi), there are many instances in Trance where you're not quite sure if what's happening to Simon and the others really is happening or if it's all in his hypnotized mind. Also engrossing is the way that Rosario Dawson's Elizabeth character takes the story to dark and twisted places you never saw coming, making her a cinematic cousin to Mal, the femme fatale played by Marion Cotillard in Nolan's 2010 blockbuster.  


ADVERTISEMENT - CONTINUE READING BELOW
The hypnotic cinematography. Though Trance director Danny Boyle only had a small fraction of Inception's estimated $170 million budget to spend, many of his shots are quite haunting and alluring. Working with cinematographer Anthony Dod Mantle, Boyle's Trance does for hypnosis what Nolan's Inception did for dreaming, producing  mesmerizing images out of a lonely chapel and an idyllic drive through the French countryside. Similarly beautiful are reflection-enhanced shots of a to-die-for flat perched on top of London with a breathtaking view of the city.


The generous nudity. One thing Trance has that Inception didn't is male and female nudity. But where James McAvoy only shows his buttocks briefly, Rosario Dawson does the full monty in an unrushed, tilting shot that actually drives home an important story detail.   


The uniquely textured songs and music. Trance has a lovely but melancholy texture in its soundtrack I haven't heard in a movie before, one that comes off as a blend of Enya and Norah Jones. Kudos to composer Rick Smith and vocalist Emeli Sandé for a unique and original aural experience that perfectly complements Boyle's dreamy, nightmarish, and everything-in-between visuals.  


MINUS/ES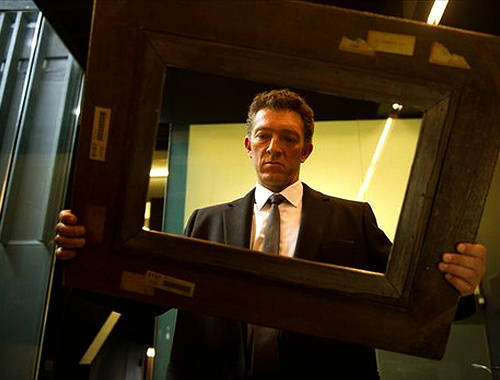 The "magic" object. At a crucial point in the film, a weapon does something that we've been told it can't do by one of the characters, causing Boyle's house of cards to collapse. Thanks to the distracting mess created by this overlooked detail, the movie ends with a thud rather than a bang, its final Inception-inspired homage more likely to induce a smirk rather than a squeal of delight.        

IN BRIEF: What starts out as a smart, sexy and hypnotic thriller stumbles at the finish due to an oversight unworthy of Slumdog Millionaire Oscar winner Danny Boyle.

Rating: 3½ out of 5 spots •••


CONTINUE READING BELOW
Recommended Videos
Share this story with your friends!
---
Help us make Spot.ph better!
Take the short survey
Load More Stories