(SPOT.ph) While trying to mend their strained relationship, regular-sized humans, Professor Bomba (voice of Jason Sudeikis) and teen daughter MK (Amanda Seyfried) are caught in a war of microscopic proportions that's raging in the forest beside their home. On the life-affirming good side are the Leaf Men, ruled by Queen Tara (Beyonce Knowles) and protected by commander Ronin (Colin Farrell). Opposing them are the green-hating, decay-loving Boggans led by the evil Mandrake (Christoph Waltz). During one tragic skirmish between the Leaf Men and the Boggans, MK is shrunk to the size of an insect. Accompanied by Ronin's headstrong nephew Nod (Josh Hutcherson), MK must now  find a way to be restored to her normal height, even as the forest's delicate balance of life and death is tipped in favor of the treacherous Boggans. Epic is a computer-animated 3D fantasy adventure from Blue Sky, the studio behind blockbusters like Rio and the Ice Age movies.

PLUSES

The exquisitely realized forest. After seeing the Epic trailer, it looked to me like the movie was going to be visual bore because of all that greenery. I thought that the unrelenting sight of foliage would become dull and repetitive after a few minutes. But I was happily proven wrong. Epic is a dazzler from start to finish, serving up environs as varied as you would expect from any film with an unlimited travel budget. There was nothing tiresome about the lily ponds, barren caves, treetops, and glittery caverns that the filmmakers take us through in this journey of death and rebirth.

The inspired use of slow motion. An ingenious idea that Epic puts forth is that the thumb-sized Leaf Men can't be seen by ordinary people because they're moving too fast for us to see, like the flapping wings of a hummingbird. And so, in Epic, the tiny folk perceive humans as lumbering giants moving in verrrry slow motion. This difference in the speeds at which our two worlds vibrate results in a couple of wonderful moments in the movie, one very suspenseful, the other very funny.
ADVERTISEMENT - CONTINUE READING BELOW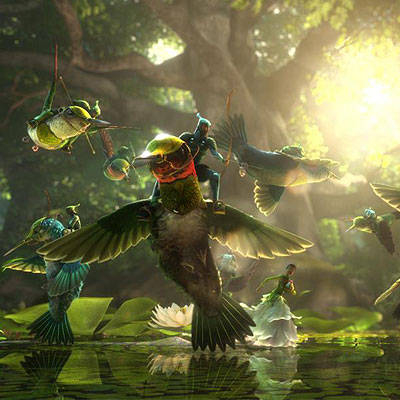 Strange concepts as men perched on birds' wings are rendered in magnificent imagery. Win!



The cool-as-Legolas action. Epic director Chris Wedge says that his battle scenes are staged like those in Braveheart, but on a much smaller scale. For me, though, the skill with which the Leaf Men practice archery in their clashes with the Boggans make comparisons to The Lord of the Rings more appropriate. The ambush sequence that shows them moving in precise, coordinated fashion like Legolas clones is a doozey.

The "memory." There are lots of amazing sights to behold throughout the movie's 90-minute running time, including a majestic royal parade and a forest fly-through courtesy of a fleet of birds. No sequence in Epic, however, is more magical than the shots comprising the "memory" that recalls how MK became Thumbelina-sized. It's a sublime and exquisitely-realized showcase of computer-crafted artistry.

The verbal and slapstick humor. The best lines in the movie are the pick-up lines of  Aziz Ansari's Mub, a slug who believes in dating outside of his species. There's also a hilarious slapstick sequence where Mub-whose eyes are at the tips of elastic stems-makes fun of the fact that the eyes of humans are buried in their faces. Further adding to the movie's hilarity are Chris O'Dowd's Grub the snail, an enthusiastic three-legged dog named Ozzy, and such sight gags a quick-as-a-flash joke that shows how briefly fireflies live.
CONTINUE READING BELOW
Recommended Videos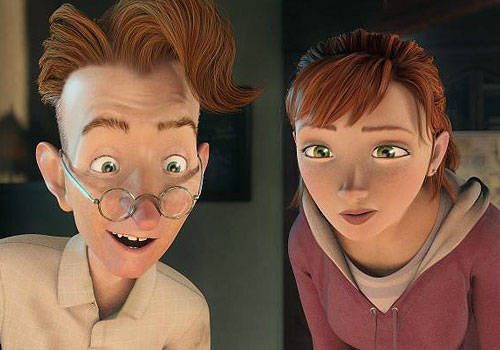 What you lookin' at?


MINUSES

The recycled story ingredients. Recycling used materials to save Mother Earth is good, recycling ideas from dozens of movies and cramming them into one movie is bad. Save for the hilarious slug and snail antics of Mub and Grub and the use of slow mo as a vital story ingredient, there's not much else in Epic that sparkles with originality. The voice casting of Oscar winner Christoph Waltz as the villainous Mandrake, for instance, mirrors the voice casting of Oscar winner Kevin Spacey as the villainous Hopper in A Bug's Life. The story point about maintaining a delicate "balance" in the world has been used many times before, such as in Ridley Scott's ill-fated fairy tale Legend (a 1985 film starring Tom Cruise) and even in Peque Gallaga and Lore Reyes' MMFF blockbuster Magic Temple (1996). Other plot devices, characters and setpieces are obviously borrowed from such films as The Borrowers, Honey I Shrunk The Kids, Ferngully, Fantasia 2000, The Spiderwick Chronicles, James and The Giant Peach, Alice in Wonderland and many, many more.


ADVERTISEMENT - CONTINUE READING BELOW
IN BRIEF: Though short on originality, Epic is long on laughs, magic, and adventure. It's one tiny epic that's enormous fun.
RATING: 4 out of 5 spots for the 3D version •••• ; 3½ out of 5 spots for the 2D version •••.
Share this story with your friends!
---
Help us make Spot.ph better!
Take the short survey
Load More Stories