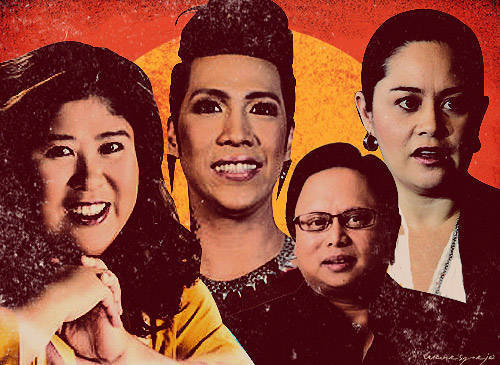 (SPOT.ph) Let's get this straight: Rape jokes are never funny-no matter who's telling it. We can't just single out Vice Ganda. He's not the only person who's guilty of it.
On E!'s Fashion Police, for example, host Joan Rivers, once quipped about an ugly outfit, "In that dress, you'll never get raped." As far as we know, nobody complained about her comment. But the lack of protests and the laughter she elicited with her rape reference don't necessarily mean that what she said was funny. It certainly wouldn't make rape victims laugh.
But enough about her. Let's talk about what got Pinoys talking about rape jokes this time. 

The Vice Ganda and Jessica Soho Situation
The "fire" started on May 17, at Vice Ganda's I-Vice Ganda Mo 'Ko concert at the Smart Araneta Coliseum. The said event reportedly broke records and was later tagged as "the highest earning concert staged by a local artist."
ADVERTISEMENT - CONTINUE READING BELOW
Vice Ganda in his May 17 concert
As an InterAksyon.com report releated: "During one stand-up comedy segment of his concert, Vice Ganda painted hypothetical scenarios of how several famous personalities would act if they were 'bold stars.'" Kris Aquino, Boy Abunda, and Gus Abelgas were among of the personalities he referred to. He also included journalist Jessica Soho. Vice Ganda went on to say that if Soho were a bold star, her launching movie would be entitled Tinimbang Ka Ngunit Sobra (You Were Weighed and Found Over the Limit). He then did a spiel poking fun at her weight before he quipped that "any bold scene involving Soho would definitely have to be a gang rape." He added that he envisioned the rapists saying, "Ipasok ang lechon (Bring in the roasted pig)!" as they carried in Soho.
On May 28, InterAksyon.com reported that Soho's colleague Arnold Clavio, in his radio show, called out Vice Ganda for using Soho in his rape joke. Clavio reportedly said, "Bakit mo binibiktima ang mga taong seryoso sa trabaho nila? Huwag mo silang kasangkapanin para lang makapagpagpatawa. Bakit hindi taga-diyan sa inyo ang gawin mong subject ng jokes mo? Baki hindi taga-ABS-CBN (Why do you pick on people who are dedicated to their jobs? Don't use them to make people laugh. Why don't you poke fun at the people in your network? Why not people from ABS-CBN)?" At this point, the InterAksyon.com report pointed out once again that Vice Ganda had, in fact, also poked fun of ABS-CBN talents in the same fashion.
In any case, Soho's other colleagues-as well as the Philippine Commission on Women and Gabriela also came to her defense. Soho herself released a statement addressing Vice Ganda and his antics on May 28. In it, she said, "Rape is not a joke and should never be material for a comedy concert. I thank all those who shared my hurt and expressed their support, but this should not be about me but about rape victims who suffer tremendously from this terrible crime. The horrors they go through are unspeakable and should never be taken lightly, especially by way of a cruel joke."
On May 29, in an 11-minute speech during Showtime, Vice Ganda owned up to, and publicly apologized for a joke that offended veteran broadcaster Jessica Soho. "Walang kahit isang joke na pinagtawanan ng lahat (There is no one joke that made everyone laugh)," Vice Ganda stated. He also added that he is well aware that the people he made fun of during the concert had every right to feel offended and seeing that Soho was insulted, thought it was only proper to apologize, "Sinasadya man o hindi, kapag may nasaktan ka, humingi ka ng tawad (With or without intent, apologize if you hurt someone)."
ADVERTISEMENT - CONTINUE READING BELOW
A blast from Bubble Gang's past
While the Vice Ganda-Jessica Soho issue was brewing, some netizens brought up the fact that Bubble Gang, a gag show which is broadcast by the same network that Soho works for, has also staged elaborate skits poking fun at rape and rape victims. There are two video clips showing the said skits.
This is the "Reyp-Reypan" skit in Bubble Gang's July 16, 2010 episode.
The first one is dated July 16, 2010. It features a mock courtroom scene where a rape victim talks about her encounter with her rapist. The segment is entitled, "Reyp-Reypan."
This "rape skit" was featured in Bubble Gang's April 1, 2011 episode.
Then, there's the April 1, 2011 clip, which shows a mock rape scene with a man pinning down a woman to the ground.
In reponse to this development Butch S. Raquel, Consultant to the Chairman and GMA's CEO for Corporate Communications, issued this statement (published on BusinessWorld Online): "Video clips of GMA Network's Entertainment Program Bubble Gang have been circulating the past few days showing gags about rape. We would like to clarify that these video clips were aired some years back. In fact, a concerned viewer called the attention of the Network regarding this and the production team of Bubble Gang right away apologized to her and has made it a policy never to tackle the said topic in any of its episodes thereafter. Bubble Gang has been a top-rating and award-winning program of GMA 7 for almost 18 years. The Network hopes that the program will not be used to divert the attention of the viewers, netizens and the general public from a recent event which has irresponsibly made a joke of this serious topic."
ADVERTISEMENT - CONTINUE READING BELOW
Raquel's statement did not explain which particular clip was the subject of the unnamed viewer's complaint.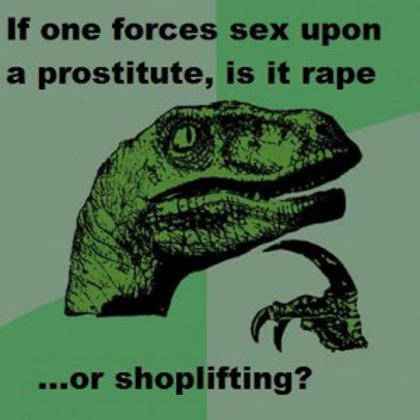 If you find this funny, you have a problem. Rape is rape no matter who's involved. But the person who made this meme doesn't think so. This question has also been posted on several online forums and threads. It has gotten very disturbing answers. Then again, the question itself is already beyond disturbing. (Screenshot of meme posted on A Voice For Men)
ADVERTISEMENT - CONTINUE READING BELOW
When cooler, wiser heads prevail

For a while there, it seemed like the issue of rape jokes would be swept under the rug and the Vice Ganda-Jessica Soho issue would morph into another GMA vs. ABS-CBN debacle.
It's a good thing that there are genuine advocates like theater actress Monique Wilson, who wrote a levelheaded message addressing Vice Ganda and other entertainers. In the message which she posted on Facebook, Wilson said:
"To Vice Ganda and other media personalities who trivialize rape: Use your celebrity status to promote awareness of the issue of violence against women, so that you can contribute to ending violence, not be instruments in its perpetuation because of your lack of empathy.
Do not capitalize on the pain and anguish of others. Immerse yourself in education and understanding of this issue because actions like this-the mockery of such a serious crime against a woman-is one of the things that keep impunity in place.
ADVERTISEMENT - CONTINUE READING BELOW
To be held in admiration by people in our industry, show business, means you have a huge responsibility-because people look up to you. You need to carry the gravity of this with more mindfulness and sensitivity, and operate always with love, respect, and kindness.
And it is not just rape-to mock a woman because of her size and weight is also a form of violence against her.
I would suggest you go to (feminist group) Gabriela-and sit in a session of one of the survivors of violence support groups that they hold each month.
Listen to the stories of the women who have been raped, or whose daughters have been raped, by fathers, uncles...  and gang raped by the military, the police... just listen and take [everything] in."
Aside from Wilson, there's Manila Standard Today columnist Ed Biado, who wrote "What jokes about rape say about us." He highlights a more alarming detail in his opinion piece: "When an entire arena bursts in laughter because of a bit about gang rape, there's probably a bigger problem with society at large than just one tactless comedian cracking a tasteless joke." Now, that is really scary.
ADVERTISEMENT - CONTINUE READING BELOW
Perhaps, we all have to face the fact that most of us are guilty of trivializing rape. Even when we're not the ones telling the rape jokes, we're just as culpable when we laugh at them and when we don't do anything to put a stop to them. Because rape jokes are not funny. They have never been funny. They will never be funny.

ADVERTISEMENT - CONTINUE READING BELOW
It's a point worth pondering, don't you think? (Screenshot of image and text created by Melissa McEwan on Shakesville.com)
Share this story with your friends!
---
Help us make Spot.ph better!
Take the short survey
More Videos You Can Watch
Load More Stories