Frisky Fashion at the UAAP Season 76 Opening Ceremony
Who had the wildest costume in this <em>The Hunger Games</em>-themed affair?
(SPOT.ph) For the athletes in the recently opened UAAP Season 76 Games, we say, "May the odds be ever in your favor." This year's opening festivities, hosted by Adamson University, took on the theme of The Hunger Games on Saturday, June 29, in an afternoon full of colorful, elaborate, and shocking livery-including one very entertaining individual who opted to wear only a cardboard leaf-in an attempt to mimic the overblown fashions of Suzanne Collins' dystopian society.
The odds proved to be in favor for the winning basketball teams National University, Adamson University, University of Santo Tomas, and Far Eastern University who've already won their first games last weekend, though we can't say the same for the outrageous costumes that plagued the opening ceremony-but nonetheless gave us visual entertainment.
No one was wearing fire a la Katniss and Peeta, but there was a robot, a Green Lantern, and a few lost peacocks-none of which we remember reading about in any of the three books.
ADVERTISEMENT - CONTINUE READING BELOW
CONTINUE READING BELOW
Recommended Videos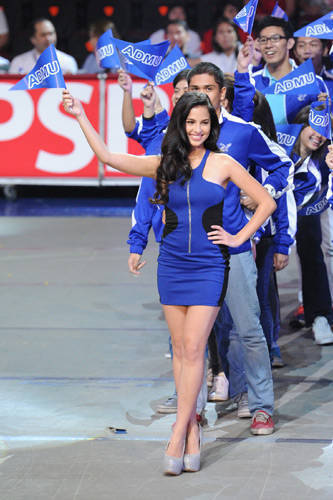 Actor Jasmine Curtis Smith looking very much like she stepped out of the pages of Cosmo instead of Catching Fire. The Communication freshman, who played muse for her new school, opted for a tight little blue number that nonetheless stood out amid all the crazy in the stadium.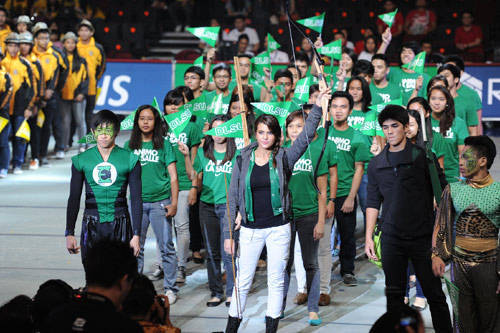 It didn't take much effort for the Archers to translate this year's theme and match it with their school ideals. Here, we have a bow-bearing, La Sallian Katniss Everdeen flanked by her bodyguard, the Green Lantern (who makes a guest, crossover appearance in The Hunger Games).
ADVERTISEMENT - CONTINUE READING BELOW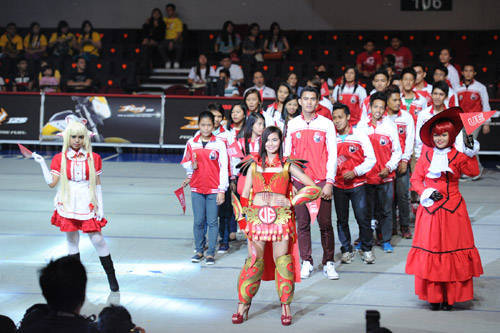 The University of the East proves to the audience just how fierce they are with a high-heeled warrior princess, a cosplayer, and a Victorian-era-styled lady wearing Hayley Williams' hair. It's hard to tell where The Hunger Games element is, but it looks like UE has found a way to travel through time.
ADVERTISEMENT - CONTINUE READING BELOW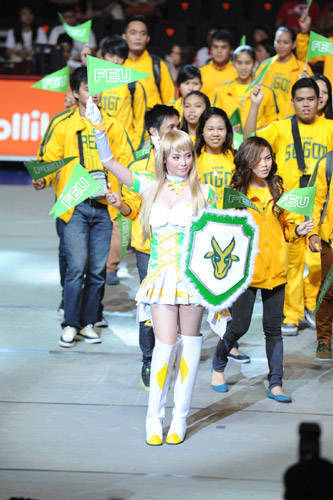 It's a little too early for Oktoberfest, but we love a shield-bearing girl in a drindl.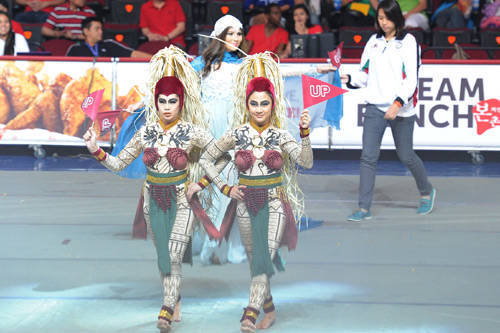 ADVERTISEMENT - CONTINUE READING BELOW
The lovely tribal oompa loompas from UP.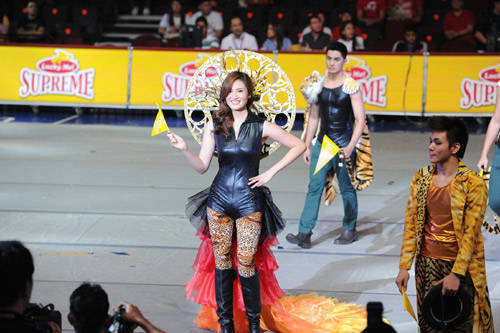 Someone call Peeta-oh, excuse us, PETA, quick! These folks just skinned a few cats to make their costume.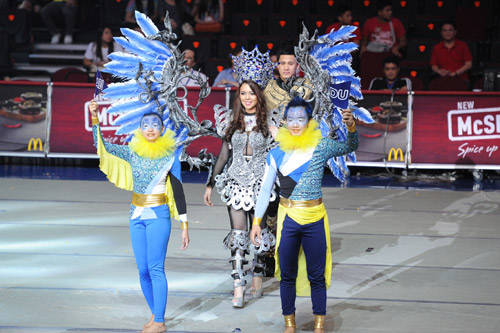 ADVERTISEMENT - CONTINUE READING BELOW
This woman makes her entrance thinking she has the biggest wings in the stadium...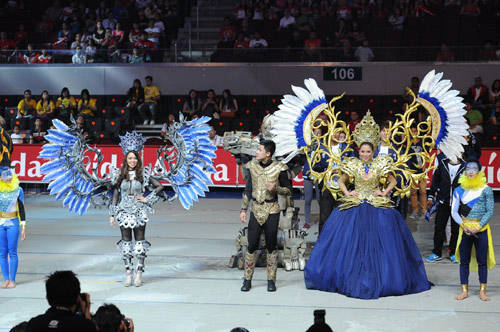 Then this lady shows up...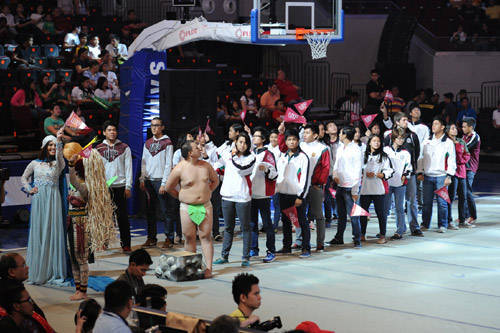 ADVERTISEMENT - CONTINUE READING BELOW
Her ostentatious display easily upstaged by a man in a leaf whose entire outfit costs less than P10 and probably took 10 minutes to make.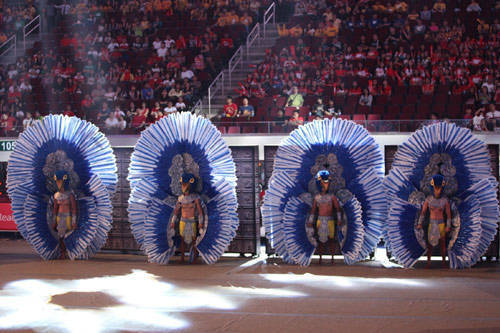 Adamson students showing us the powers of a peacock...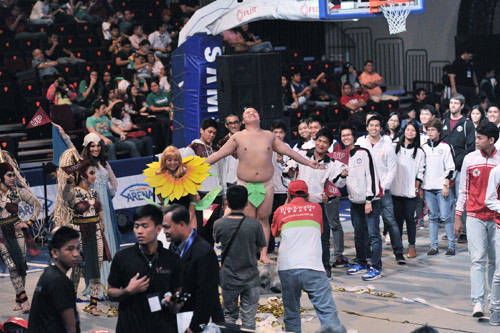 And then there's this guy again. He's so amazing, we can't even focus on the Blue Red Riding Hood-slash-Lady Galadriel beside him.
ADVERTISEMENT - CONTINUE READING BELOW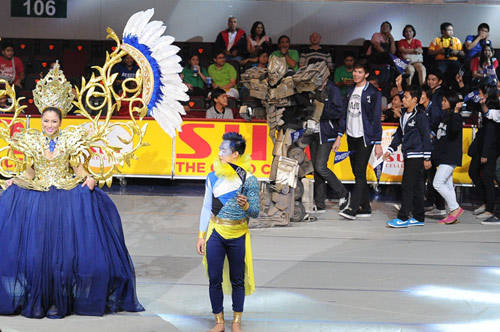 Just when you think you have every fictional character covered, a robot comes out. It looks like Megatron, but we could be wrong. We've seen crazier things in this ceremony.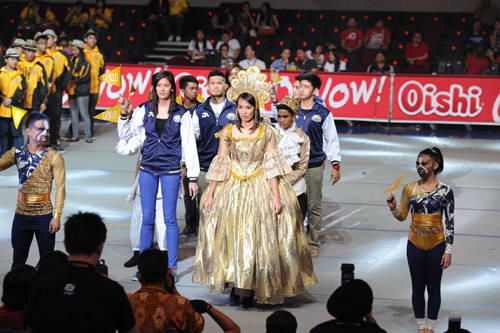 ADVERTISEMENT - CONTINUE READING BELOW
Queen Elizabeth and her two English bulldogs. Her corgies must be at the groomers.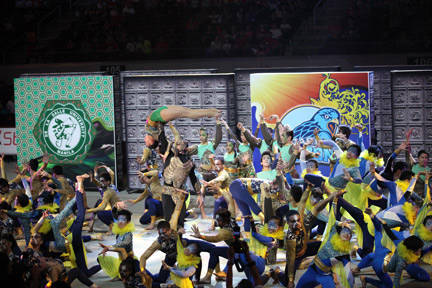 But we have to hand it to this year's host. That was one of the more show-stopping opening numbers we've seen in recent history.
Photos by Ryan Ong
Load More Stories