Hot on Spot: 10 Burning Questions About Metro Manila's Informal Settler Situation
At the risk of being called stupid, we dare to ask.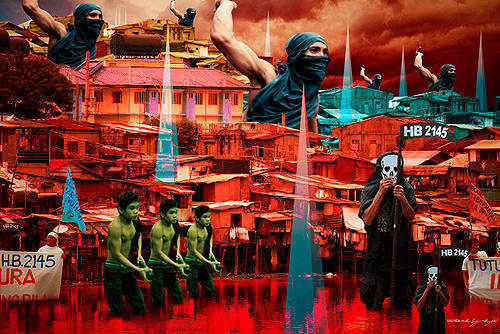 Image credits: Details from screenshots of images from news clips from various agencies. SPOT.ph does not claim ownership of any of these images.
(SPOT.ph) When it was revealed that the government would be handing out ₱18,000 as "relocation fee" to each of the 20,000 informal settler families living near Metro Manila's waterways, a lot of people wondered if it was the right thing to do. After all, similar schemes were implemented in the past-but it seems like Metro Manila's most persistent problem has only intensified. This problem has never gone away. Probably because its real cause has never been addressed.
ADVERTISEMENT - CONTINUE READING BELOW
CONTINUE READING BELOW
Recommended Videos
That said, we're asking 10 questions about Metro Manila's informal settler situation. We know that hardcore journalists and critics may find our questions elementary and we don't care. We don't know everything. So, feel free to enlighten or confuse us through the comments section. (Warning: Our questions only spawned more questions-although some of them have become purely rhetorical at this point.)
The long-running sitcom Home Along da Riles (1992 to 2003), which starred the late Comedy King Dolphy, made it look like it was fun to be an informal settler.

1. Why can't we call them "squatters?" Political correctness dictates that they be called "informal settlers." That means they've occupied a place and are living there for free without the consent of the legal owners of the lot. Then again, would it really matter to the people living in these areas if you call them "informal settlers" instead of "squatters?" Perhaps, they don't care what you call them as long as they can keep living there for free. We get that. Who likes paying rent? This is why informal settlers hate House Bill No. 2145 or The Anti-Squatting Law.

ADVERTISEMENT - CONTINUE READING BELOW
2. Do we have an obligation to give them space? Ideally, we're all for sharing the land. However, a number of taxpayers think it's unfair for informal settlers to just set up their makeshift homes wherever they wish. Is it the government's responsibility to find a genuine solution for this problem? 

3. What's the Lina Law? On paper, RA 7279 or "The Urban Development and Housing Act of 1992" is like a Disney movie. It was authored by former Senator Joey Lina, who was sympathetic to the plight of informal settlers. As detailed in Gloria Ramos' article "Revisiting the Lina Law," it was "enacted to uplift the conditions of the underprivileged and homeless citizens in urban areas and in resettlement areas by making available to them decent housing at affordable cost, basic services, and employment opportunities." It sounds good, right? Then how come more than 20 years later we're still overwhelmed by issues resulting from the presence of informal settlers?
ADVERTISEMENT - CONTINUE READING BELOW
American Travis Kraft highlights the fact that there are good people in informal settler communities. (That may be true, but these places have also become criminals' "headquarters.") In the clip, a woman claims, "Kahit walang makain, basta magkasama kami, OK na."

4. What's the craziest move the government ever did to deal with informal settlers?
Former First Lady Imelda Marcos, in her desire to impress the world, requested that whitewashed walls be constructed along Roxas Boulevard in 1974. The Miss Universe pageant was held in Manila that year and she didn't want foreign visitors to see shanties along the route from the airport. Ironically, the act was done again in May 2012 by the current administration...for pretty much the same reason. (Except there were no beauty queens then.) So, do we have to keep doing the "cover-up?"
5. Why do people romanticize the poor? To say that everyone living in informal settler colonies is a bad person is wrong. But it's also equally wrong to think everyone there is an angel. Through the years, informal settlers have been nabbed for installing "jumpers" in order to steal electricity, putting in makeshift pipes in order to mooch potable water, using the street as their bathroom, and other unsavory acts. If an informal settlement has become a den of criminals, we're pretty sure that the decent folks living there would want to move out. Nobody wants to stay in these areas. People are only there because they have no other options. Why don't they have options? Now, that's a question with no clear answer.
ADVERTISEMENT - CONTINUE READING BELOW
Now wise to the ways of demolition teams, informal settlers also have their own defensive drills.
6. Is there any place where squatters are allowed to stay? Technically, they can stay in government-owned lands. However, it gets complicated when these lands are bought by private entities. It's literally hell trying to convince informal settlers to leave their communities. Have you ever heard of "shit bombs?"

7. What's the ₱18,000 for? The amount is supposed to tide over each informal settler family for six months. That's the time the government says it needs to come up with a proper relocation site for them. However, urban poor groups say the amount is not enough to sustain the families. They're right about that. Then again, who else would have the gall to refuse ₱18,000?
8. So, how much will it all cost? ₱374.4 million. Let that sink in. Does it hurt?
Load More Stories