10 Fake Twitter Personalities Worth Following
Brighten up your Twitter feed with these fake personas with oustanding personalities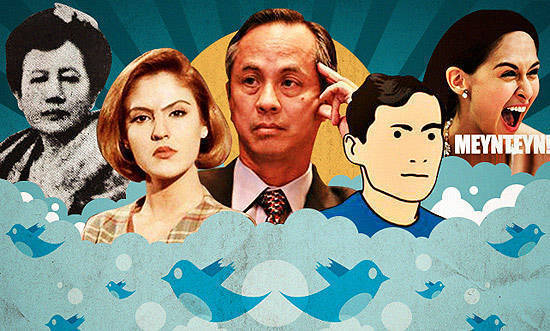 (SPOT.ph) We all complain about how "showbiz" (i.e. "fake") the people we see online are and it's quite amusing to find ourselves nodding in agreement with the truths in tweets by fictional characters. These parody accounts are licensed to offend those who can't take brutal honesty. They boldy go where real people can't...actually, some of them are just plain absurd. Let's start with the surreal and end with a "superstar".
ADVERTISEMENT - CONTINUE READING BELOW
CONTINUE READING BELOW
Recommended Videos
Check out our 10 Fake Pinoy Celebrity Twitter Accounts for your other favorites.
UP Carillon (Twitter handle: @UPCarillon)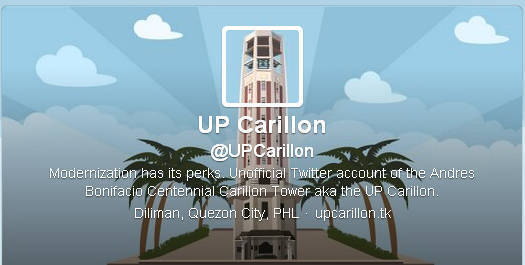 The tweets of the UP Carillon can easily be mistaken for Narda's: Ding, ding, ding! Never underestimate the pleasure banal things can bring, as the account now has nearly 2,500 followers. Occasionally, the tweets link to a UP Carillon webpage that plays UP Naming Mahal.
ADVERTISEMENT - CONTINUE READING BELOW
Senyora Santibañez (Twitter handle: @senyora)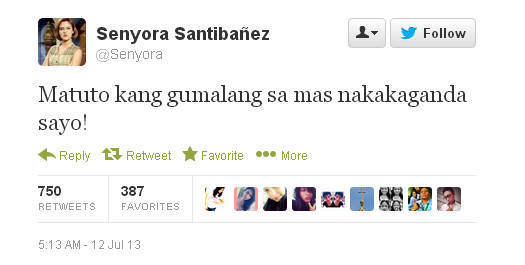 The face of Chantal Andere as Angelica Santibañez was first a meme that we thought would fade away quietly. After all, how funny can a haciendera schtick be? Apprently, it's funny enough to fuel two parody accounts and one of them has more than 300,000 followers.
ADVERTISEMENT - CONTINUE READING BELOW
Senyora has a thing against ugly people acting out of place, a sentiment which Amanda Bynes shares but is proclaiming with a little less class. Her tweets are harsh but pretty witty, if you're not the target she's hitting. Senyora also despises people whose left leg hasn't touched their right leg for a very long time (In case you need a little help picturing that: people who can't keep their legs close i.e. malandi. Must everything be spelled out, mga hampaslupa?)
Amando Doronila (Twitter handle: @AmandoDoronila)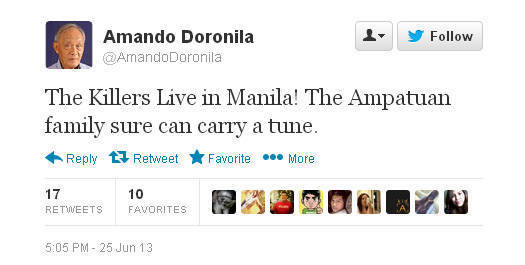 ADVERTISEMENT - CONTINUE READING BELOW
For good measure, because some people are quite thick and not in the physical sense, Mosquito Press has clearly labeled this a parody account. We hope it's enough to keep the real Amando Doronila safe, as The Philippine Daily Inquirer needs his opinion for the Analysis column. Funny as some of the tweets are, they do border on being death wishes. Who else can be brave enough to crack a joke about the Ampatuans so publicly?
The fake Amando Doronila account has a modest number of followers (more than 4,000) and we're thinking that it's because this account is annoyingly high brow. Hello, what about the masses who can't afford to send their kids to schools that teach the language of sarcasm and the art of satire? These jokes are prejudiced and anti-poor. And how dare he make fun of The Philippine Daily Inquirer and Teddy Boy Locsin (Jr.)? Right, right?
ADVERTISEMENT - CONTINUE READING BELOW
Jose P. Rizal † (Twitter handle: @parengjose rizal)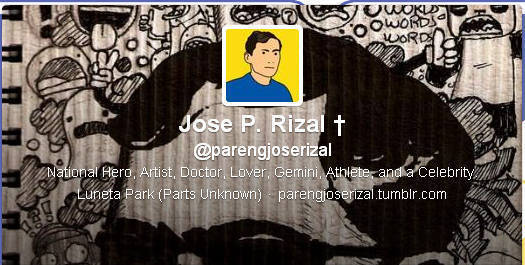 There's also @parengandres (and other bayani pares and mares) but it's no surprise that Jose Rizal gets the most love as he seems to be the Philippines' favorite multihyphenate. Among his fellow pares, he is also the most active and prolific. He keeps his more than 40,000 followers amused with wisecracks about romance. After all, Pepe is the ultimate Pinoy playboy.
ADVERTISEMENT - CONTINUE READING BELOW
Lola Saturnina (Twitter handle: @LolaSaturnina)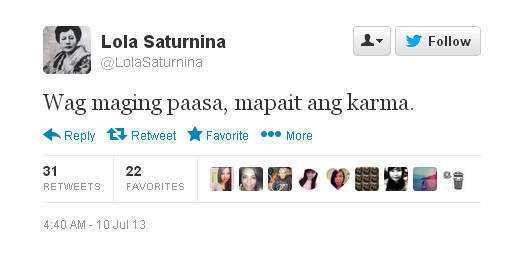 If you're going to follow the fake Jose Rizal, you might as well follow the fake account of his eldest sister Saturnina Hidalgo! Lola Saturnina is the sassy granny not everyone might want but the kind everyone should have, giving sage advice about how a lady should carry herself. Lola's tagline? Tamang landi lamang! She's going to call you out for your self-defeating ways in terms of romance but she'll also equip you with enough confidence to take on the daunting task of moving on from a broken heart.
ADVERTISEMENT - CONTINUE READING BELOW
krizzy kalerQUI™ (Twitter handle: krizzy_kalerQUI)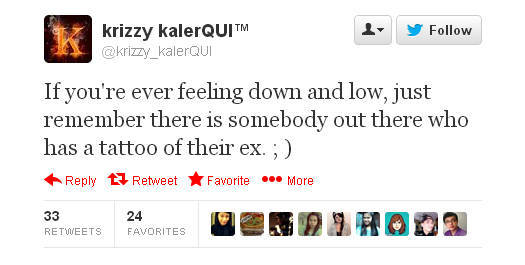 Crass and wild-mannered, this parody account takes what we know of Kris Aquino and injects it with psychedelic drugs. Not that Kris Aquino needs anything extra to loosen her tongue, but she has endorsements and contracts to take care of. This faux account has only two things: the Internet and an audience to please. Krizzy kalerQUI live tweets during important political events (like the recently concluded SONA) and unimportant but nontheless exciting pop culture phenomena (like My Husband's Lover) but her regular tweets keep her more than 200,000 followers satisfied.
ADVERTISEMENT - CONTINUE READING BELOW
Krizzy kalerQUI's previous handle, @krisaQUInoSTD, caught the attention of the real Kris Aquino at one point. The real Kris asked the parody account to choose a more "tasteful" handle and added that, with a hundred thousand followers, the fake Kris didn't need to use her name anymore. Krizzy kalerQUI humored the presidential sister and is now using a stylized letter K as an avatar.
Gabby Lopez (Twitter handle: @Boss_GabbyLopez)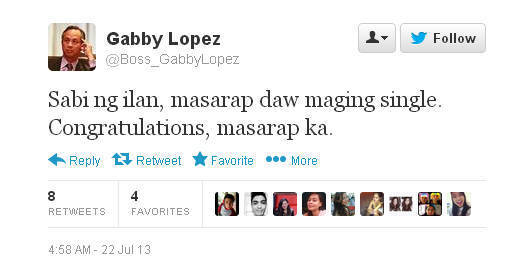 ADVERTISEMENT - CONTINUE READING BELOW
We had to check if this was a parody account and yes, it is. ABS-CBNcorporation chair Gabby Lopez mostly tweets about Kapamiliya telenovelas, obsessing about Be Careful with My Heart lately and thus, we thought the head honcho was really tweeting. But with tweets like these?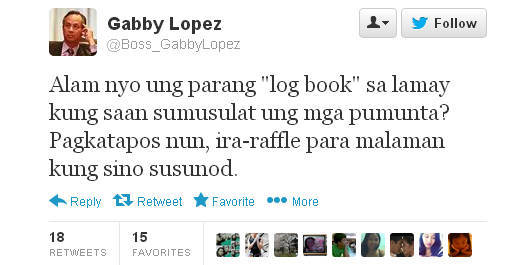 We figured it must be fake. Frankly, we'd like to see this kind of straight-faced dry humor on television-just to break away from the standard theatrical comedy that dominates the airtime.
ADVERTISEMENT - CONTINUE READING BELOW
ShutangInaBeks (Twitter handle: @ShutangInaBeks)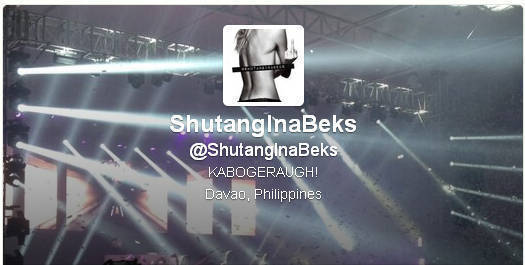 This account is your online beckie bestfriend, filled with tweets of  "scenes" you've experienced yourself. Almost every tweet starts with "Yung eksenang..." that plucks a nostalgic chord, begging you to retweet it. It's a few followers away from reaching the 100,000 mark and we reckon that it's maintained well enough to hit that target. Last February, ShutangInaBeks collaborated with Sipat Lawin (yes, that Sipat Lawin) for Love: This Is Not Yet A Musical. There was a speed dating event and for kicks, a song sung by Shing Shing Taberoarrr!! para sa mga eksenang umaart ang parody account.
ADVERTISEMENT - CONTINUE READING BELOW
Fake CBCP (Twitter handle: @FakeCBCP)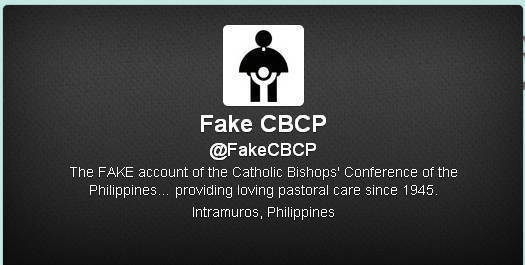 Yet another clearly marked fake account, because with the absurd commentaries that the real CBCP is making, we need a flashing neon sign to know which one of them is a joke. We're going to burn in hell for that sentence but we'll be sharing the space with at least 1,000 people who follow this account. The Fake CBCP won't clutter your Twitter feed, making statements only when it's worth it-something the real CBCP might want to learn how to do.
ADVERTISEMENT - CONTINUE READING BELOW
Marian Rivera-Dantes (Twitter handle: @superstarmarian)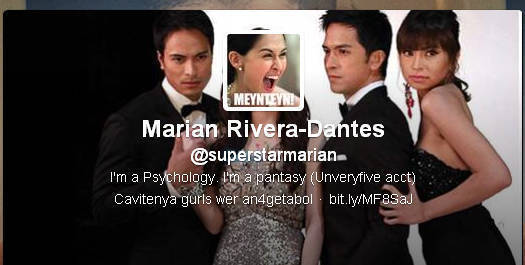 The real Marian Rivera has spoken up about her Superstar counterpart, acknowledging that the account "tweets a lot of funny things" and this opinion is shared by more than 200,000 followers. The faux Marian tweets as if she's real (Dong apparently bought her ice cream because she was stressed) and for someone who sets aside the rules of grammar and spelling, she picks the most interesting topics for humor. Like physics:
ADVERTISEMENT - CONTINUE READING BELOW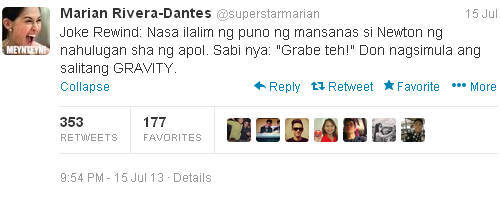 Load More Stories