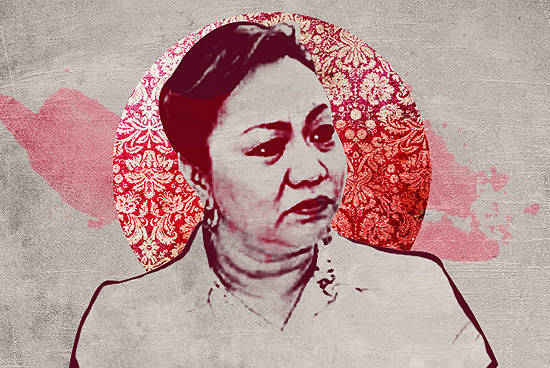 (SPOT.ph) The latest pork barrel controversy, which allegedly involves five senators and other lawmakers, has been getting a lot of heated coverage. The senators named in the so-called pork barrel scam-Senators Juan Ponce Enrile, Bong Revilla, Jinggoy Estrada, Bongbong Marcos, and Gringo Honasan-have all denied the allegations.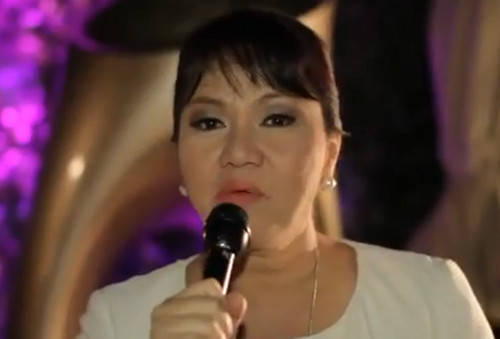 Proud businesswoman. Janet Lim Napoles (she's also known as Jenny Napoles) has denied any involvement in pork barrel-related issues and claims that she and her family got their fortune from coal-mining in Indonesia (among other places). [Screenshot from a video clip featuring her daughter Jeane's lavish 21st birthday party at the SLS Hotel at Beverly Hills back in 2011]

ADVERTISEMENT - CONTINUE READING BELOW
To begin with, accusing senators (or any national officials) of any wrongdoing is tough. You need rock-solid proof if you're going to go down that road-and even then you're not sure if your good intentions will save you from going to hell.
Controversy begins at home
Perhaps, this is why a woman named Janet Lim Napoles has emerged as the "hottest" personality in this pork barrel brouhaha. So, people ask, "Who the hell is she?" To answer that question, we begin with a family tiff that involves Napoles' cousin, Benhur Luy.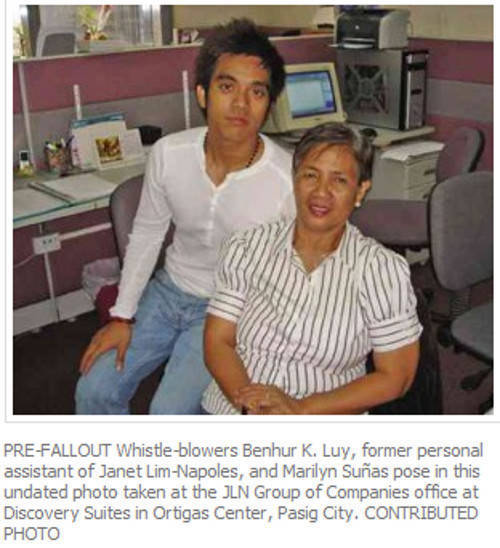 ADVERTISEMENT - CONTINUE READING BELOW
Recommended Videos
The man who kicked a hornet's nest. Benhur Luy is now under protective custody. [Screenshot of photo published by the Philippine Daily Inquirer, no additional credits available for contributed photo]
Luy claimed that, upon the orders of Napoles, he was forcibly detained from December 19, 2012 to March 22, 2013 in a condominium unit at the Pacific Plaza Tower in Bonifacio Global City, Taguig. According to Luy, Napoles had him "kidnapped" because she didn't like the fact that he was planning to get into her line of work. Luy was rescued by National Bureau of Investigation (NBI) agents after his parents, Arturo and Gertrudes, notified the agency about their son's disappearance.
Napoles-the wife of retired Marine Major Jaime Napoles- is the president and CEO of JLN Corporation, which is described as a trading company. Luy had worked as Napoles' personal assistant and was said to be privy to all her comings-and-goings. The Visayan Daily Star's editorial on the subject gave a shortened explanation for JLN's alleged operations: "Luy claimed that JLN was responsible for setting up 20 dummy non-government organizations or NGOs which matched certain politicians' Priority Development Assistance Fund (PDAF) allocations to ghost projects and non-existent beneficiaries." The editorial, citing Luy's claims, likewise pointed out that JLN took on the task of "filling out the necessary documents, forging signatures of government officials, fabricating identities, and manufacturing receipts" to make it appear that the pork barrel money was actually being used for something worthwhile.
ADVERTISEMENT - CONTINUE READING BELOW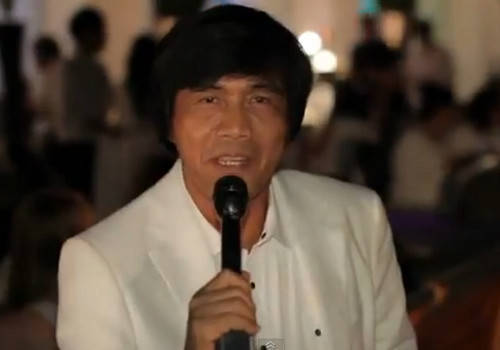 The man behind the woman. Janet Lim Napoles' husband, retired Marine Major Jaime Napoles, is also getting a lot of flak. An ABS-CBNNews.com report reveals that he "started his military career as a reserve officer and reportedly entered the regular force by applying for active duty status." [Screenshot from a video clip featuring his daughter Jeane's lavish 21st birthday party at the SLS Hotel at Beverly Hills back in 2011]
ADVERTISEMENT - CONTINUE READING BELOW
Luy also said that "JLN offered to lawmakers commissions equivalent to 40 to 60 percent of the amount of the PDAF in exchange for the right to determine the implementing agency and fund beneficiary."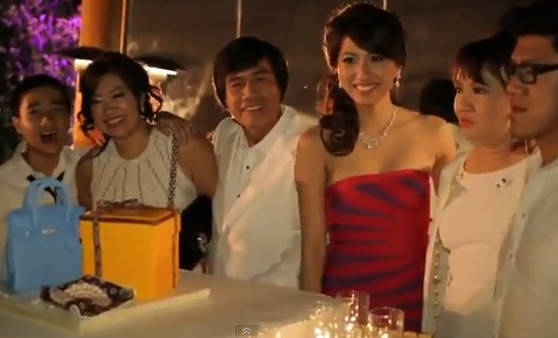 Keeping up with the Napoleses. Matriarch Janet Lim Napoles (second from right) and her brood look happy celebrating the 21st birthday of her daughter Jeane (in red) at a Beverly Hills Hotel back in 2011. [Screenshot from the video of the event]
ADVERTISEMENT - CONTINUE READING BELOW
According to various reports, Napoles' company might have earned as much as P10 billion in 10 years through the alleged pork barrel transactions.
Past controversy

Luy's initial revelation turned out to be just the tip of a very huge iceberg.
An InterAksyon.com report noted that the NBI said Luy was "a vital witness in the P728-million fertilizer fund scam." That particular financial fiasco happened in 2004, when then-Department of Agriculture Jocelyn "Jocjoc" Bolante allegedly diverted the cash to the campaign fund of Gloria Macapagal-Arroyo.
In his article, "Will Janet Napoles get away again?," Manila Bulletin's Rolly T. Carandang noted that Napoles and her husband had been "charged with graft and malversation of public funds for alleged participation in fraudulent contracts with the military for the supply of Kevlar helmets" back in 2001.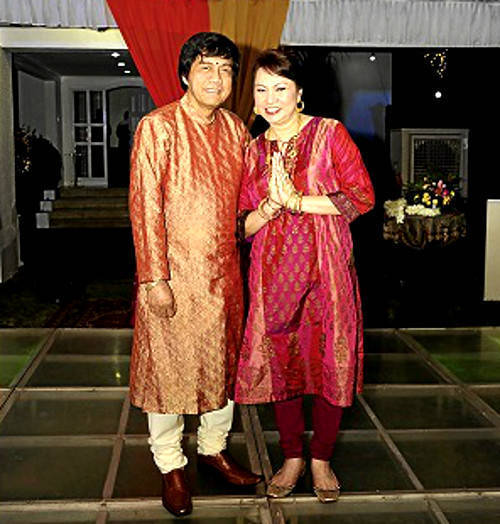 ADVERTISEMENT - CONTINUE READING BELOW
Going Bollywood. The husband and wife were identified as Jimmy and Jenny Napoles in a Lifestyle section feature in the Philippine Daily Inquirer. The April 18, 2012 article written by Louie Cruz documented the happy couple's 30th wedding anniversary. Cruz wrote: "The party was catered by no less than Kashmir Restaurant, Manila's go-to place for the most exquisite Indian cuisine. The extensive buffet excited our palates with Lamb Chops, Beef Vindaloo, Palak Paneer; chicken, beef and vegetarian Samosa, and an ice cream bar to cap off the gastronomic fare. Guests were entertained with belly dancing and Bollywood dancing numbers by the Snake Charmers, who interacted with members of the crowd for impromptu dance lessons." Among the guests at the party were alleged friends of the couple's kids. Borgy Manotoc, Bryan Revilla, and Joey Marquez were among the names cited in Cruz's article. The couple have four kids: Jo Christine (or just Christine), James, Jeane, and Christian. [Screenshot of photo published by the Philippine Daily Inquirer]


ADVERTISEMENT - CONTINUE READING BELOW
Carandang explained: "(The Napoleses and their co-accused) were said to have been involved in an alleged bid rigging for the supply of 500 units of U.S.-made Kevlar helmets with a total contract price of P3,864,044.99 awarded to seven suppliers in 1998. Prosecutors said the contracts were divided into amounts lower than the P300,000 threshold to evade a second review. Findings of a Board of Officers Inquiry ordered by the Philippine Navy was submitted in court showing that 14 checks were released in payment for the helmets but they were deposited and cleared in only one account-Security Bank Account No. 512-000-2200." Moreover, the said Kevlar helmets turned out to be substandard. (This is even worse than it sounds. Soldiers used the said helmets. The helmets didn't protect them. You get the nasty picture.)
Carandang's article also revealed that "then Ombudsman Aniano Desierto issued an order dated March 18, 2002 dismissing the case against Maj. Napoles 'for lack of probable cause.'" Carandang then pointed out that "Mrs. Napoles stood trial but she was also cleared of any liability on October 28, 2010 for lack of evidence."
ADVERTISEMENT - CONTINUE READING BELOW
Janet's "baby girl"

In the second part of Nancy C. Carvajal's serialized report in the Philippine Daily Inquirer, Napoles' statement of denial was quoted. She said that JLN "never transacted business or closed deals with the government or any of its agencies or instrumentalities." She also pointed out: "I certainly was not involved in any of the high-profile scams which occurred during the previous administration."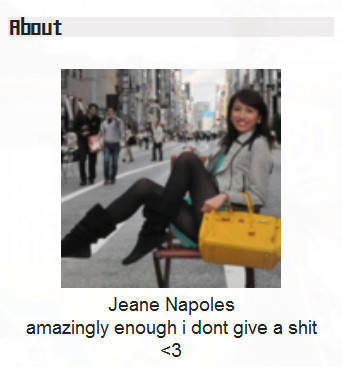 ADVERTISEMENT - CONTINUE READING BELOW
Ironic declaration. Napoles' daughter Jeane, now 23, posted this profile picture and statement on her Tumblr page. [Screenshot from Jeane Napoles' Tumblr page]
But it didn't help Napoles' case when people started going through her youngest daughter Jeane's blog and social media accounts. The 23-year-old was not shy about flaunting her designer clothes and bags. Louis Vuitton, Chanel, Prada, Yves Saint Laurent. You name it, she had it. The problem was, people already thought that her family's money came from questionable sources. Naturally, they assumed that the cash that she used to buy her trinkets was actually pork barrel money.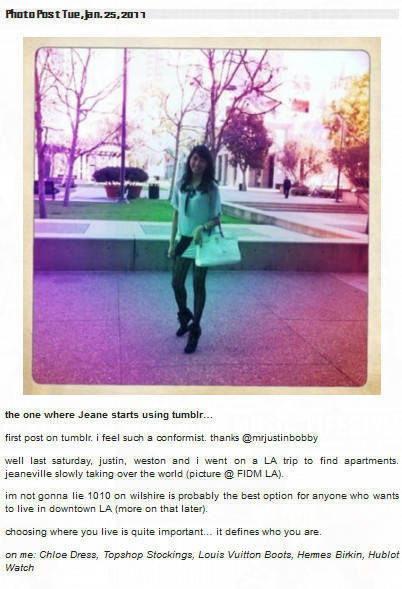 ADVERTISEMENT - CONTINUE READING BELOW
First impression. This debut Tumblr post pretty much sums up the charmed life of Jeane Napoles, who, at 22, reportedly already owned a unit at the posh Ritz-Carlton Residences in Los Angeles. [Screenshot from Jean Napoles' Tumblr page]
Soon enough, Jeane's blog and social media accounts were deactivated. All that is left is her old Tumblr page, Across Jeane's Universe, where her profile picture bears the caption, "Amazingly enough, I don't give a shit."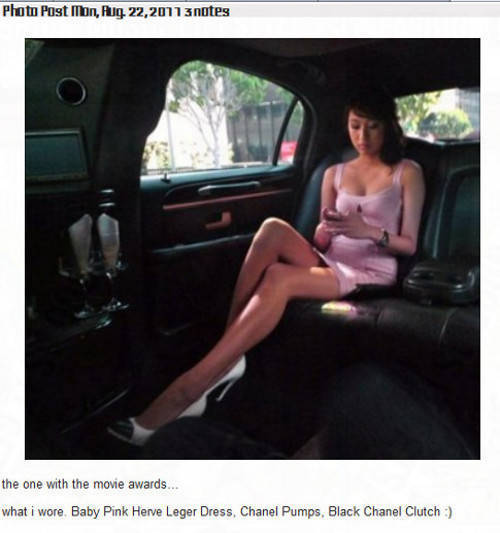 ADVERTISEMENT - CONTINUE READING BELOW
High-end all the way. Jeane Napoles seems to be in her element in Los Angeles' party scene. [Screenshot from Jean Napoles' Tumblr page]
Jeane's Tumblr page contains photos of her going to Hollywood events such as the Grammys and the MTV Movie Awards. There are also photos of her in Paris and, of course, her posh shopping finds.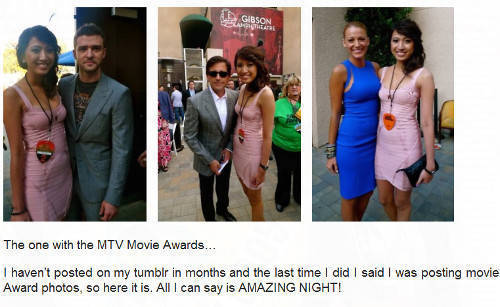 ADVERTISEMENT - CONTINUE READING BELOW
Glamour marathon. Jeane Napoles strikes a pose with stars like Justin Timberlake, Steve Carell, and Blake Lively at the 2011 MTV Movie Awards. [Screenshot from Jean Napoles' Tumblr page]
In the face of her daughter's indiscriminate display of luxury baubles, Napoles has emphasized that whatever she and her family have are legit-meaning they didn't fund it with money obtained through dubious means. She's even said she's going to sue Luy and the Philippine Daily Inquirer for implying that their wealth is ill-gotten.
A fashion designer tells all

Thoughout this Napoles-centered drama, denial has become the name of the game. That's why it was quite a surprise when fashion designer Eddie Baddeo told Inquirer reporter Arlyn dela Cruz, "Benhur is telling the truth. Yes, every allegation against (Janet Napoles) is true, she's engaged in ghost deliveries and she claims to pay senators, congressmen and mayors."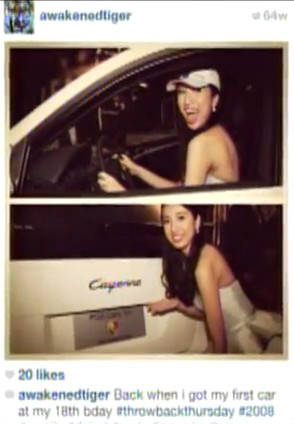 ADVERTISEMENT - CONTINUE READING BELOW
Throwback revelation. Jeane Napoles used to have an Instagram account, where she used the name @awakenedtiger. It was deleted when the pork barrel scam went public. In this photo, we see her posing with a Porsche Cayenne, which she got when she turned 18 in 2008. [Screenshot from an ANC video clip]
Dela Cruz's report noted: "Baddeo also produced documents that may serve as a paper trail in the probe being conducted by the National Bureau of Investigation. These documents included 45 letters from local mayors addressed to the then Secretary of Agriculture, Arthur C. Yap. The documents were signed by mayors from various areas, including Plaridel and San Miguel in Bulacan; Angeles City in Pampanga; Abucay, Orani, Hermosa, Mariveles, Morong, Samal and Balanga Cty in Bataan; Lumban in Laguna; and Jaen, Peñaranda, San Leonardo and Sto. Domingo in Nueva Ecija. Mayors from several towns in Isabela, Batangas, Tarlac, Camarines Sur, Catanduanes, Iloilo and Davao Oriental were among those who signed similar requests to Secretary Yap. The said requests were allegedly forwarded to the JLN office (where they were presumably processed)." Baddeo said that later on two of the mayors who made the requests confided to him that they suspected that the requests were actually for ghost deliveries. However, Baddeo said the two mayors didn't withdraw their requests.
ADVERTISEMENT - CONTINUE READING BELOW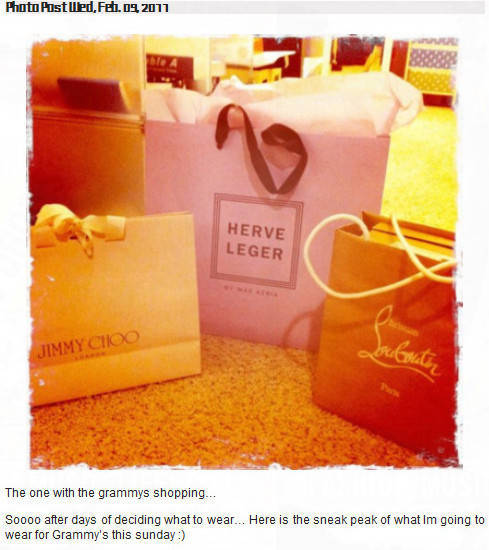 Shopping extravaganza. The sky's the limit in Jeane Napoles' shopping expeditions. [Screenshot from Jean Napoles' Tumblr page]
Dela Cruz went on to reveal: "In another instance, Baddeo said he saw a member of the House of Representatives from a congressional district in Luzon take money placed inside a trolley bag. The House member even asked Napoles why [Baddeo] was there because the lawmaker knew [him], [since he] had designed clothes for the lawmaker in the past."
ADVERTISEMENT - CONTINUE READING BELOW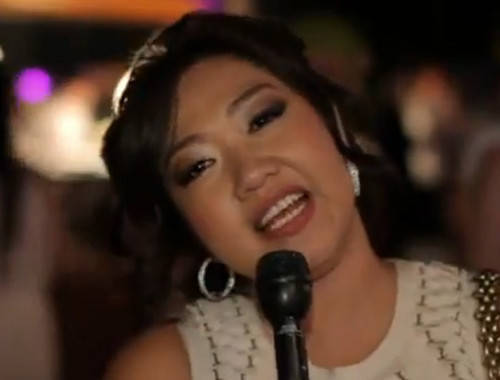 Porky punchline. According to a Philippine Daily Inquirer report, Napoles' eldest child, Jo Christine Napoles, may get to sit in Congress as the representative of the OFW Family Club (OFWFC) party-list group. It's because someone is contesting the eligibility of the group's second nominee, actor Johnny Revilla (brother of the famous Revilla sisters, uncle of actors Bernard and Mico Palanca). The protest alleges that Revilla is not a natural-born Filipino citizen. The first nominee of the group is its founder, former Ambassador Roy Señeres Sr. He is already safely installed in Congress. The third nominee was supposed to be his son, Roy Jr. However, the younger Señeres declined the nomination to avoid controversy. As such, Jo Christine Napoles became the third nominee and will automatically take over the seat of the second nominee if Revilla is declared ineligible. When that happens, she'll become a party-list congresswoman and will get to use her very own pork barrel funds. [Screenshot from Jeane Napoles' 21st birthday video]
ADVERTISEMENT - CONTINUE READING BELOW
So what happens now?
With the personalities supposedly involved in this mess, it's anyone's guess. Then again, this isn't the first time Napoles has gone through something like this. And we all know what happened the first time.
Art by Warren Espejo, image is a screenshot from a GMA News video clip
Share this story with your friends!
---
Help us make Spot.ph better!
Take the short survey
Load More Stories