Oink History: SPOT.ph's Pork Barrel Timeline
We discover its unsavory origins.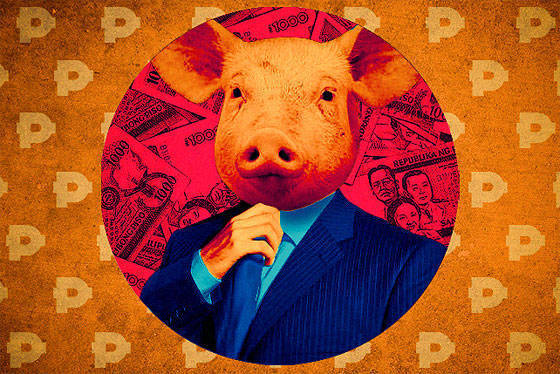 (SPOT.ph) With all the fuss over the pork barrel scam, there are still a number of Pinoys who have no idea what it is. We chanced upon a TV network's man-on-the-street coverage where a guy who was attending the Million People March was asked what he knew about the pork barrel. The man simply said, "Ewan ko nga. Hindi ko maintindihan 'yang pork barrel na 'yan (I don't know. I can't understand what the pork barrel is all about)." He's not alone.
In our tradition of attempting to simplify things so it's easier to digest by those of us with IQs less than 200 (You know we're kidding, right?), here's a timeline tracing the pork barrel's unsavory origins.
Disclaimer: This SPOT.ph "in a nutshell" feature is not meant to replace legit history books or more substantial political discourse. Just as breast milk is still best for babies, firsthand learning is guaranteed to feed your mind better. However, if you just want to get a general clue about the pork barrel without getting a migraine attack, then sink your teeth into this supposedly easy-to-digest timeline.
Sometime in the 1800s: Imported Infamy. The Americans introduced the concept of the pork barrel. In an article by Hugh Rawson, which is posted on the American Heritage website, the origin of the term is explained thus: "The metaphor stems from the practice in the pre-refrigeration era of preserving pork in large wooden barrels of brine. The political usage may have been inspired by the distribution of rations of salt pork to slaves on plantations." Rawson cited journalist C. C. Maxey, who observed: "Oftentimes the eagerness of the slaves would result in a rush upon the pork barrel in which each would strive to grab as much as possible for himself. Members of Congress in the stampede to get their local appropriation items into the omnibus river and harbor bills behaved so much like the slaves rushing the pork barrel, that these bills were facetiously styled 'pork-barrel' bills." Bottom line: It started out as some sort of "bribe" to control people. We do have to note that it was unfair to compare abused slaves to congressmen. The slaves were taken from their country and then trapped in a very bad situation in America. We can't say the same for everyone in Congress.

ADVERTISEMENT - CONTINUE READING BELOW
1922: Control Tool. In the Vera Files article "Pork by any name," journalists Yvonne T. Chua and Booma B. Cruz wrote: "By the time the notion of pork barrel rolled into the Philippines, it was already 1922. That was when a Public Works Act separate from the General Appropriations Act (GAA) was first passed. It didn't take long, however, before the Philippine version of the pork barrel acquired a sleazy sheen, no thanks to the shenanigans of legislators." During this time, there was no president. The Philippines was governed by the US Civil Governors of the Philippine Islands. So, if you have to blame anybody, blame them. They started this controversial tradition.
CONTINUE READING BELOW
Recommended Videos
1942: Pork Interrupted. The war broke out and pork processes (as well as other government fucntions) naturally stopped.
1950: Congress Treat. Chua and Cruz went on to explain: "The pork barrel took on a somewhat different form in 1950. First, the public work act passed that year ended the practice of releasing the amount in lump sum, meaning the law did not specify projects. Second, it transferred the discretion of choosing projects from the secretary of commerce and communications to legislators." According to the Vera Files article, this was also the first time that the law carried a list of projects selected at the  discretion of the members of Congress.
Mid-1960s: No Pork Diet. Chua and Cruz noted that in the mid-1960s, "the stalemate between the House of Representatives and the Senate resulted in no pork barrel legislation getting passed."
ADVERTISEMENT - CONTINUE READING BELOW
1972 to 1981: Martial Law and Invisible Pork. There was no pork barrel per se during this time. However, pundits (clearly not fans of President Ferdinand Marcos) say this didn't mean the funds didn't go elsewhere. In an interview with Umagang Kay Ganda, political analyst Tony La Viña said that the funds went to the so-called "cronies" of the administration.
1982: Soft and Hard Projects. The Batasang Pambansa introduced a new item in the annual General Appropriations Act's National Aid to Local Government Units: the Support for Local Development Projects or SLDP. Chua and Cruz explained: "Each assemblyman received P500,000 in SLDP. But pork barrel items no longer just came under the form of public works projects, or 'hard' projects as they are called these days. Sure, legislators still allocated their SLDP to capital outlays and infrastructure projects like schoolhouses, municipal buildings, roads, and the like. But they also used the money for what are now known as 'soft projects' such as the purchase of medicines, fertilizers, fumigants, insecticides, paints, and sports equipment, or for scholarships for constituents." The SLDP was the closest thing to the pork barrel during the Marcos administration.
1990: Yellow Pork. President Corazon Aquino restored congressmen's pork barrel. This time around, the porky fund was was rechristened as the Countrywide Development Fund or CDF.
1992 to 1998: Porky Variants. Chua and Cruz wrote: "During his administration, President Fidel V. Ramos fashioned other forms pork in an attempt to ensure continued support for his legislative agenda from Congress. Among these were the Public Works Fund, restored in 1996; School building Fund; Congressional Initiative Allocation or CIA; El Niño Fund; and the Poverty Alleviation Fund."
ADVERTISEMENT - CONTINUE READING BELOW
2000: Pork Reloaded. In 2000, under the administration of President Joseph "Erap" Estrada, the CDF was renamed as the Priority Development Assistance Fund or PDAF) in 2000.
2001 to 2010: The Gloria Days. In his article, "Arroyo chose who, how much PDAF to give," Philippine Daily Inquirer's Gil C. Cabacungan quoted Camarines Sur Rep. Rolando Andaya, who claimed, "President Arroyo could choose who and how much to give to each congressman or senator which explains why some have more than others in the Commission on Audit report." The same report noted that under Arroyo's successor, President Benigno "Noynoy" Aquino, the PDAF was pegged at "P70 million and P200 million in yearly pork barrel allocations for representatives and senators."
2013: P-Noy's Way. On August 28, 2013, P-Noy's administration released a statement to disprove news reports claiming that compared to the Arroyo administration, PDAF allocations "more than doubled" in the current administration.
The Pork and Beyond. Despite its tasteless start and the controversies that have hogged headlines since forever, several administrations have chosen to keep pork for whatever purpose it may serve. While there may be lawmakers who have used the funds for genuine causes, it can't be denied that many of them have also been participating (whether consciously or not) in activities that lead to the misuse of the funds. Just ask Janet Napoles. (Read "Hot on Spot: Who the hell is Janet Napoles?")
Art by Warren Espejo
Share this story with your friends!
---
Help us make Spot.ph better!
Take the short survey
Load More Stories