MOVIE REVIEW: Runner Runner
Does Ben Affleck have what it takes to play a billionaire playboy? SPOT.ph blogger Paul Daza weighs in.
STORY: When Princeton grad student Richie (Justin Timberlake) loses all his tuition money in the online gambling site Midnight Black, he travels to Costa Rica to confront the site's creator, billionaire Ivan Block (Ben Affleck). Impressed with Richie's smarts, Ivan offers him a job, drawing Richie into a seductive world of wealth and pleasure. Richie's dream job, however, soon turns into a nightmare when he discovers that Ivan is as ruthless as he is wealthy, and plotting a scheme that could cost Richie his life.  Rated PG by the MTRCB for repeated use of the "f" word and a sex scene.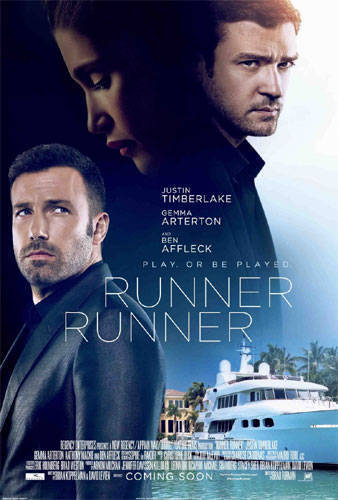 PLUSES
The glimpse into the world of online gambling. For the past few years, I've been hearing and reading stories about Pinoy teenagers who lose thousands of pesos of their parents' money on online gambling sites. On such sites, these kids not only play card games such as poker and 21, they bet on the outcomes of basketball games as well. Runner Runner is the first film I've seen that allows us a glimpse into this disturbing new world and gives us an idea how it works, claiming millions of victims all over the globe in the process.
ADVERTISEMENT - CONTINUE READING BELOW
The "Batffleck" preview. I'm sure I'm not the only Batfan whose main reason for watching Runner Runner will be to prejudge Ben Affleck's suitability to play Batman/Bruce Wayne in 2015's Superman vs Batman. After seeing the actor as Ivan Block, my two cents is that Affleck can certainly play a billionaire playboy with a dark and somewhat sinister interior-he has that look. As for his "sound," I'm still iffy because Affleck's voice sounds almost high-pitched in the scenes in Runner Runner when he's shouting at Justin Timberlake. As one who never got used to the distracting, artificially deep Batman voice Christian Bale used in the Dark Knight trilogy, I'm now antsy at the thought of hearing Ben Affleck's more high-pitched voice come out of Batman's mouth.
CONTINUE READING BELOW
Recommended Videos
(Another unfortunate effect that Affleck's casting as Batman has on Runner Runner is that the many mentor-protege scenes he has with Justin Timberlake are now imbued with a weird "Batman and Robin" vibe.)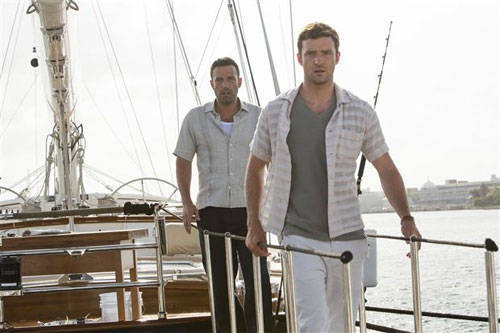 ADVERTISEMENT - CONTINUE READING BELOW
"Costa Rica." I've been intrigued by Costa Rica ever since I heard John Hammond (played by actor Richard Attenborough) say his now-classic line from Jurassic Park, "I own an island...off the coast of Costa Rica." As one who revels in cinema's ability to transport its patrons to places they've never been to, I'm thankful to Runner Runner for finally showing me Costa Rica. Well, sort of. The Costa Rica scenes in Runner Runner were actually filmed in Puerto Rico, probably because the film's unflattering portrayal of the city and its people got the thumbs down from the Costa Rican government. Sit through the end credits, however, and you'll see "Costa Rica Unit" somewhere in the scroll. I'm guessing that the beautiful time-lapse shots of the city glowing like a third world Las Vegas were actually filmed in Costa Rica.
MINUSES
The script's short-cuts and anti-climaxes. Runner Runner was written by Brian Koppelman and David Levien, who also wrote the ensemble heist-thriller Ocean's Thirteen. And so, you'd think that writing a much simpler, more manageable film with far fewer characters would be easier, right? Apparently not, because the script for Runner Runner is laden with such glaring missteps that what could've been a very good movie is malformed into one that's merely okay. And judging from the film's current Rotten Tomatoes score of 21, my "okay" tag is generous. One problem the screenplay exhibits is its employment of narrative shortcuts, as seen in the abrupt way that the character played by Gemma Arterton falls in love with Justin Timberlake's Richie. Another shortcut is the anti-climactic manner by which Timberlake first meets Affleck. This first meeting should have been one of the movie's most electrifying and unforgettable sequences, but all I remember about it now is how dull its staging was. An even bigger disappointment, however, awaits in the form of the movie's anti-climactic climax. Like the first meeting of Richie and Ivan, the events preceding the film's final, do-or-die moment prime viewers for excitement and raise their expectations for a wickedly clever pay-off, only to have such high hopes go pffft as it plays out onscreen.
ADVERTISEMENT - CONTINUE READING BELOW
IN BRIEF: A bad script wastes an impressive cast. Runner Runner is the kind of con movie that will make some viewers feel like they were the ones conned when the lights go up.
Rating: 2 ½ spots out of 5
Share this story with your friends!
---
Help us make Spot.ph better!
Take the short survey
Load More Stories