77 Ways to Move On
We have a few of our own...and we want to hear yours!
(SPOT.ph) It's the perennial love-related problem (well, at least until you find The One), and when you're in the thick of things, you can't help but feel that there isn't anything out there that could ever make you feel better. But advice from those who've been there is always a good thing, and humor is even better. So we've chosen a few favorites from the book, 77 Ways to Move On, and we're compiling a few of our own-yours, too. What's your best one-sentence advice for moving on? Share them in the comments and we'll pick the best ones to feature in SPOT.ph!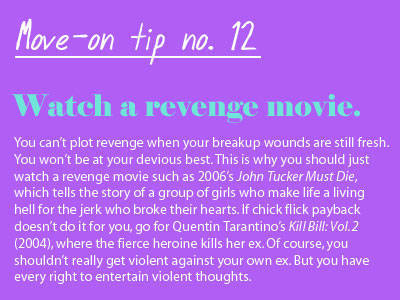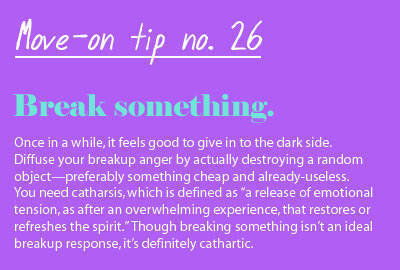 ADVERTISEMENT - CONTINUE READING BELOW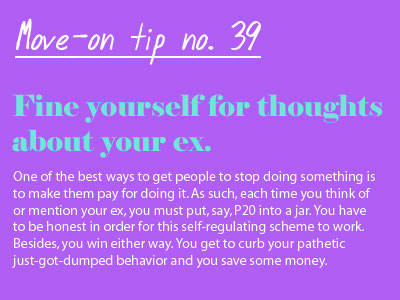 CONTINUE READING BELOW
Recommended Videos
And for kicks, here are three tips from SPOT.ph to make an even 80 for your obsessive-compulsive needs:
Tip # 78:  Be a classy nuisance and spam their inbox-with VIAGRA newsletters.
Do you still know your ex's e-mail address? Sign them up for various newsletters across the Internet-go for the NSFW ones. It's a proven fact that doing something nice for someone makes you feel like you are their friend and forgiving is all well and good but right now, they are the enemy. Act accordingly and retaliate with class. Trust us, you'll feel good. (Pro-tip: sign them up for religious newsletters, too. No one, and we mean NO ONE, is more persistent than men of God.)
Tip # 79: Cold War tactics: bring out the Iron Curtain!
If you want to flaunt fake happiness, that's great. You go do that. But here's an alternative: DELETE EVERYTHING. Don't be on Facebook, Twitter, Instagram, Tumblr, etc. Chances are, your ex will want to keep tabs on who is winning and the two of you will engage in a pissing contest.
ADVERTISEMENT - CONTINUE READING BELOW
But you, you are better than that. Don't even bother with the pretense. The offline world is great. Read a book, watch movies, exercise, and stay away from people. They will ask you if you're alright (seriously?), tell you things you don't want to know about your ex (none of your business anymore!), and some of them will pass on information about you to your ex (SPIES!). Nothing will make your ex go crazy more than not knowing anything about you. Deprive them of information and in the process, you'll also curb your need to stalk.
Tip # 80: Have unpaid things delivered to his or her address.
Order pizza. Order anything and have them delivered to his or her house. Make him or her pay-literally. (Only recommended for the messiest breakups.)
77 Ways to Move On by Faye Valencia is available for P150 at bookstores and newsstands nationwide
Share this story with your friends!
---
Help us make Spot.ph better!
Take the short survey
Load More Stories