The Banaue Rice Terraces and The Great Wakeskate Debate
Was your sense of wonder stirred or shaken? Tell us in the comments!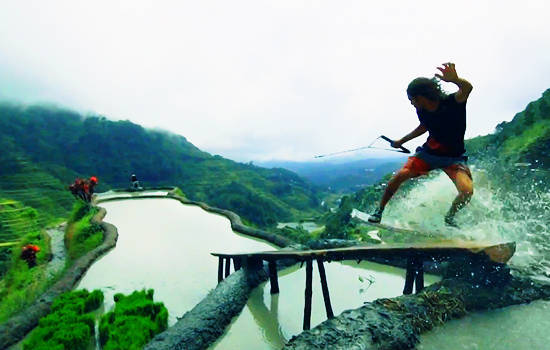 (SPOT.ph) With the news that we're once again home to the the world's worst airport, it's nice to be reminded that our terrible terminals are still worth enduring because our country is naturally gorgeous. Palawan was recently heralded as one of the Best Value Destinations for 2014, but also making the headlines last week was the good old Banaue Rice Terraces and, of all things, wakeskating. Wakeskating the Eighth Wonder of the World with Brian Grubb was posted on YouTube on October 24. It hasn't hit the million views yet-maybe because most of the people in it have clothes on-but it's close.
We briefly saw the Terraces in Sean Ellis' Metro Manila but it didn't look quite so glamorous there. But in Brian Grubb's video? The steps looked pretty spiffy and an overwhelming sense of, for the lack of a proper quantifier, EPIC washed over some. Of course, not everyone was impressed. Some found it distasteful and were bordering on feeling mortified at the thought of someone playing within a world wonder...especially because Red Bull was powering the expedition.
ADVERTISEMENT - CONTINUE READING BELOW
So is it a yay or a nay? What say you Spotters? Here are some points that have been raised but do share your thoughts in the comments!
NAY: It's disrespectful.
Would they perform stunts at the Pyramids of Giza or the Colosseum in Rome? Probably not, and for good reason. We call the Banaue Rice Terraces the "eighth wonder of the world." We should treat it as a national treasure. The rice terraces are a UNESCO World Heritage Site and should be protected. It was previously listed among endangered heritage sites after several terrace walls collapsed. It's not an infallible structure and deserves to be safeguarded. The team who organized the stunt assures that "plants and wildlife have neither been damaged nor disturbed at any time during the project." The point is not whether damage was done, but rather, whether it was right to perform the stunt in the first place.
ADVERTISEMENT - CONTINUE READING BELOW
YAY: We were reminded of how beautiful the Terraces really are.
When was the last time anyone marvelled at the great eighth wonder anyway? It's an astounding architectural wonder and looking at the video, it was nothing but respectful to everything about the Banaue Rice Terraces. They even identified the tribe-Tuwali-instead of a generic Ifugao term and they explained why the terraces are a masterpiece. Grubb's stunt with Red Bull breathes new admiration for the increasingly underappreciated natural treasure.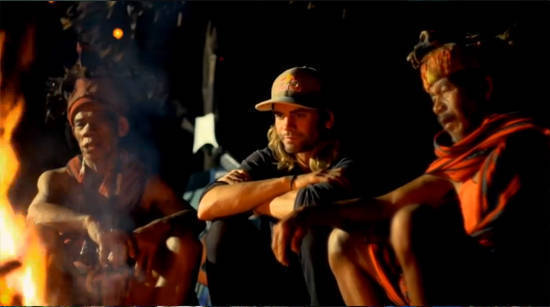 ADVERTISEMENT - CONTINUE READING BELOW
NAY: Getting permission from local tribal leaders and successfully going through the red tape doesn't make it okay.
They say "all agreements have been made together with the locals and under respect of their traditions and culture." Remember when Rihanna was asked to leave an Abu Dhabi Mosque when she had an unauthorized photo shoot in an off-limits area? Her inappropriate photos violated the sanctity of the mosque and disrespected the religious nature of the location. The people in charge of the mosque did not defer to a global superstar or let her do her photo shoot. And we tolerate wakeskating on the Banaue Rice Terraces? We should be as stringent with our rules and regulations for protecting national landmarks.
YAY: The real owners of the land are the people who use them. If the locals feel that the stunt was harmless, we should take their word for it.
Publicity or not, Grubb and his crew obviously prepared for the video. It's not shot with an iPhone or clumsily set up. Admittedly, it's easy to put a costume on and we can't verify if the people depicted there were actual tribe members but they didn't just shoot Grubb wakeskating, they bothered with a lot of details. DOT Regional Director Purificacion Molintas also explained that the "stunt" was coordinated. The mayor and the council of elders (cool name, by the way) approved the shoot and yes, they did do a Mumbaki ritual.
ADVERTISEMENT - CONTINUE READING BELOW

NAY: The Banaue Rice Terraces is not an "ultimate playground" or "wakeskating paradise."
It was built and maintained all these years for agricultural purposes. Let's not forget what it's for. Just because the stunt looks cool, that doesn't make it right. Plus, we have hundreds of beaches that would have been perfect for wakeskating. Leave the Banaue Rice Terraces alone.
YAY: We are paradise!
When Grubb expressed his interest to see if the depiction of the Rice Terraces in the one thousand peso bill was accurate, we too were reminded that there's so much to look at in our islands without having to construct anything around it. Our beaches are indeed pretty but in the hands of people who only want to make money out of it, the beauty becomes tainted. We're not afraid of tourists, we're afraid that other people will capitalize on this. You know who they are.
ADVERTISEMENT - CONTINUE READING BELOW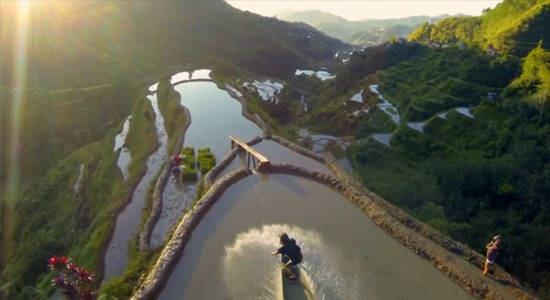 NAY: To those who argue that the wakeskating stunt helps to promote the rice terraces and the Philippines, if you've ever been to the rice terraces, you'll know that it's majestic all on its own, wakeskater not included.
There are far better ways to promote tourism such as by simply documenting the rice terraces as it is. Because it doesn't need frills or extreme stunts-that's just gilding the lily. Appreciation for our natural resources starts in our backyard. We just need to take care of it and not let it go to waste. We don't see how allowing wakeskating accomplishes that, in fact, it may open the door for others to get away with doing the same thing.
ADVERTISEMENT - CONTINUE READING BELOW
YAY: Lighten up. It's outdoors, not encased in a museum.
They didn't ruin crops, they didn't do it guerilla-style. They didn't even touch anything but the water. They asked permission from the people who use the land, who probably run around playing in the rice fields, too. What the stunt really opens doors to is the lack of trust we have for people who should be managing these things. We're afraid it's going to be exploited for financial gain not because tourists will pour in, but because we think that the people tasked to make sure our natural treasures are protected won't do their jobs right.
All screenshots from the YouTube video by Red Bull and Brian Grubb
CONTINUE READING BELOW
Recommended Videos
Share this story with your friends!
---
Help us make Spot.ph better!
Take the short survey
Load More Stories