MOVIE REVIEW: The Hunger Games: Catching Fire
Ready for the Quarter Quell?
STORY: Having survived the 74th Hunger Games, Katniss Everdeen (Jennifer Lawrence) and Peeta Mellark (Josh Hutcherson) thought they'd never have to fight anyone to the death ever again, especially each other. That changes, however, when President Snow (Donald Sutherland) senses that a revolution/rebellion is brewing in Panem-one sparked by Katniss' popularity. Thus, he announces that the 75th Hunger Games-the Quarter Quell-will be an all-star edition where only champions of previous Games are eligible. Because Katniss' participation is a given (she's the only female champion District 12 has ever produced), Snow has high hopes that the rebellion will die, together with Katniss, during the Quarter Quell.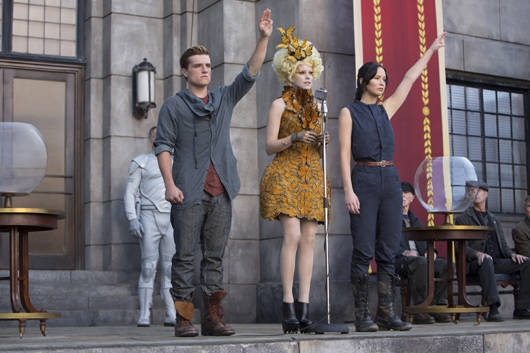 ADVERTISEMENT - CONTINUE READING BELOW
Peeta Mellark (Josh Hutcherson), Effie Trinket (Elizabeth Banks), and
Katniss Everdeen (Jennifer Lawrence)
PLUSES

Jennifer Lawrence reprises her role as Katniss. In between the release of The Hunger Games in 2012 and its sequel, Catching Fire, Jennifer Lawrence made a small indie movie called Silver Linings Playbook, which won her an Academy Award for Best Actress last February. I watched her in Catching Fire with an even more critical eye, looking for any indication that success has gone to her head, or that her blistering, Oscar-winning performance had been a fluke. My verdict? Jennifer Lawrence is the real deal. She is the most committed young actress of her generation, and she can react to such overused cinematic contrivances as a traumatic memory or a horrific hallucination in an authentic way.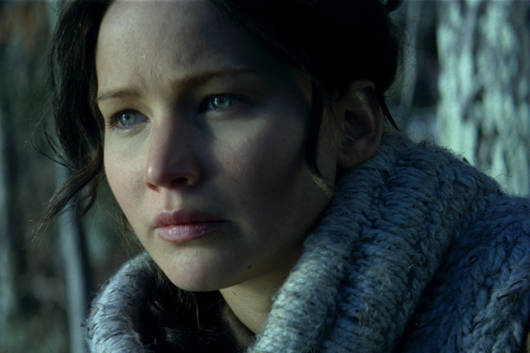 ADVERTISEMENT - CONTINUE READING BELOW
Jennifer Lawrence stars as Katniss Everdeen.
New director. Who would have thought that the director of Water for Elephants, Francis Lawrence, would be just what the doctor ordered for Catching Fire after The Hunger Games screenwriter/director Gary Ross walked away from the sequel? In terms of direction, the difference between Ross and Lawrence is the difference between George Lucas' Star Wars and Irvin Kirshner's The Empire Strikes Back. This movie is that rare sequel which handily outclasses its predecessor in nearly every respect, such as in the visual fields of cinematography, costume design, art direction, and visual effects. For me, the most obvious and welcome change Lawrence makes here is to substantially lessen the use of the shaky, hand-held cameras that Ross overused in the first film. In addition, Lawrence also learned from his predecessor that it's not wise to confuse the work of the movie's cameramen with the footage generated by the "reality" cams used by Panem to broadcast the Games to its citizens.
ADVERTISEMENT - CONTINUE READING BELOW
Improved visual effects. The Hunger Games cost $78 million to produce, while Catching Fire, benefiting from the worldwide success of its predecessor, cost $140 million. Nowhere are these millions in additional funding more apparent than in the film's visual effects. Where the futuristic Capitol looked like a bad matte painting from a B-movie in The Hunger Games, the dystopian city now looks more real and more three-dimensional in the sequel. So convincingly and artfully rendered is the city and the spectacle of the games that it actually gave me goosebumps. As for the deadly games, the bad memories of the unconvincing mutant dogs from last year are replaced here by a horde of frighteningly realistic baboon-like creatures. Also spectacularly ingenious is a clever bit of effects-generated production design involving a giant clock.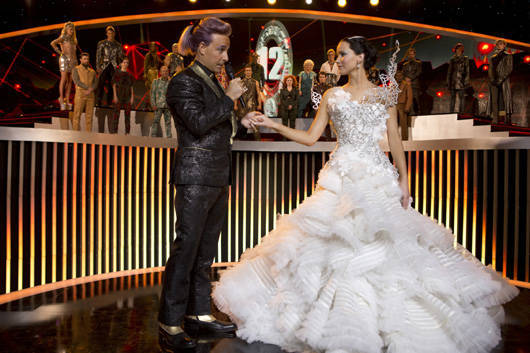 ADVERTISEMENT - CONTINUE READING BELOW
Katniss' gorgeous dress
New costume designer. There was also room for improvement in the costume department following the first film. What I found especially tacky in The Hunger Games was the many costumes worn by escort Effie Trinket (Elizabeth Banks). And though Effie's outfits are as bright and gaudy as ever in the sequel, they're more pleasing to the eye this time around. The best costume in the film, however, is worn by Katniss. The scene where her wedding dress transforms into something else before a crowd of thousands marks the first time a costume change made my jaw drop.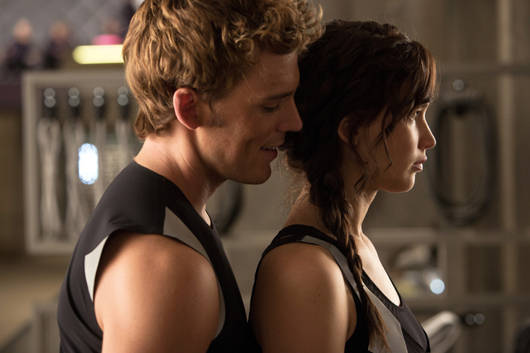 ADVERTISEMENT - CONTINUE READING BELOW
Finnick Odair (Sam Claflin) and Katniss

Additional cast of characters. As part of the rules of the Quarter Quell, Katniss and Peeta are pitted against men and women, young and old, who have won the previous Hunger Games. These veteran tributes-which include a hunk with questionable motives, a mute old woman, a middle-aged scientist, and a woman with razor-sharp teeth-raise the stakes and make the Quarter Quell an even more gripping odyssey of survival. The inclusion of such deadly challenges as a corrosive fog, man-made wall of water, and invisible killer force field adds up to a brutal and bloody gladiatorial spectacle unlike any other.
MINUSES
Sketchy characterization. As in the previous game, the Quarter Quell will pit male and female pairs from each of Panem's 12 districts in a fight to the death until one winner emerges. This means that moviegoers will have to keep track of 24 contestants-an impossible task. Knowing that most viewers can follow fewer than a dozen supporting characters (I still can't name the 12 dwarves in The Hobbit to this day), it thus falls on the scriptwriter and director to decide which characters to emphasize and which ones to understate. And so, there might be instances when the cannon fire sounds its death knell and the audience might have no idea who was killed or how. Thus, much of the story's ability to surprise is lost, because we know that the contestants who get screen time are the ones who matter. The first film was more successful in showing us the backstories of other contestants, which is more than this sequel managed to do. 
ADVERTISEMENT - CONTINUE READING BELOW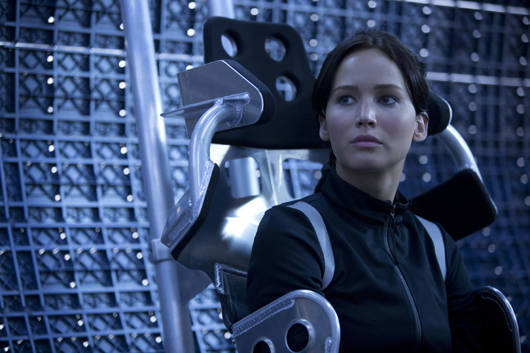 The Hunger Games: Catching Fire is now showing in theaters.
The bitin ending. With such films as The Empire Strikes Back, Back to the Future Part II, and The Lord of the Rings: The Two Towers ending on a cliffhanger, you'd think we'd get used to the bitin ending by now. But no, even when a film is as well-made as Catching Fire, there's still that abrupt ending that keeps film fans in suspense. You'll have to wait until next year to see what happens next. (Or, you know, read the book.) 
ADVERTISEMENT - CONTINUE READING BELOW
IN BRIEF: Catching Fire is a superb, gripping sequel that outdoes its predecessor in nearly every respect from start to finish, especially in terms of visual impact.
Rating: ••••. 4 ½ out of 5 spots

CONTINUE READING BELOW
Recommended Videos
Share this story with your friends!
---
Help us make Spot.ph better!
Take the short survey
Load More Stories