Quotes of the Year: 25 Quotes That Defined 2013
The year in words, some of which people might be hoping they can take back.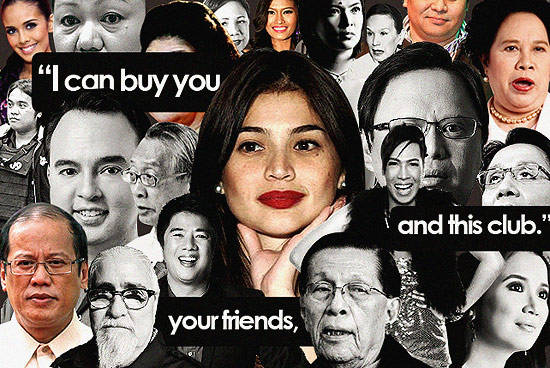 (SPOT.ph) Words define us, that is, language is what separates us from other species. Words are magic, especially when you're able to string them together into clever sentences but that's not a necessary skill because even when you're prattling about nonsense while you're intoxicated, you're bound to elicit a reaction from someone who happens to hear or read what's in your head...which can be somewhat unfortunate, sometimes.


Don't feel bad if you don't remember much about January. We were subjected to two elections, storms from A to Z, and the PDAF Scam. As a review, here is the year 2013, defined by quips from public figures who may or may not be wishing that they had just kept their mouths shut.
ADVERTISEMENT - CONTINUE READING BELOW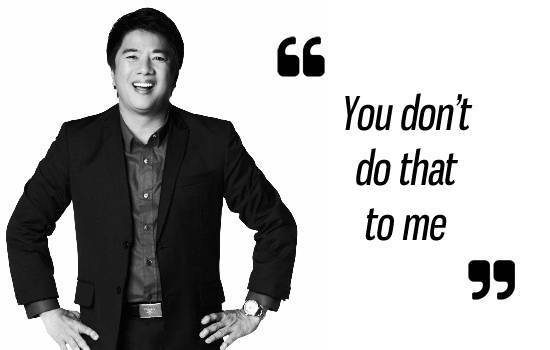 1. "You don't do that to me." - Willie Revillame, during a tirade about...things you can't do to him.
Borne from a tiff between this notorious noontime show host and Ethel Booba was this meme-worthy statement. Everyone is entitled to a modicum of respect but Willie Revillame took it to frontiers that not even Captain Kirk dared to go. Revillame is currently off the air but we won't be surprised if a show called "Whoa Whoa Willie" suddenly gets a go signal from...wait, which network hasn't he fought with yet?
ADVERTISEMENT - CONTINUE READING BELOW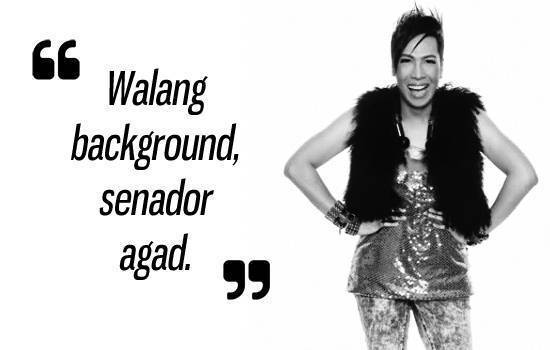 2. "Gusto ko president ako agad. Yung wala kang background, pero mataas agad, parang 'yung mga pulitiko lang ngayon. Walang background, pero senador agad." - Vice Ganda, jesting about his political plans.
During the campaign period of the senate election, Vice Ganda questioned Nancy Binay's bid due to her lack of experience. However, whether we like it or not, Binay is an elected public official now and she might even be the first daughter by 2016. We apologize if that gives some of you nightmares.
ADVERTISEMENT - CONTINUE READING BELOW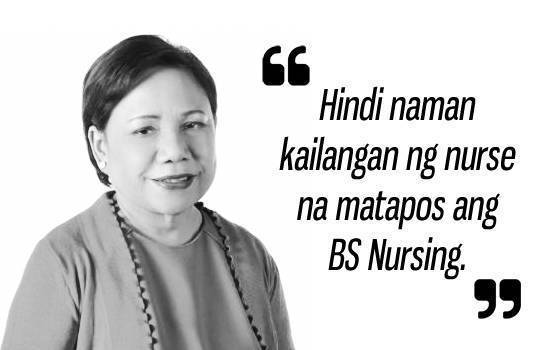 3."Hindi naman kailangan ng nurse na matapos ang [BS Nursing]. Kasi itong mga nurses, gusto lang nilang maging room nurse." - Senator Cynthia Villar, in an interview during the campaign period.
You would think that this kind of statement would put a hold on someone's political career but no, she still won a seat in the senate. Maybe that's proof that there's a shortage of nurses in the world?
ADVERTISEMENT - CONTINUE READING BELOW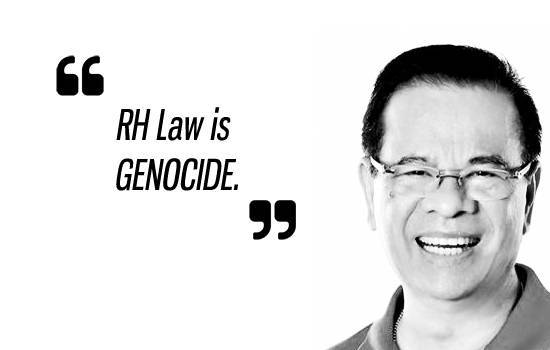 4.  "RH Law is genocide." - Former Senator Kit Tatad, during his opening statement for the RH Law oral arguments.
The quote is indirect but yes, he did liken the controversial law to mass murder of a particular ethnic group. Quite a number of strange things have been said about this law and we're aware that part of the population strongly opposes what they think it says about having children, but this was just completely ridiculous. If his claims are true, pharmacies are weapons cache and even convenience stores that sell condoms are warehouses of lethal firearm.
ADVERTISEMENT - CONTINUE READING BELOW
Suggested Read: Science and Philosophy According to Anti-RH Law Arguments.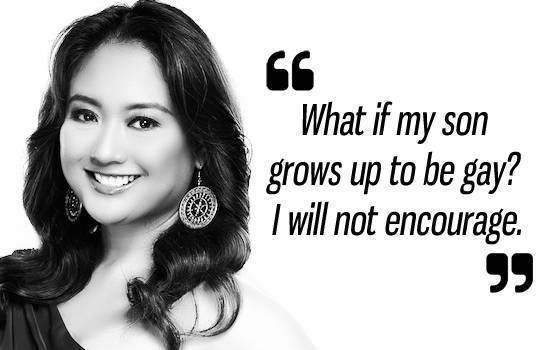 5. "Now, if you ask me - what if my son grows up to be gay? I will not encourage. But will I accept? A mother will always accept her child." - Christine Bersola-Babao, from her article "Being Gay."
After receiving flak for an article she wrote for The Philippine Star, Christine Bersola-Babao took to Twitter to remind people "not to shoot the messenger." She followed this with a non-apology, saying that she feels bad if she offended people but that she was only quoting Dr. Camille Garcia.
ADVERTISEMENT - CONTINUE READING BELOW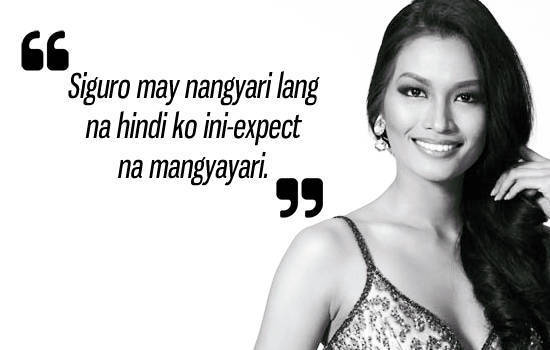 6. "Honestly, ngayon we are not in good terms. Siguro may nangyari lang na hindi ko ini-expect na mangyayari." - Janine Tugonon, when asked about how her relationship is going in Kris TV.
We don't know what she was thinking...or if she was thinking at all. That's not a putdown of her intelligence, you have to keep in mind that she was cooking when Kris Aquino was asking her questions. Her mind was elsewhere and she probably thought she was in the privacy of her own kitchen.
ADVERTISEMENT - CONTINUE READING BELOW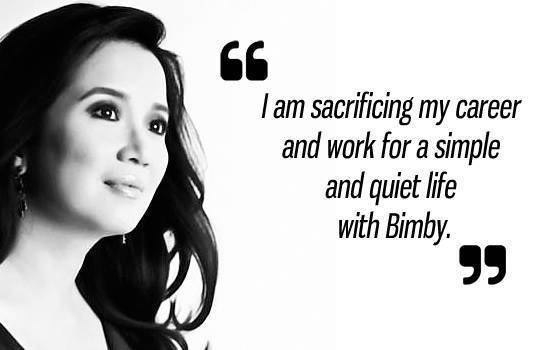 7. "I am sacrificing my career and work for a simple and quiet life with [Bimby]" - Kris Aquino, in an interview with Ted Failon.
Last March, Kris Aquino announced her retirement. She said she wanted her son, Bimby, to grow up knowing that she gave up everything for him. It's December and she is still on TV. Something's amiss.
ADVERTISEMENT - CONTINUE READING BELOW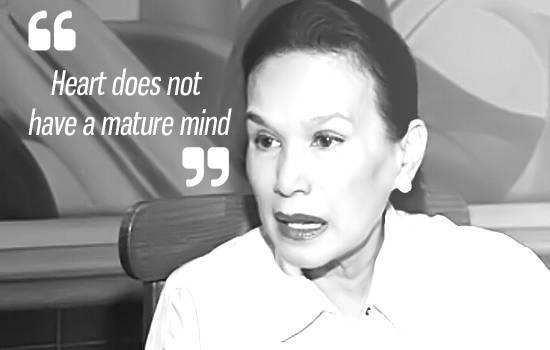 8. "Heart does not have a mature mind and still thinks like a young girl. She is easily swayed by people who prey on her insecurities and lack of confidence." - Cecilia Ongpauco, describing her daughter Heart Evangelista during a press conference.
We gave our mothers hugs after hearing this because it's not every day you hear a mother talk about her 28-year-old daughter like this.
ADVERTISEMENT - CONTINUE READING BELOW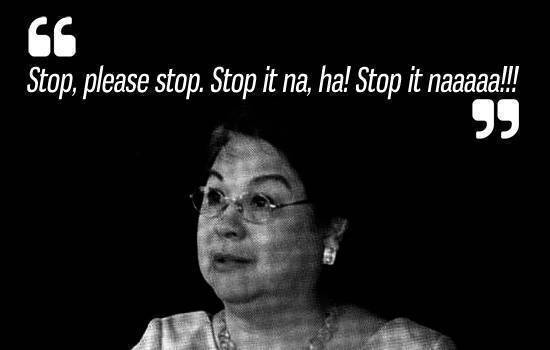 9. "Stop, please stop. Stop it na, ha! Stop it naaaaa!!!" - Inday Barretto, in an open letter dicussing her family's issues.
Nobody needed to hear what Inday Barretto had to say about her daughters and the squabbles they had and we want to shout this right back at her. STOP IT! STOP IT NA! STOP IT NAAAAA!!!
ADVERTISEMENT - CONTINUE READING BELOW
Suggested Read: The Barretto Family Feud: A Timeline of Pain.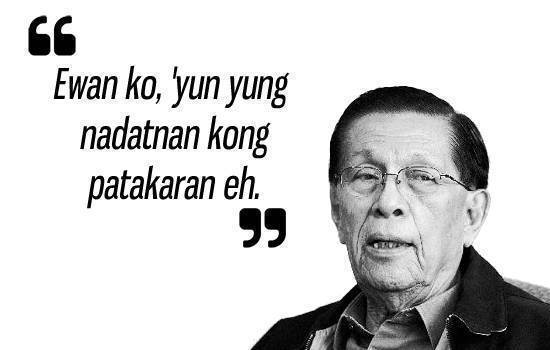 10. "Ewan ko, 'yun yung nadatnan kong patakaran eh." - Senator Juan Ponce Enrile, when asked about the questionable funds they receive.
Like his loyal opposition (we mean Senator Miriam Defensor-Santiago), Senator Enrile gave us an earful this year. He released several statements in separate speeches in attempt to clear his name from all of the accusations being thrown at him, but this one succinctly expresses all of his thoughts on the issue.
ADVERTISEMENT - CONTINUE READING BELOW
Suggested Read: Here Piggy, Piggy: What Politicians Have to Say About the Pork Barrel Scam.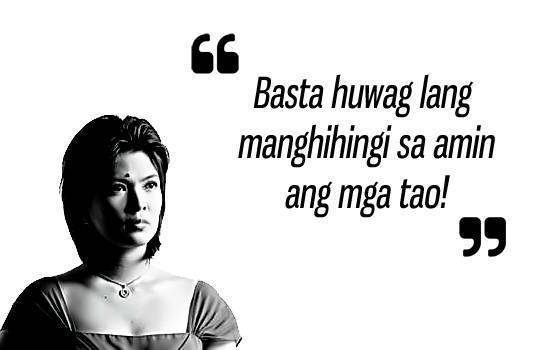 11. "Basta huwag lang manghihingi sa amin ang mga tao!" - Representative Lani Mercado, when asked whether the Pork Barrel should be removed.
The Pork Barrel Scam is hands down the issue of the year and even before it was ruled unconstitutional by the Supreme Court, a lot of politicians were already giving their statements about their PDAF. Amidst the call for its abolishment, Representative Mercado said that if the people want the pork barrel removed, they shouldn't ask the government for help. What on earth is the government for if not for helping people?
ADVERTISEMENT - CONTINUE READING BELOW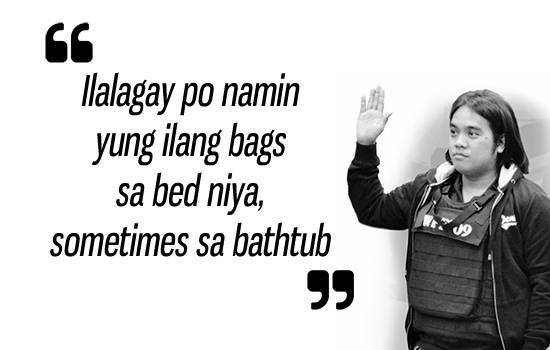 12. "Ilalagay po namin yung ilang bags sa bed niya, sometimes sa bathtub." - Benhur Luy, during the Senate Blue Ribbon committee hearing.
Oh. So that's where our taxes go.
Suggested Read: PORK CHOP: 10 Things We Learned from Benhur Luy.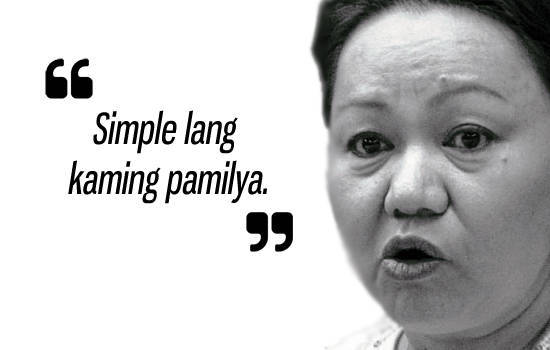 ADVERTISEMENT - CONTINUE READING BELOW
13. "Simple lang kaming pamilya." - Janet Lim-Napoles, describing her family.
For someone who kept mum during the entire senate hearing, Janet Lim-Napoles has given us plenty to quote. It started with "Happy Birthday, Bebegurl!" but then quickly descended to "I invoke my right," and "I don't know," and "hindi ko alam sa kanya." All of these are quotable but her claims about being a "simple family" and "katatamtaman lang kami" never fails to make us wonder what category we fall under. If she's middle class, what are we?
Suggested Read: Hot on Spot: Who the hell is Janet Lim Napoles?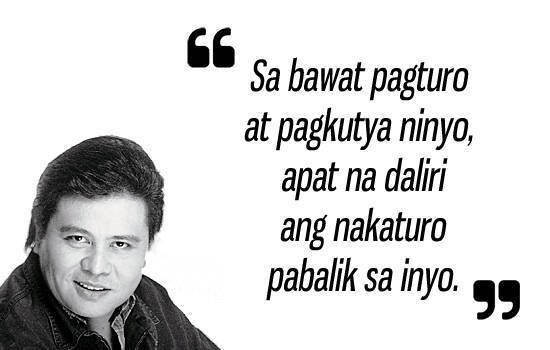 ADVERTISEMENT - CONTINUE READING BELOW
14. "Sa bawat pagturo at pagkutya ninyo, apat na daliri ang nakaturo pabalik sa inyo" - Senator Jinggoy Estrada, in his privilege speech regarding the Pork Barrel Scam.
In his privilege speech, Senator Jinggoy Estrada amused us all with his "langhap sarap" references as he revealed that his fellow public servants were spending millions of pesos purchasing goodies from Jollibee. But while all that is adorable (food in a speech is a win, in our opinion), we were baffled when he said that when you point a finger at someone, four more fingers point back at you. Maybe he was spending too much time doing maths with burgers that he failed to notice that only three fingers curl up inward. Ho-hum.
Suggested Read: INFOGRAPHIC: Misused Government Funds, By The Burgers.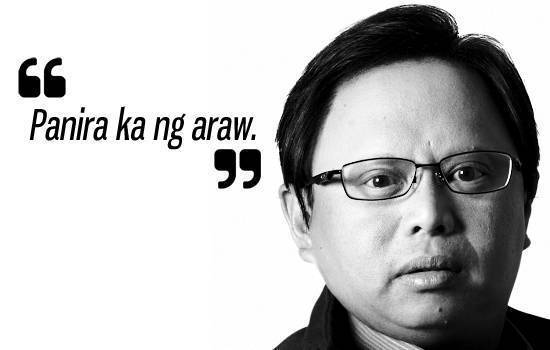 ADVERTISEMENT - CONTINUE READING BELOW
15. "Panira ka ng araw, eh!" - Arnold Clavio to Attorney Alfredo Villamor.
It's not the first time that this GMA anchor got in trouble for eyebrow-raising commentary and it looks like he really just intends to speak his mind, ethics of journalism be damned. Rude, uncouth, and impolite are just some of the words that were used to describe the way he spoke to Atty. Alfredo Villamor. He was reprimanded for his behavior and hopefully, he will take the time to spot the difference between being critical and just plain insulting.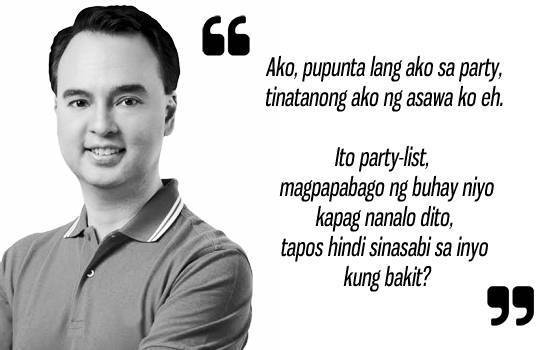 ADVERTISEMENT - CONTINUE READING BELOW
16. "Ako, pupunta lang ako sa party, tinatanong ako ng asawa ko eh. Ito party-list, magpapabago ng buhay niyo kapag nanalo dito, tapos hindi sinasabi sa inyo kung bakit?" - Senator Alan Peter Cayetano to Janet Lim Napoles.
It's hard to outshine Senator Miriam Defensor-Santiago but rather than attempting to out-glitz her during Janet Lim-Napoles' appearance in the senate, Senator Alan Peter Cayetano went with a line of reasoning that would have made Spock proud. Unlike Santiago, Cayetano didn't drown the witness in verbose legalese and chose to poke holes in her statements instead. At the end of his turn for questioning, he asked her how she can be so certain that the three senators that were facing plunder raps were innocent-which is probably one of the best moments from that spectacle but it is sadly overlooked.
Suggested Read: 10 Best Moments from the Janet Napoles Senate Appearance.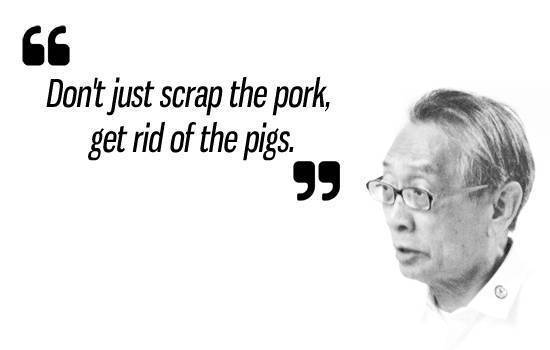 ADVERTISEMENT - CONTINUE READING BELOW
17. "Don't just scrap the pork, get rid of the pigs" - Archbishop Emeritus Oscar Cruz, on the Pork Barrel Scam.
The call to abolish the PDAF is defeaning and, in the end, it was acknowledged that even without the pork barrel, we all still feel like our taxes are in constant danger of being used to pay for Porsches and lavish birthday parties. The retired archbishop is right. The pigs must go.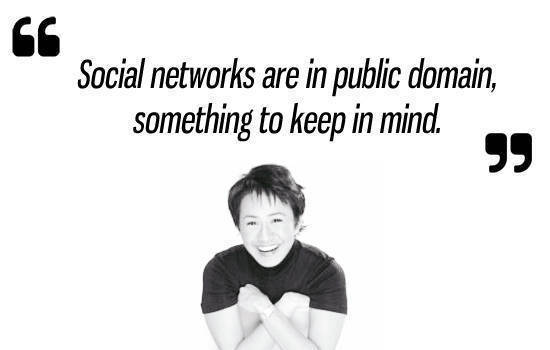 ADVERTISEMENT - CONTINUE READING BELOW
18. "Social networks are in public domain, something to keep in mind." - Maria Ressa, addressing the accusations of plagiarism against Rappler via Twitter.
As the CEO of Rappler, Maria Ressa was pinged on Twitter by fellow journalists regarding an instance of plagiarism involving Rapplerette Kai Magsanoc and TV-5's Bernard Testa. A photo taken by Testa was used and watermarked by Magsanoc in an article for Rappler, which prompted concerned netizens to alert InterAksyon. Ressa, limited by the 140 characters in Twitter, gave a brief reply, saying that social networks are public domain-leaving many dumbfounded. Even the "best of them" can fall prey to being taken out of context, something to keep in mind (when composing your next tweet).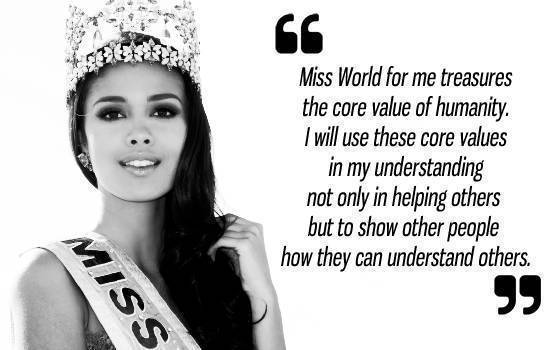 ADVERTISEMENT - CONTINUE READING BELOW
19. "Miss World for me treasures the core value of humanity and that guides her into understanding people, why they act the way that they do, how they're living their lives and I will use these core values in my understanding not only in helping others but to show other people how they can understand others, to help others so that as one, together, we shall help society." - Miss World 2013 Megan Young.
As our becky friends would say, "Beauty queen na beauty queen!"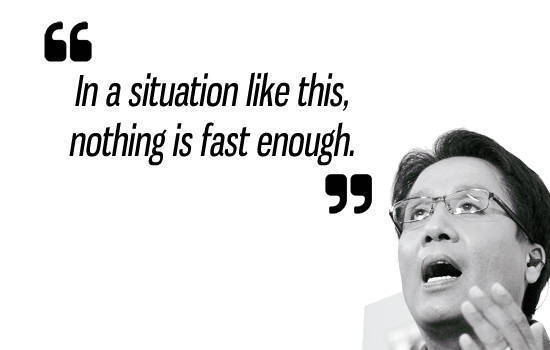 ADVERTISEMENT - CONTINUE READING BELOW
20. "In a situation like this, nothing is fast enough." - Secretary of Interior Local Government Mar Roxas, on the Government's post-Yolanda response.
This year has not been good to Mar Roxas (and his wife) and it just got worse when a video of him dropping surnames like bombs surfaced. However, we choose not to add to his misery by highlighting something that's worth keeping in mind when you feel the need to bash the government for its seeming incompetence. There are a lot of bad bananas in the bunch, but when Roxas modestly stated that no response is fast enough during a crisis, we nodded in agreement. We're hoping that things change (for the better) after the Yolanda tragedy but we're not going to hold our breaths. Not when the Ampatuans are still at large.
Suggested Read: Trajectory of a Tragedy: Your Stolen Taxes and The Super Typhoon.
ADVERTISEMENT - CONTINUE READING BELOW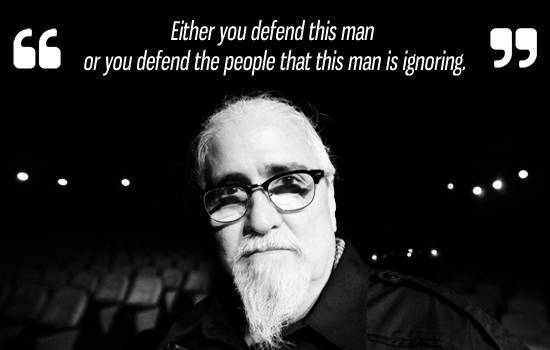 21. "Either you defend this man or you defend the people that this man is ignoring." - Director Peque Gallaga, in an open letter for to the Philippine Government, referring to P-Noy.
We feel you, man. We feel you.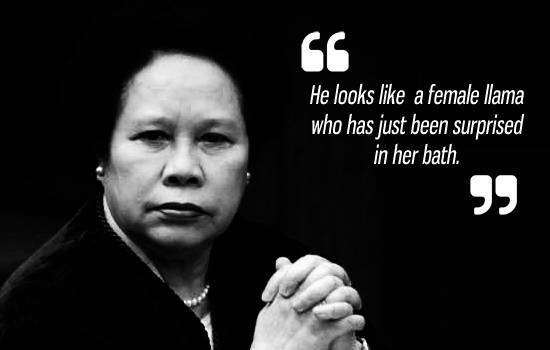 ADVERTISEMENT - CONTINUE READING BELOW
22.  "He looks like a female llama who has just been surprised in her bath." - Senator Miriam Defensor-Santiago, describing Senator Juan Ponce Enrile.
She never fails to amuse, and aside from the free legal advice that we get when she speaks on the Senate Floor, she also helps us think of creative ways to describe people. All of her speeches are teeming with quotable quotes, but how often do you hear anyone use the word "llama" in a sentence?
Suggested Read: SENATE SMACKDOWN: Miriam Defensor-Santiago vs. Juan Ponce Enrile.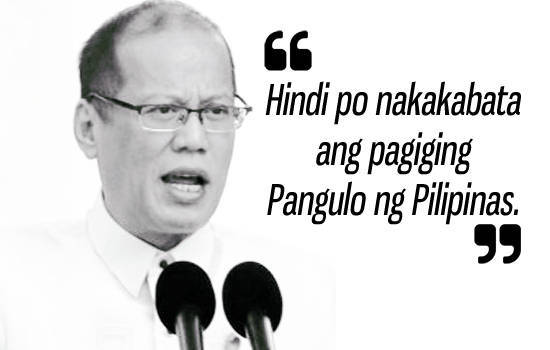 ADVERTISEMENT - CONTINUE READING BELOW
23. "Hindi po nakakabata ang pagiging Pangulo ng Pilipinas." - President Benigno Aquino III, on what it's like to be the president.
The president lamented his thinning hair early this year and now that we're on the last month, we can see what he means. This year, he had to deal with the Sabah Stand Off, the Zamboanga Crisis, the Pork Barrel scam, Maring, an earthquake, Yolanda, and being single.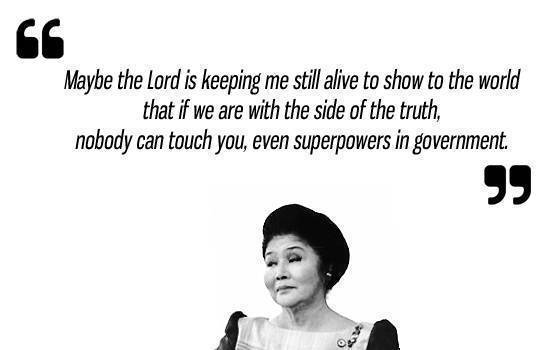 ADVERTISEMENT - CONTINUE READING BELOW
24. "Maybe the Lord is keeping me still alive to show to the world that if we are with the side of the truth, nobody can touch you, even superpowers in government." - Representative Imelda Marcos, on her purpose in life.
Um. Okay.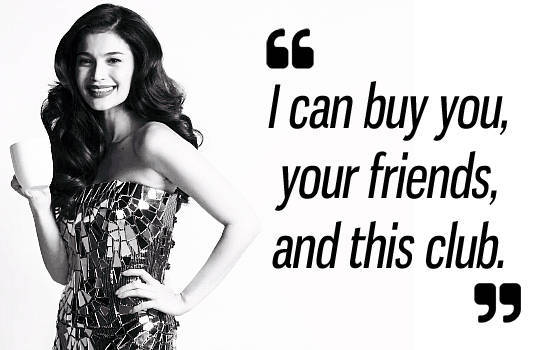 25. "I can buy you, your friends, and this club!" - Anne Curtis, during one drunken night in Privé.
ADVERTISEMENT - CONTINUE READING BELOW
Judging by the amount of billboards that feature her face, we have no doubt that Anne Curtis can actually purchase you, your friends, and the ground that you are standing upon. While inebriated, Curtis allegedly uttered this sentence, and although Phoemela Baranda claims that these words were never said, we won't be surprised if scriptwriters milk it for all its worth in telenovelas and films.
SPOT.ph does not own the rights to the pictures used for the graphics. Photos are from publicity materials and newsclips, credits to their respective photographers.
Recommended Videos
Load More Stories