Top 50 SPOT.ph Comments of 2013
Why yes, we do read them.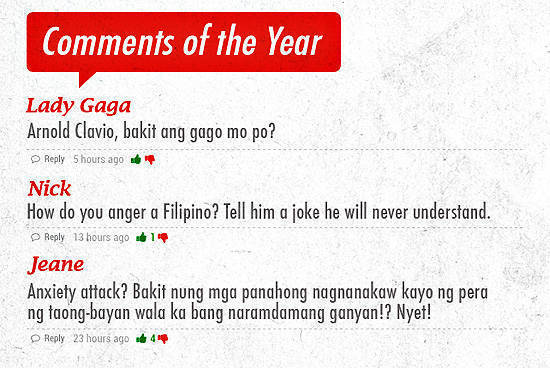 (SPOT.ph) If we had to pick one word to describe the things we find in the comments section of SPOT.ph, it would be "diverse." There's a lot of passion in there, which is sometimes so misplaced that it boggles the mind, but we love every single letter that you type in the box. We appreciate the fact that you took the time to leave a message-any kind of message-because life is short and you spent a few minutes with us. We're grateful.
And so, we've rounded up our top 50 favorite comments of the year-statements that challenged us, made us think, or had us falling off our seats in laughter. Direct quotes from real readers, straight from their hearts!
50. "Sorry typos, too hard to type on an iPad."
london_chic888 on her own comment in Sen. Juan Ponce Enrile alleges the late Sen. Rene Cayetano still owes him ₱37 million; Word war vs. Sen. Alan Peter Cayetano heats up
ADVERTISEMENT - CONTINUE READING BELOW
49. "Castrate them. They are monsters."
Lia on 9-year-old girl in Dasmariñas, Cavite dies after being abducted and raped for 12 days by 4 males.
48.  "Let's all take a step towards a better future for our country!"
Vincent Yu on Teach for the Philippines
47. "Does anyone even care?"
walalang on Cristine Reyes and Rayver Cruz announce their break-up together on The Buzz
46. "Dapat po tumakbo si Sir Lourd de Veyra."
silas27 on SPOT.ph's Fantasy Senatorial Line-Up: 12 People Who Should Be Senators
45. "Read the Bible...and see what happens to those who covet."
303202_llepiten on Sunshine Cruz confronts actress Krista Miller online, calls her out for bragging about gifts she got from Cesar Montano
44. "It's a crime, people. It's in our laws. Ignorance of the law excuses no one. Regardless of what his reason was for the said act, he violated Art 133. If he did the act in a place not dedicated to religious worship, say Roxas Blvd, then he won't be liable for Art 133 because the element of place is absent. Freedom of speech is NOT absolute. The law may be harsh, but it is the law."
ADVERTISEMENT - CONTINUE READING BELOW
FromThePointOfViewOfALawStudent on Carlos Celdran sentenced to 2 months to 1 year in jail for his 2010 "Damaso" protest
43. "E kung wag ka na lang kaya maging kabit para hindi mo kailangang magtago?"
Melody on Hot on Spot: Social Media Etiquette for Mistresses
42. "I'd tap that."
oya on Sen. Loren Legarda opens up in ANC interview, says her sex life is "zero right now"
41. "I would love a gay son or a heterosexual son or whatever he may prefer (as long as he isn't a rapist and all his sexual relations are consensual). But I would probably be very ashamed of a son who is a bigot."
Helen of Tondo on Christine Bersola-Babao's "Being Gay" article earns her flak; Critics accuse her of bigotry
40. "I dont care if it is just a temporary hold. It is a GROTESQUE TRAMPLING of the separation of powers and the right of the executive to produce legislation. The Supreme Court should never under ANY CIRCUMSTANCES block laws unless they are in clear and direct violation of the Constitution. After years of debate and endless rewrites it's pretty obvious that isn't the case with the RH Bill. Instead the 'great and the good' on the bench have gone along with vague petitions that are nothing more than emotive religious drivel droning on about the sanctity of life and the threat the bill poses to the Filipino family. Pleaseee!!! Presumably these bold upholders of the law were cowed into craven submission by threats from the Catholic Taleban (oops Church) or they want 'revenge' for past perceived executive meddling in the judicial domain. Pathetic, sad excuses for 'justices'"
ADVERTISEMENT - CONTINUE READING BELOW
MikeinManila on Supreme Court stops RH Law implementation for 120 days
39. "Alam mo James, you made your bed, you lie in it. If you continued being faithful to your wife, walang ganyang mangyayari. Kahit mali si Kris, kakampihan ko siya dahil babae din ako. Ang laki na ng milyones at properties na nakuha mo, tama na yun!"
againstinfidelity on Kris Aquino accuses ex-husband James Yap of "overt sexual advances," seeks protection order against him
38. "'Arrogant' and 'an alcoholic' are euphemisms for 'panget sya, anak.' Lol."
ddgandanghari on Heart Evangelista's parents say Sen. Chiz Escudero is "arrogant" and "an alcoholic"
37. "KRIS, if you really love your son, you will not announce to the entire world that his father allegedly made sexual advances and just settle the matter quietly and legally. If you really love your son, you will not put him in the spotlight by saying he is intelligent and can testify for you or defend your cheap accusation. If you really love your son, you will show him you love him truly by protecting him from this horrid media blitz. Stop being selfish Kris. Truly love your children and protect them. Stop announcing to the world your cheap love problems. Because of the media thing, you have NOT protected your children, instead you have done the opposite...you have opened them to ridicule and insult because of you and your actions and your life."
ADVERTISEMENT - CONTINUE READING BELOW
mother on Kris Aquino resigns from all her shows, says she's turning her back on showbiz for son Bimby's sake.
36."For starters, he can confront Willie Revillame on national TV-and proceed to melt him like a wax candle in front of his legion of fans watching him live and on air."
jesuswasablackman on What Would Jesus Do in Metro Manila?
35. "Sheesh... most commenters here are fanatics. TSK. If any of you studied film or even get to learn about film appreciation, you'll understand and agree what the writer has to say. Very commercialized. So mainstream. In the end, it's "pera-pera lang yan.""
XoXo on It Takes a Man and a Woman (and a Wig)
34. "P400-P1200 for a burger? [S]eriously? SERIOUSLY?!"
singkitgirl on Top 10 Gourmet Beef Burgers (2013 Edition)
33. "I saw some at Rustan's before. And a lady bought a pushcart of that!"
ADVERTISEMENT - CONTINUE READING BELOW
blapp on The Search for Speculoos
32. "I hate how people who visit BLOCK THE ROADS AND CAUSE TRAFFIC WITH THEIR CARS. (Yes, I'm especially looking at you, people who have their drivers wait outside Cafe Juanita / Haru and BLOCK THE ROAD."
quacker on Neighborhoods: Kapitolyo (2013 Edition)
31. "[A]ray naman! #tinamaan hahaha."
erika on Hashtag Your Face (Annoying Social Media Users)
30. "Last song for the fucking win!!"
errrr on Happy420: Anatomy of a High in 10 Songs
29. "[Y]ung iba mukhang macho dancer. [E]eewww."
pinay_geek on SPOT.ph's Top 10 Cutest Pinoy Political Candidates (2013 Edition)
28.  "If she wants to look like PSY's doppelganger, then it's her right to do so. Who are you to say what is and what's not appealing? She has gone through the cute girl phase and is apparently done with it. If she wants reinvention, then let her be."
ADVERTISEMENT - CONTINUE READING BELOW
happypill on Mission for the People: Save Charice Pempengco
27. "Yes. All we have is our futile laughter. Or else masisiraan na tayo ng bait."
Sad Sam on Hot on Spot: A Love Letter to Nancy Binay
26. "Pero marami pa ring boboto sa mga hindi qualified dahil maraming tanga!"
Fire & Forget on Nancy Binay reacts to Vice Ganda's "Senador agad?' remark
25. "Sometimes I wonder why God didn't do something like that in the Garden of Eden. Why didn't He make the tree of the Knowledge of good and evil bear ugly fruit? Why didn't He surround it with a chain-link fence with barbed wire at the top?"
Gates of Purgatory 60-30-10 on Bishop criticizes priests with "boring" homilies, says people prefer "livelier and more intense speeches" of preachers.
24. "WHATTTTTTTT???????????????? THIS IS PLAIN STUPID. ARE THERE ANY RATIONAL OPTIONS???"
rain on DENR plans to destroy ₱420 million worth of elephant tusks seized in PH
ADVERTISEMENT - CONTINUE READING BELOW
23. "Pero ginagamit ko pa rin naman yung ibang terms dito"
Username on 15 Words We No Longer Use
22. "HODOR!"
Hodor on Fake It Like You Know Game of Thrones: The SPOT.ph Guide to the Bloody Series (So Far)
21. "I should not tell my secret on where to find the most of these vintage, branded pieces...secret."
dong olmedo on SPOT.ph's Guide to Thrift Shops in Manila (2013 Edition)
20. "As a member of the LGTB (sic) community, I find this publicity stunt insulting. I do not see how this scheme can help the cause of the gay rights movement. I believe this young woman is just using the gay rights issue to promote herself, create controversy, and be the center of everyone's attention. Pathetic."
Constanj on Isabelle Daza expresses support for LGBT community by posting Instagram photo showing her "kissing" her cousin, Georgina Wilson
19. "Minsan, nakakahiya maging Pilipino."
ADVERTISEMENT - CONTINUE READING BELOW
kokokrunch on Top 10 Worst Pinoy Plot Piracies
18. "HOW LONG IT WILL TAKE TATTOO SIZE FROM THE SHOULDER TO THE ELBOW?TNX"
JR on Top 10 Tattoo Parlors in Manila
17. "How do you anger a Filipino? Tell him a joke he will never understand."
Nick on Canadian comedian Katherine Ryan accused of making "anti-Filipino" joke on UK show.
16. "That thing has a name?"
Djames on Ex-MMDA chair Bayani Fernando says "egg structure" across NAIA was built for ₱50 million, not ₱390 million
15. "Dapat gawan ng episode ito. Kap's Amazing Stories: Mga Iba't Ibang Klase ng Buwaya"
Remember M Remember E on Sen. Bong Revilla allegedly pocketed ₱224.5 million in "pork barrel kickbacks" from Janet Napoles, says NBI
14. "The wisdom of old has taught us that money, fame and the glory of this world will never fill us. When we put our hearts unto earthy things, we are bound to discover, sooner or later, that they can never satisfy us completely."
ADVERTISEMENT - CONTINUE READING BELOW
Macdiego on Bill requiring restaurants to cut serving portion of rice to a half-cup to be filed by 2 congressmen
13. "Waste of taxpayer's time and money. Propose to your girl after the taxpayer's business and outside public property and official business hours. Ok lang pag private company, its is not on the public dime. Naman!"
BrianUB on Cute or crazy? Congressman proposes to his girlfriend in the middle of budget hearing
12. "[D]apat pala may reaction button na WAAAA ang nakalagay. [P]ara sa mga taong nasa-sad tulad mo"
eleanor on Glossary of Confusing Pinoy Expressions
11. "Magresign ka na rin pag nawala na ang pork barrel, hiyang hiya naman kami sayo at mababawasan na ang nakurakot nyong mag-asawa."
JC on Rep. Lani Mercado reacts to proposal to abolish pork barrel:"Basta 'wag lang manghihingi sa amin ang mga tao!"
10. "Hindi po kayo pareho ni Gat Andress Bonifacio. Ikaw ay plunderer at nakulong dahil sa pagnanakaw (plunder) si Gat Andres B hindi. Ikaw ay philanderer (babaero at maraming kabit), si Gat  [Andres] naka [dalawang] asawa dahil nabyudo."
ADVERTISEMENT - CONTINUE READING BELOW
peace2all on Erap Estrada points out that he's just like Andres Bonifacio
9. "[S]o dapat pala lahat ng kriminal, sumuko sa pangulo para masiguro yung kaligtasan mo"
protocol727 on Janet Napoles surrenders to P-Noy, says she feared for her life
8. "If Marcos could only talk now. Sabagay he'll meet him very soon somewhere in the after life (heaven or hell?)"
bibbo on Sen. Juan Ponce Enrile responds to former chief-of-staff Gigi Reyes saying she felt "betrayed" by him: "I'm not up to betray any of my people. I've never been known for that"
7. "Sometimes I wonder if the people's revolution actualy happened. [T]he people that we elect to political positions continue to screw us in any posible way."
Mario Soto on 10 Best Moments from the Janet Napoles Senate Appearance
6. "Arnold Clavio, bakit ang gago mo po?"
Lady Gaga on Arnold Clavio's interview with Janet Lim Napoles' lawyer Atty. Alfredo Villamor stirs up netizens
ADVERTISEMENT - CONTINUE READING BELOW
5. "This is stupid, our libel laws are already so vague and all encompassing that they should not exist at all in their current form, and now they want to make it even worse. Libel should NOT be a criminal offense at all, let alone making the minimum jail sentence even longer"
muwu on Bill to increase libel fines from ₱6,000 to ₱30,000 filed by 2 congressmen.
4. "She really is having a mental meltdown. Not so surprising from someone who started really young in showbusiness. Karamihan sa mga artista, saan mang parte ng mundo, hindi naaalagaan ang mental health. The difference is, dito sa Pilipinas napakalakas ng stigma sa mga may mental issues. As much as this article is entertaining, it would have been better if you actually analyze her situation."
zemmie on Top 10 Strangest Claudine Barretto Moments
3. "Walang kasinungalingang hindi nauungkat. Lalabas at lalabas talaga ang katutuhanan.I believe it's really the right time to impeach all the Government officials involved in the Pork Barrel issue. Filipinos vote them, to lead us in the best way, but look at what they did, mas lalo pa nilang dinumihan ang pangalan ng ating Pulitika. Kawawa naman ang mga taong nagbabayad ng buwis para sana sa Kaunlaran ng ating bayan. Panahon na upang wasakin ang Isyung ito, upang mapagtutuunan naman ng pansin ang ibang mahahalagang bagay. Sulong Pilipinas!!"
ADVERTISEMENT - CONTINUE READING BELOW
ILOVEPHILIPPINES on Hot on Spot: Who the hell is Janet Lim Napoles?
2. "[A]nxiety attack? [B]akit nung mga panahong nagnanakaw kayo ng pera ng taong-bayan wala ka bang naramdamang ganyan!? Nyet!"
Jeana on Aside from diabetes, Janet Napoles claims she also suffers from claustrophobia and anxiety attacks
1. "You had me at swirly nipples. :3"
karen on An Ode to Joy: The Happier Happy Meals
CONTINUE READING BELOW
Recommended Videos
Share this story with your friends!
---
Help us make Spot.ph better!
Take the short survey
Load More Stories