Cold Trail: 10 Issues and Cases in the Philippines That are Still Unresolved
Forget about happy endings. In this country, some things don't have endings at all.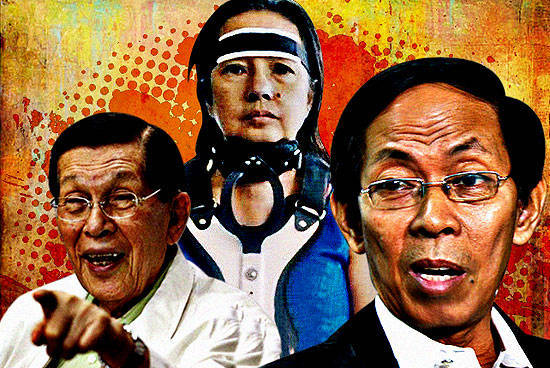 (SPOT.ph) In a country whose people have been criticized for their ningas-kugon attitude and short memory,  resolutions don't come quick. Sometimes, they don't come at all. Here are 10 issues and cases that still have many unanswered questions.
The Execution of Andres Bonifacio

What happened: When the Philippines was still on the verge of finding itself, a power struggle was said to have ensued between Bonifacio and Emilio Aguinaldo. In the book, The Philippines: A Past Revisited, historian Renato Constantino noted: "Bonifacio was definitely a threat to the Cavite leaders (meaning Aguinaldo and company) who wanted control of the Revolution, so he was eliminated." Bonifacio was accused of treason by Aguinaldo's party. So, he, along with his brother Procopio, was executed on May 10, 1897, somewhere in the mountains of Maragondon , Cavite. Citing Apolinario Mabini, Constantino revealed that "Bonifacio's death demoralized many rebels from Manila, Laguna and Batangas who had come to help those in Cavite, and caused them to quit." Nevetheless, Aguinaldo eventually became the first President of the Philippines.
The score: To this day, Aguinaldo is haunted by the "traitor" tag. His supporters dispute this and say he only did what was necessary to unite the nation. However, Bonifacio's supporters are pushing to have the Katipunan founder declared as the first rightful President of the Philippines. Aside from this, many questions remain about the details of Bonifacio's death. The search for his remains has also been controversial.
The Assasination of Ninoy Aquino

ADVERTISEMENT - CONTINUE READING BELOW
What happened: On August 21, 1983, former Senator Benigno "Ninoy" Aquino Jr. was shot dead on the tarmac of the Manila International Airport. The alleged gunman, Rolando Galman, was also shot and died on the spot. Aquino was known to be a vocal enemy of then President Ferdinand Marcos, so there were talks that he was put away by the people in power. The case dragged on. Then, in 1990, as detailed in an InterAksyon.com timeline, 16 persons were found guilty of the murder of Aquino and Galman. They were sentenced to reclusion perpetua and ordered to pay P7,800,000 and P580,000 in damages, respectively to the families of Aquino and Galman. The alleged perpetrators were Luther Custodio, Capt. Romeo Bautista, 2nd Lt. Jesus Castro, Lat, de Mesa, Moreno, C1C Mario Lazaga, Sgt. Filomeno Miranda, Sgt. Rolando De Guzman, Sgt. Ernesto Mateo, Sgt. Rodolfo Desolong, AIC Cordova Estelo, M/Sgt. Pablo Martinez, Sgt. Ruben Aquino, Sgt. Arnulfo Artates, and AIC. Felizardo Taran. The thing is, there was no official word on who had ordered the hit. Those convicted insisted that they were innocent.
CONTINUE READING BELOW
Recommended Videos
The score: Despite the fact that Ninoy's wife was President of the Philippines from 1986 to 1992 and his son, Noynoy, is now president, too, there are still a lot of questions about who exactly had him killed. In 2009, the remaining convicts of the Aquino assassination were granted clemency by then President Gloria Macapagal-Arroyo. It may look like the case has been resolved, but it hasn't.
ADVERTISEMENT - CONTINUE READING BELOW
The Maguindanao Massacre
What happened: On November 23, 2009, 58 people were brutally killed in an incident that's classified as "election-related violence." (Initial reports had put the death toll at 57, but one more victim was later identified.)  Those who died were relatives of Esmael Mangudadatu, who was challenging Andal Ampatuan, Jr. for the gubernatorial post. The latter was the son of then-incumbent Maguindanao governor Andal Ampatuan, Sr. and their clan was (and probably still is) feared in the region. Mangudadatu was eventually elected governor, but it had cost him his wife, three sisters, a cousin, an aunt, and several of his associates. There were also 34 journalists who died in the massacre. The perpetrators of the crime had attempted to bury the bodies in a mass grave. A backhoe was on the scene, ready to cover up the corpses.
The score: More than four years after the massacre, only Andal Sr. and his son Andal Jr. have been charged. There are over 190 others listed on the charge sheet but around 100 of them are still at large. Meanwhile, some witnesses have been killed. The pace of the cases arising from the massacre is so slow that Atty. Harry Roque, who represents some of the victims' families,  said in a Philippine Daily Inquirer report, "At present, there are 196 defendants, each of whom are facing 57 cases. That's 11,172 cases. And international studies say that it takes five years to try a single case in the Philippines. So that's 55,000 years."


ADVERTISEMENT - CONTINUE READING BELOW
The Murder of Ram Revilla
What happened: Ram Revilla-son of former Sen. Ramon Revilla Sr. and half-brother of Sen. Bong Revilla Jr.-was killed on October 29, 2011. Initial reports said Revilla was killed by an unknown gunman who broke into his home in BF Homes Parañaque. His girlfriend, Janelle Manahan, had also been shot, though she survived. Later on, the whole country was shocked when it was reported that Revilla's own brother, Ramon Joseph or "RJ"  and his sister, Ramona, were identified as suspects in the killing. Their so-called accomplices in the crime had told police that the two had orchestrated the killing of their brother. Amid the chaos, a sex video featuring Ram and his girlfriend was leaked. Operatives from the National Bureau of Investigation tried to find out who had uploaded the video, but the culprit was never apprehended. They suspected Ramona of doing the deed.
The score: Before a case could be filed against her, Ramona fled the country and went back to her husband in Turkey. Meanwhile, RJ remains in prison. Their father, Ramon Sr., has stated that he believes in RJ's innocence. The question remains: Who killed Ram? (Your guess is as good as ours.)
The Hunt for Jovito Palparan
What happened: A former Army general who went on to become a congressman, Jovito Palparan was charged with two counts of kidnapping and serious illegal detention for his involvement in the abduction of still-missing UP student activists Sherlyn Cadapan and Karen Empeno in 2006. It's worth noting that during his military days, Palparan was tagged as "berdugo" or executioner by militant groups. That's because he had been tasked to go after insurgents. Palparan's unit had reportedly accosted Cadapan and Empeno in Bulacan in 2006 because they were suspected of being "Communists." They also arrested 57-year-old Manuel Merino, the farmer who had tried to help the women. After that, Cadapan and Empeno were not seen again. According to a Philippine Daily Inquirer report, in 2007, a witness named Raymond Manalo "testified at the Court of Appeals that he first saw the two students at Camp Tecson in Bulacan in September 2006." Manalo claimed that Cadapan, Empeno, and Merino had been tortured. Manalo said he saw Merino being burned alive. Cadapan and Empeno have been classified as "desaparecidos."
ADVERTISEMENT - CONTINUE READING BELOW
The score: Sometime after he was indicted, Palparan went on the run. He is still at large. The government has put up a P2 million reward for his capture.
The RH Law
What happened: President Noynoy Aquino III signed Republic Act No. 10354, the Responsible Parenthood and Reproductive Health Act of 2012 in December that year. This came after more than a decade of advocates shedding a lot of sweat and tears for the cause. However, before the law could take effect, it was flooded with various petitions-14 to be exact. In March 2013, the Justices of the Supreme Court voted 10-5, in favor of a status quo ante (Latin for "the way things were before") order against the RH law for 120 days. Then, on July 2013, they voted 8-7, in favor of extending the order to stop the implementation of the RH law indefinitely.
The score: The RH Law exists, but it's not being implemented right now. It's sort of like a store that's ready to serve, but has no permit to operate.
The So-Called Crimes of Senator Juan Ponce Enrile
What happened: So much has happened that it's a challenge to summarize it for this list. But, basically, on December 4, 2013, Enrile was accused of crimes ranging from infidelity and smuggling, to being the mastermind of the pork barrel fund scam. The accusations were made by Senator Miriam Defensor Santiago in her privilege speech.
The score: Enrile is 89 years old. He has been in power (in one capacity or another) since the 1960s. He's been accused of crimes before. He still got elected as senator. What gives? It's either the accusations hurled at him have no basis or the people just don't care. Meanwhile, Enrile will be busy playing Bejeweled while the rest of us scratch our heads.
ADVERTISEMENT - CONTINUE READING BELOW
The Freedom of Information Bill
What happened: The Freedom of Information (FOI) Bill or House Bill No. 3732 has  Rep. Lorenzo "Erin" Tañada of Quezon province's 4th District as its principal author and it's backed by around 117 solons. When President Nonoy Aquino was elected in 2010, many people thought the bill would be fast-tracked. It wasn't. In 2011, in a forum where Southeast Asian business leaders gathered, President Benigno "Noynoy" Aquino III was asked about the FOI Bill. He said, "A freedom of information act sounds so good and noble but at the same time, first of all, you'll notice that here in this country there's a tendency of getting information and not really utilizing it for the proper purposes." His statement sparked debates, as some sectors believed he wasn't honoring his promise to treat the Filipino people as his "bosses."
The score: The bill, which many say would help curb or stamp out corruption, is in limbo. And even if it gets passed, it may meet the same fate as the RH Law. But, well, we have to keep trying, right?
The Confinement of Congresswoman Gloria Macapagal-Arroyo
What happened: The former President was first arrested for electoral fraud charges on November 18, 2011. She was held under "hospital arresrt" at the Veterans Memorial Medical Center in Quezon City until she was released on bail in July 2012. However, she was back at the VMMC in October 2012, this time for pluder charges in connection with the alleged misuse of Philippine Charity Sweepstakes Office (PCSO) funds amounting to P325 million.
ADVERTISEMENT - CONTINUE READING BELOW
The score: Despite her travails, which involve what she supposedly did during her time as President, Arroyo was elected as congresswoman of Pampanga's 2nd District in 2010. She was reelected to the position in 2013. She remains at the VMMC. These days, many of her supporters are urging President Noynoy Aquino to go easy on her. That may not happen as she continues to be blamed for many of the snafus we experience today.
The Desaparecidos
What happened: According to the records of KARAPATAN: Alliance for the Advancement of People's Rights, more than 700 people disapperead during the Martial Law years. These people were most likely subjected to extra-judicial killings. Their bodies have never been found, though.
The score: Matial Law has come and gone, but people have continued to "disappear." An August 2013  statement released by the Families of Desaparecidos for Justice, points out: "In the Philippines, cases of enforced disappearance continue. From Marcos' martial law, where 759 victims of enforced disappearance were recorded, the supposed icon of democracy, Cory Aquino, surpassed the record and registered more than 821 cases of disappearance. During the Ramos administration, 39 disappearances were reported. Despite Joseph Estrada's short stint in the presidency, 26 victims were documented during his time. Meanwhile, Gloria Macapagal-Arroyo's record on enforced disappearance shows 206 cases."
Art by War Espejo
Images are screenshots from various news clips
Share this story with your friends!
---
Help us make Spot.ph better!
Take the short survey
Load More Stories